November, 10, 2010
11/10/10
10:48
AM ET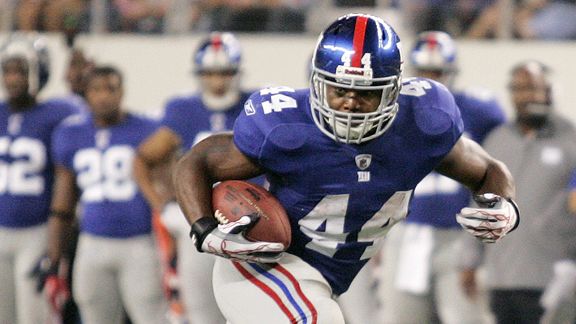 Tim Heitman/US PresswireAhmad Bradshaw is one of the best "Call of Duty" players in the NFL.
Ahmad Bradshaw leads the Giants in rushing. He also claims to lead the team in "Call of Duty" kills (although those stats are a little tougher to verify).
"I've actually put a lot of my teammates on the game," Bradshaw tells me as I get him on the phone to talk about his "Call of Duty" habits. "I got Brandon Jacobs into the game last year and he started getting online really heavy. I just love 'Call of Duty' so much, I spread the word to my teammates."
In fact, Bradshaw plays "Call of Duty: Modern Warfare 2" so much, he doesn't waste any precious trigger-time on other games.
Says Bradshaw: "When 'Madden 11' first came out, I played it a couple of times. 'NBA 2K11' came out and I tried it once. But no matter what new game comes out, I just go right back to playing 'Call of Duty.' The only thing that will get me off 'Modern Warfare' is when 'Black Ops' comes out. I'll be glued to my PlayStation."
And Bradshaw won't have to wait long, as "Call of Duty: Black Ops" hits stores Nov. 9.
"I'm heading out to go get Google TV right now," he says, "that way I'll have my whole setup ready when the game comes out. I can't wait."
I ask Bradshaw if he's a tech geek, and while he doesn't want to admit to anything that refers to himself and geek in the same sentence, he then confesses that when it comes to technology, he loves to be able to go out and buy the latest gadgets, whether it's an iPad (has it) or Google TV (probably bought one over the weekend).
But his favorite piece of tech? No doubt it's his PlayStation 3. "I've always been a PlayStation guy, but I have a 360 too. You have to be able to maneuver on both," Bradshaw explains.
And while AB doesn't spend too much time playing "Madden" anymore, he does make sure EA Sports continues to do him justice when it comes to the ratings. "I like my style in the game. I like my Old Spice Swagger in the game," he says with a laugh. "I played 'Madden' my whole life, so to actually be a part of it and see myself in the game, it's like a dream come true. I've had just about every system since Atari. Loved the Genesis, love my PlayStation 3 and everything in between. I still remember playing the old 'Tecmo Bowl.' Ain't nothing like the old 'Tecmo Bowl' and Bo Jackson. Using Bo was like cheating in the game. Lawrence Taylor was unstoppable.
"But now, I just can't wait for 'Black Ops.' Time can't move fast enough for me. I'm going to be on that game 24/7," Bradshaw says. "The guys talk about it at practice, then we go home and play online and talk about it some more while we shoot each other. I play 'Call of Duty' so much, I've lost days and days on that game. I spend so much time playing some nights, I get tired the next day. It can get pretty bad."
ESPN ARCADE
The sequel to our most popular game is here. How's your return?

Run timed routes, beat DB's to the end zone and score.

Hit your receivers, dodge defenders and rack up TDs.