November, 12, 2010
11/12/10
5:12
PM ET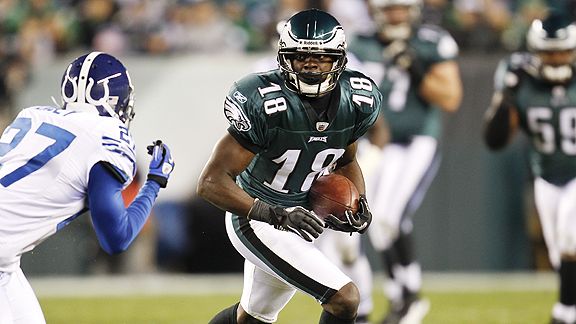 AP Photo/Brian GarfinkelJeremy Maclin is a beast in "Madden." He's also pretty good with a virtual gun in "Call of Duty."
If I had to guess the most used team in "Madden NFL 11," I'd say Eagles, no doubt.
"Just look at all our speed," boasts receiver Jeremy Maclin, who along with Michael Vick and DeSean Jackson make up one of the most lethal trios in the game.
Then again, success doesn't always equal popularity on the virtual gridiron.
According to EA Sports, the most used team in "Madden" online this year is the Dallas Cowboys. That's right, the 1-7 Cowboys, followed by the Vikings, Saints, Ravens, Jets, and then, in sixth place, the speed demons from Philly (and my favorite team to play as, obviously).
The team least used this year? The Arizona Cardinals. So much for the allure of former Madden cover star Larry Fitzgerald (although I'm sure it has to do more with the lack of options at quarterback).
"Everyone should use the Eagles," Maclin continues when I ask him who he thinks people should play as in the game. "We have a lot of speed out there, especially with Michael Vick at quarterback.
"What's crazy to me, though, is how when I first got into the league and I was in a meeting and we had Donovan McNabb, Michael Vick, and Jeff Garcia all in the same room. To be sitting in a room with those quarterbacks who I used to play as in 'Madden,' only now they were going to throw me the ball for real. I just kept looking around and shaking my head."
Jon Robinson: As a gamer, what would you say is your favorite game or franchise?
Jeremy Maclin: I'm huge into "Call of Duty." That's what I play the most, for sure. What's funny is, "Call of Duty" had to grow on me. When I first started playing "Modern Warfare," I was terrible. And I've always been a guy who liked to play video games. I was always a big Xbox dude, and now I'm on that 360 ... it just took me a while to get good at "Call of Duty" for some reason. But now every time I turn my system on, that's what I want to play.
Jon Robinson: Do a lot of the Eagles play?
Jeremy Maclin: We have a whole group that goes online and plays together. There are actually a bunch of us who play. There are probably 20-25 people on our team who go on and play "Call of Duty."
Jon Robinson: Who is the best at the game?
Jeremy Maclin: I like to say I am, but Ernie Sims is pretty good, too.
Jon Robinson: Is there anybody on the team who is just so bad you can't wait to log on just so you can shoot him 20 times a match?
Jeremy Maclin: It used to be Quintin Demps when he was with us. He was horrible. I never even played with him, but everyone on the team used to tell me stories about how bad he was. There would be times when he'd have zero kills or maybe he'd get that one kill but he went down 20 times. [laughs] I heard so many stories, I knew not to play with him.
Jon Robinson: What's your game setup like at home?
Jeremy Maclin: I actually have a system setup in my room, then I have another one setup in my basement downstairs with the big screen. I like playing in my room, though, that way I can just chill in bed. But now that I heard "Black Ops" is in 3-D, I think I'm going to have to go get a 3-D TV just so I can play it. I'm going to go buy a new TV, for sure.
Jon Robinson: How much time do you normally spend playing the game?
Jeremy Maclin: The longest I ever play is like three hours at a time. That's the perfect amount to me. I'm not the type of guy who will stay up until six in the morning playing the game, but I get my time in. That just shows how skilled I am now. I don't need to sit there for 12 hours straight to be the best.
Jon Robinson: The Eagles get a lot of play in "Madden" this year. How do you think they rated you in the game?
Jeremy Maclin: I think I'm alright. I think my overall could've been a little better, but I can't really complain about the speed.
Jon Robinson: Is it still exciting to you to play "Madden," or now that you're in the NFL would you rather just sit down and play "Call of Duty"?
Jeremy Maclin: I like to change it up. I still love both games, but like you said, since I play football all day, I'd rather come home and play "Call of Duty." But I've been playing "Madden" for so many years, I'll never give that up.
Jon Robinson: Do you ever hear from fans about how they use your character in "Madden"?
Jeremy Maclin: I hear it all the time. Some people will come up and tell me how I'm no big deal in "Madden" or how the Eagles are no big deal, then other fans will come up and tell me how many bets they won because of something my character did in the game. It's pretty funny.
I still remember when I was in the NCAA game. My first year I was only a 72 overall and I didn't really play that year because I tore my ACL. But then after I started playing, the next game that came out, I was like a 94 overall with 97 speed and it was unreal. I was in college and other students would come up to me during the day and talk to me about how much they used me in the game and how I was unstoppable. That's when that all started.
Jon Robinson: How about your gaming skills? I know you said you play "Call of Duty" the most. What type of gamer are you online?
Jeremy Maclin: I'm up close and personal. I run around guns blazing. I hate camping people, I hate people who sit back and snipe. I'm in the action at all times.
ESPN ARCADE
The sequel to our most popular game is here. How's your return?

Run timed routes, beat DB's to the end zone and score.

Hit your receivers, dodge defenders and rack up TDs.