January, 4, 2011
01/04/11
3:16
PM ET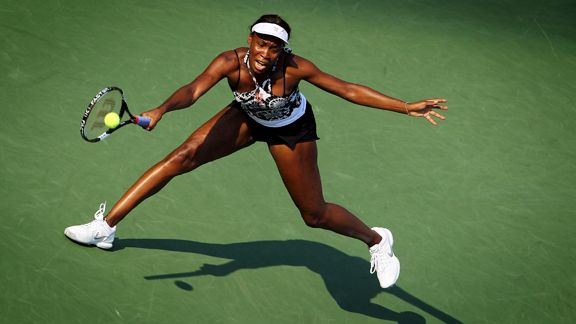 Nick Laham/Getty ImagesVenus Williams is spreading the word of fitness with the help of "EA Sports Active 2."
Video games that make you sweat are all the rage ... and that's a good thing.
Forget the days of pressing buttons to make your character jump. With the new wave of fitness titles your living room is the gym, your motions control the avatar on screen and working out becomes as much of your gaming lifestyle as shooting aliens.
And no game does this better than "EA Sports Active 2."
Complete with heart rate monitor and motion tracking, I was shocked at the level of workout I was able to get playing the game through Microsoft's Kinect. Add in the ability to track all of your workout data online (including calories burned and heart rate), not to mention the addition of weights to your workouts now that the game is hands free through Kinect, and you have a product that somehow bridges the gap between hardcore fitness freaks and the hardcore gamer.
It's a game I didn't think I'd enjoy at all but find myself going back to on a daily basis.
And it's a game that tennis superstar Venus Williams feels so strongly about, she is acting as an ambassador for the product. She even brought copies of "EA Sports Active 2" to a Boys & Girls Club in New York, leading the workouts herself as she talked to kids about the importance of exercise.
"Activity is my life," Williams tells me over the phone as we talk video games and tennis. "I really want to promote a healthy lifestyle, moving, and show that you can stay fit in a way that is not too challenging or uncomfortable. You can have fun doing this, you can enjoy it, and after seeing the first game and how it worked, I thought it was a fun idea and really wanted to be involved in spreading the word."
Here's what else Venus has to say about getting fit, her tennis legacy and why she thinks "EA Sports Active 2" is an essential part to any game library:
Jon Robinson: Why do you feel "EA Sports Active 2" is such an important game in terms of helping people get fit?
Venus Williams: It's really about reaching people where they are. Today, everyone is so electronically driven that this is about reaching people in a way that they understand and relate to. It makes it easy for them to be fit. You wake up, turn on your console before school or whatever the case may be, and you start moving. It makes it easy to exercise. Plus there's a heart rate monitor, you can set goals, track your progress ... it's great.
Jon Robinson: The only trouble with the heart rate monitor is if you're playing the game and a girl you like comes over. She is going to see that heart start to race a little.
Venus Williams: [Laughs] That's a secondary use to working out. You need to make sure you're keeping your cool.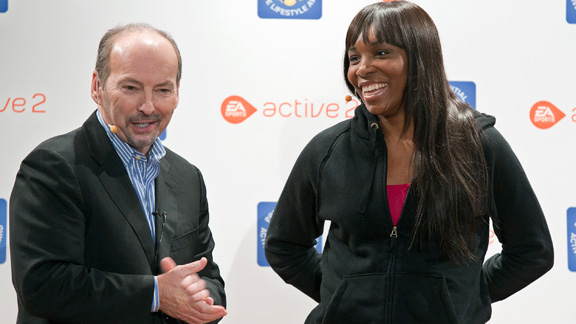 EA SportsEA Sports president Peter Moore gets some fitness tips from Venus Williams.
Jon Robinson: Do you see yourself being able to incorporate the game into your workouts?
Venus Williams: In my house I have a gym, and I'm going to put the game in there. There are a lot of exercises in the game that I can use, from the squats to the lunges to the mountain biking. All of that stuff is great for me.
Jon Robinson: Are you a gamer?
Venus Williams: Yeah, although I used to be a bigger gamer. I was one of those people who would play a little too long. I kept playing until my wrists were sore. [Laughs] So I can't play as much as I used to because I just don't have time. But this ["EA Sports Active 2"] is perfect for me because I don't need to hold any controllers or anything. I can just move my body.
Jon Robinson: Coming from a competitive family, did you and Serena get in arguments playing video games back in the day?
Venus Williams: No, we always used to help each other out. If we were playing a game like "Super Mario Bros.," we'd be good at different levels, so we'd pass the controller back and forth. We were more like team players helping each other out. I'd call her for tips on how to beat a monster in some game or how to make it through some corridor. We were always a team.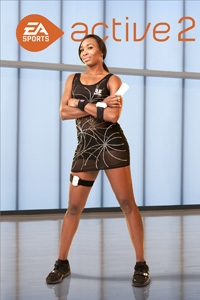 EA Sports
Jon Robinson: As someone who says fitness is her life, do you have any tips for gamers who are looking to this title to start a healthier lifestyle?
Venus Williams: If you're just starting to move and to work out again, I would suggest taking it easy. The last time you worked out, you might have been at a higher level, but when you take time out you need to start over again. Start light, build yourself back up, take your time, and know that this is a lifestyle. It's about moving every day of every week and you need to be consistent with it.
Jon Robinson: Switching from your video game to your real game on the court, before your injury you were playing some of your best tennis in years. What do you attribute to your rise back up the rankings?
Venus Williams: I just concentrated a little more on my ranking. I usually don't focus too much on that because I never felt the rankings were true anyway. There is always someone who will play in more tournaments than maybe I could and I just couldn't always keep up. So this time, I decided to focus on it. I'm looking forward to next year. I can't wait. I'm going to be ready.
Jon Robinson: When you look back at your career, where do you see yourself ranked among the best women players of all time?
Venus Williams: Wow, I haven't thought that far down the road yet. There are still quite a few pages in the book left to write. It's always great to be a part of bettering a sport, especially one that I love so much. I feel like I contributed to the game in terms of the playing level and really making the game of tennis a lot more competitive. Hopefully I'm looked at as someone who helped change the game.
Jon Robinson: Your powerful serve is one aspect that really helped change women's tennis. Is there a specific exercise or set of exercises you worked on to increase this power or is a lot of it just natural ability?
Venus Williams: I'm not sure why I'm able to serve like that but I just always have. It's kind of technical but at the same time it's genetics -- some people can, some people can't -- so it's a little bit of everything working together that gives you that magic mixture of performance.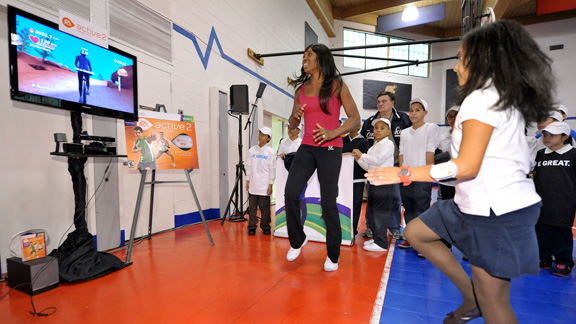 EA SportsVenus goes for a run with the kids from the Boys & Girls Club.
Jon Robinson: How about for kids who are just getting started in tennis: Are there specific exercises in "EA Sports Active 2" that can help them better their game?
Venus Williams: I think this is great for young people who are playing sports or are playing tennis because as a young person, you don't want to lift a lot of weights. With "EA Sports Active," you're using your own body weight with the lunges, with the jumping, with a lot of the things you can do with the resistance bands. You can use your own weight to stay strong, to stay fit and have fun at the same time. It's a great program.
ESPN ARCADE
The sequel to our most popular game is here. How's your return?

Run timed routes, beat DB's to the end zone and score.

Hit your receivers, dodge defenders and rack up TDs.