December, 7, 2010
12/07/10
10:47
AM ET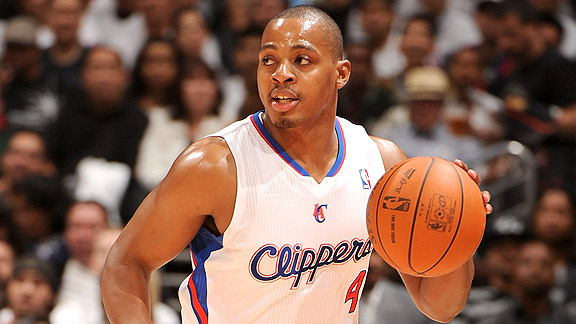 Andrew D. Bernstein/NBAE/Getty ImagesRandy Foye is hooked on playing "Call of Duty" for the Xbox 360.
Randy Foye has always played with a shoot-first mentality on the court.
That attitude seems to carry over to his "Call of Duty" skills as well.
"Call of Duty is my favorite game," Foye tells me as I catch him on the phone during a recent Clippers road trip. "I actually caught myself this summer locking myself in my basement for hours and hours at a time playing.
"I like any of the automatic weapons in the game. Rifles are good for head shots, but to me, I want an automatic weapon where I can fire off a lot of shots and get in and out of an area quick. I'll do some sniping, but I prefer the machine guns."
And when it comes to playing the first-person shooter online, Foye admits that the competitive nature he has an athlete continues to roar on his Xbox 360.
"I'm a competitive person, but you have these people on the game eight hours a day talking trash," he says. "I'm spending the majority of my time playing basketball, but these guys are spending the majority of their time playing the game."
It becomes especially annoying when the person talking trash is some ten-year old screaming in your ear about his latest kill, although Foye says his 12-year-old cousin is by far the best gamer in his family.
"He can beat me in any game we play," Foye says with a laugh. "It's sad to say, but it's so true. My time on top is over. He's just the best there is."
Other games among Foye's favorites include "Mortal Kombat vs. DC Universe" and "NBA Jam."
"I love Sub-Zero," Foye says, speaking as an old "MK" fan. "The Joker is really good and has some cool tricks, but I've loved Sub-Zero ever since I started playing 'Mortal Kombat' on the Sega Genesis."
And Foye isn't the only Clipper gamer, as the guard says DeAndre Jordan recently hosted a "FIFA" tournament at his house.
"It got so competitive, and you can tell, most of the guys have never played soccer in their life, but the game is just so fun," he says. "When a game is real like that, that's what makes it competitive."
And that realistic characteristic really shines through in the new "Call of Duty: Black Ops," Foye's latest addiction.
"It makes you feel like you're really at war," adds Foye. "Then with the game being in 3-D, that's just sick. When you play on a big TV, it's like the bullets and explosions are coming right at you.
"A game like that comes out, and I just don't want to stop playing."
ESPN ARCADE
The sequel to our most popular game is here. How's your return?

Run timed routes, beat DB's to the end zone and score.

Hit your receivers, dodge defenders and rack up TDs.