December, 8, 2010
12/08/10
1:47
PM ET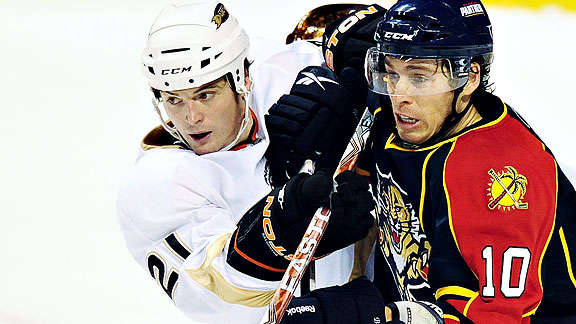 Steve Mitchell/US PresswireSheldon Brookbank loves the fact that his "NHL 11" character is known for rough play.
Sheldon Brookbank might not play "NHL 11," but he's heard stories about his character's bad-ass ways on the virtual ice.
"A couple of my buddies were telling me how I was injuring their players, so that's always good," the Ducks defenseman tells me with a laugh.
Looks like Brookbank's character racks up as many penalty minutes in the game as he does in real life.
Maybe that's why when it comes to his down time, Brookbank prefers to get out his frustrations in a different game -- "Call of Duty: Black Ops."
"I played a lot of video games growing up, and then I started getting back into it with 'Call of Duty 3,'" he says. "We started off with an Intellivision playing 'Biplanes' and games like that, then moved on to the original Nintendo, and that's what we played for the longest time growing up. I remember 'Ice Hockey' with the fat guy and the skinny guy, and then 'Mike Tyson's Punch Out!!' was one of the best games ever made. I also played a lot of 'RBI Baseball' and 'Bases Loaded.'
"It never even crossed my mind at the time that one day video games would look so realistic. I thought it would never get better than Nintendo. Now you have games where I can get online with teammates and everyone is talking trash because you have some guys who hide the whole time and won't go out in battle. It gets pretty intense."
ESPN ARCADE
The sequel to our most popular game is here. How's your return?

Run timed routes, beat DB's to the end zone and score.

Hit your receivers, dodge defenders and rack up TDs.