January, 25, 2011
01/25/11
4:31
PM ET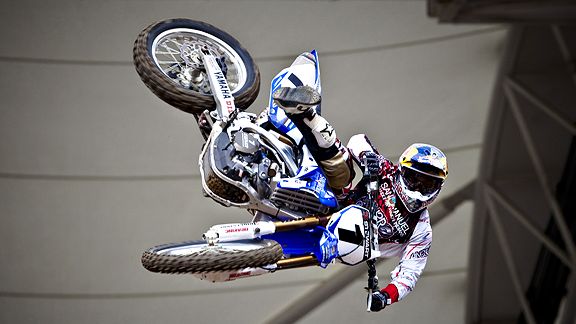 Christian Pondella/Getty ImagesJames Stewart is the cover athlete for THQ's new game, "MX vs. ATV Alive."
Supercross superstar James Stewart is known as "the fastest man on the planet."
But exactly how fast is "fastest"?
"I've done 180 on a street bike before," Stewart tells me as we meet up in Anaheim, Calif., during the unveiling of THQ's new video game, "MX vs. ATV Alive." "It just gets to a point where it's tunnel vision and you can't really see anything.
"But on the track, that's different. I just go out and spin it. I enjoy racing and I'm not afraid to go out and let it hang out. I just want to win so bad, I make it happen. I'm always trying to go as fast as possible. But going 180, that was fun."
180 isn't just fast, it's video-game fast. No wonder THQ signed Stewart to be the first pro rider ever featured on the front box for its "MX vs. ATV" franchise, a series of games that has already sold over 10 million units worldwide.
And it's a game that Stewart thinks will help grow his sport's popularity.
"I was watching this kid the other day, he picked up a copy of 'Madden,'" Stewart explains, "and his face when he got that video game, he was just looking at it like, 'Oh my gosh!' That's the same thing with 'MX vs. ATV Alive.' Once you see the graphics, you're going to want to play. It makes the average person get closer to the sport than ever before, and that's something really cool about the game."
Here's what else Stewart has to say about the game, racing, and why, when it comes to racing, boring is better.
Jon Robinson: THQ just showed me the first footage of "MX vs. ATV Alive" and your character is throwing elbows as you try to pass. What's that all about?
James Stewart: It's the new bar banging they added in the game this year. But watch the trailer again, dude hit me first! I had to take him out.
Jon Robinson: When you see something like that in the game, does it bring you back to when people tried to mess with you on the track?
James Stewart: It really does, especially when I was younger. When I was a rookie, people would try to hit me or scare me, but then I would just take them out. If you take them out, then it's done and nobody will mess with me.
ESPN ARCADE
The sequel to our most popular game is here. How's your return?

Run timed routes, beat DB's to the end zone and score.

Hit your receivers, dodge defenders and rack up TDs.