January, 25, 2011
01/25/11
4:31
PM ET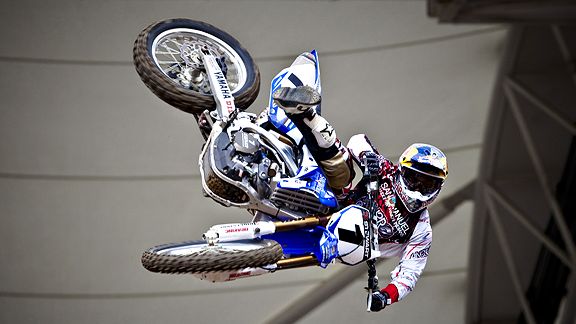 Christian Pondella/Getty ImagesJames Stewart is the cover athlete for THQ's new game, "MX vs. ATV Alive."
Supercross superstar James Stewart is known as "the fastest man on the planet."
But exactly how fast is "fastest"?
"I've done 180 on a street bike before," Stewart tells me as we meet up in Anaheim, Calif., during the unveiling of THQ's new video game, "MX vs. ATV Alive." "It just gets to a point where it's tunnel vision and you can't really see anything.
"But on the track, that's different. I just go out and spin it. I enjoy racing and I'm not afraid to go out and let it hang out. I just want to win so bad, I make it happen. I'm always trying to go as fast as possible. But going 180, that was fun."
180 isn't just fast, it's video-game fast. No wonder THQ signed Stewart to be the first pro rider ever featured on the front box for its "MX vs. ATV" franchise, a series of games that has already sold over 10 million units worldwide.
And it's a game that Stewart thinks will help grow his sport's popularity.
"I was watching this kid the other day, he picked up a copy of 'Madden,'" Stewart explains, "and his face when he got that video game, he was just looking at it like, 'Oh my gosh!' That's the same thing with 'MX vs. ATV Alive.' Once you see the graphics, you're going to want to play. It makes the average person get closer to the sport than ever before, and that's something really cool about the game."
Here's what else Stewart has to say about the game, racing, and why, when it comes to racing, boring is better.
Jon Robinson: THQ just showed me the first footage of "MX vs. ATV Alive" and your character is throwing elbows as you try to pass. What's that all about?
James Stewart: It's the new bar banging they added in the game this year. But watch the trailer again, dude hit me first! I had to take him out.
Jon Robinson: When you see something like that in the game, does it bring you back to when people tried to mess with you on the track?
James Stewart: It really does, especially when I was younger. When I was a rookie, people would try to hit me or scare me, but then I would just take them out. If you take them out, then it's done and nobody will mess with me.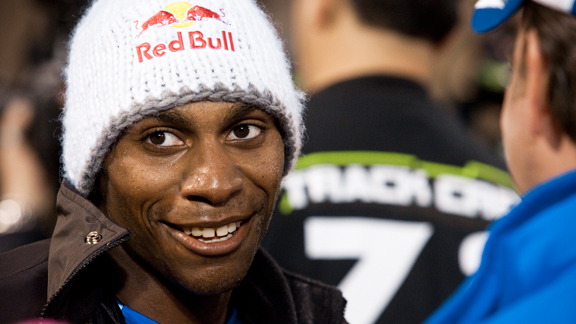 Garth Milan/Red BullStewart in a rare moment when he isn't traveling at a blinding speed.
Jon Robinson: I don't think the average gamer realizes how physical some of these races can be in real life.
James Stewart: For sure, especially off the start because you have too many people going into one corner. In supercross, which is really tight, you have 40 people doing the same thing. That's what makes it tough, but that's also what makes it fun. It's a fun sport, and that element of danger makes it perfect for a video game. People are stuffing each other all over the track. In real life, you can hear them coming up behind you, but in the video game, you don't really see them coming. When you're racing, you just want to be out in front and left alone. The more boring the race is, the better it is.
Jon Robinson: I hear that when you went to THQ to provide voice-overs for the new title, you actually schooled a bunch of the producers at their own game. How did you do it?
James Stewart: Maybe I was schooling them on the game like, "Hey, you need to change the way this dirt looks," but as far as schooling them, I think they were just making me sound good. Although in "MX vs. ATV Untamed," I'll take the world on in that game. I was dangerous. I was dangerous. [laughs] I got hurt -- I tore my ACL -- so I spent three months on the couch playing that game. I broke a few controllers playing that one. It got so serious that I got this special controller that lights up, and when I'd play the game, I always had to go get my special controller out of the box to play.
Jon Robinson: That's funny, because at the presentation when they announced you as cover athlete, you said you weren't much of a gamer. Now you're talking about special controllers that light up. Sounds like you're a gamer to me.
James Stewart: I'm just trying to keep it on the down low. [laughs] I can't tell everyone that, but you're ESPN, I'll let you know what's up. I'm a gamer when the time is right.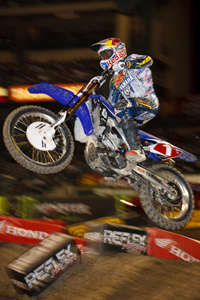 Simon Cudby/Red BullStewart in action.
Jon Robinson: What systems do you own?
James Stewart: I'm a PS3 guy. I could never get used to the Xbox controllers. It's funny, when I play the "MX" game, I hit the PS3 stick so hard, you could hear that loud popping sound when I play. You knew I was doing a move by the pop on the controller. See, the gamer is coming out of me.
Jon Robinson: Did you used to play classics like "Excitebike" back in the day?
James Stewart: Oh yeah, "Excitebike" and then on the PC I loved "Motocross Madness."
Jon Robinson: Now with "MX vs. ATV Alive," you're the first cover athlete ever featured on the box. Are you worried about any type of "Madden" curse happening with "MX"?
James Stewart: I don't know nothing about that. [laughs] Don't mention it again and we're straight. I was already hurt last year, so I think it's a reverse curse.
Jon Robinson: So if I'm racing against your character in the game, what should I expect to happen?
James Stewart: I'm going to be scrubbing and I'm just going to be the fastest dude out. If you beat me, that's when you know you've arrived in the game. That's what ESPN pays you to do, so I want to see what you've got.
Jon Robinson: What's the coolest trick I can do in a video game that you wish you could do in real life?
James Stewart: A backflip. I wish I could do a backflip. I know I can do it, I just haven't.
Jon Robinson: How about on the flip side. Is there anything cool you can do in real life that they need to add in the game?
James Stewart: I'm actually surprised by how much they have in this game. When I was playing, some guy will scrub past me and I'm thinking how real it all feels. This game is as legit as it gets.
ESPN ARCADE
The sequel to our most popular game is here. How's your return?

Run timed routes, beat DB's to the end zone and score.

Hit your receivers, dodge defenders and rack up TDs.