January, 20, 2011
01/20/11
6:35
PM ET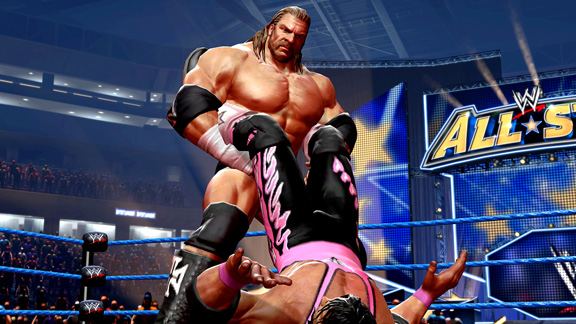 THQTriple H takes on Bret "The Hitman" Hart in a battle of superstar versus legend.
"WWE All-Stars" is the most fun wrestling game I've played since "No Mercy."
Last week, I spent over an hour playing an early demo of the game at THQ's preview event in New York, and when my time was finally over, all I could do is try and think of a way where I could pocket the disc without anybody noticing.
That's right, the game is commit-a-felony good.
Here are five reasons why I think "WWE All-Stars" is going to be a serious contender for Fighting Game of the Year.
1. The Roster: Oh yeah! The tower of power, too sweet to be sour, funky like a monkey, sky is the limit ... complete mental insanity! That's right, "Macho Man" Randy Savage makes his long awaited return to WWE video games in "All-Stars," complete with "Macho King" alternative attire. Savage drops his patented elbow from the top rope, and from what I played, was the most fun all-around character available in the demo thanks to his combination of acrobatics and hard-hitting attacks (not to mention the ability to get under your opponent's skin by constantly yelling in Macho Man's raspy voice and telling them to "be a man").
ESPN ARCADE
The sequel to our most popular game is here. How's your return?

Run timed routes, beat DB's to the end zone and score.

Hit your receivers, dodge defenders and rack up TDs.