February, 16, 2011
02/16/11
4:16
PM ET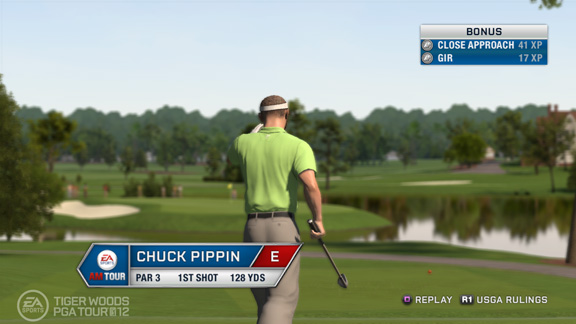 EA SportsThe better you play in Road to the Masters, the more XP you'll earn.
Launch gallery »
One of the biggest problems I've always had playing through a career in any "Tiger" game is I never felt like I was working toward any type of goal that carried true meaning. It's not like "Madden" where I'm trying to get my team to the Super Bowl or "NBA 2K11" where I'm out to win the NBA championship. But now that EA Sports has signed an agreement with Augusta National Golf Club to finally include the Masters in "Tiger Woods PGA Tour 12," looks like I finally have that meaning I was looking for (besides, I always wanted a green jacket).
"You start out as an amateur qualifying at a local event," explains producer Scott Stutsman. "That gets you onto the Nationwide Tour, then after so long you go to Q-School in order to get your PGA Tour card."
Throughout the qualification process, your golfer is growing in abilities thanks to an increase in XP. You'll also see improvements thanks to the addition of caddies who will give you advice and help you master each course.
"It's a growth process you go through, season after season, year after year," Stutsman says. "With the eventual goal to work your way up and play the Masters."
ESPN ARCADE
The sequel to our most popular game is here. How's your return?

Run timed routes, beat DB's to the end zone and score.

Hit your receivers, dodge defenders and rack up TDs.