March, 29, 2011
03/29/11
7:25
PM ET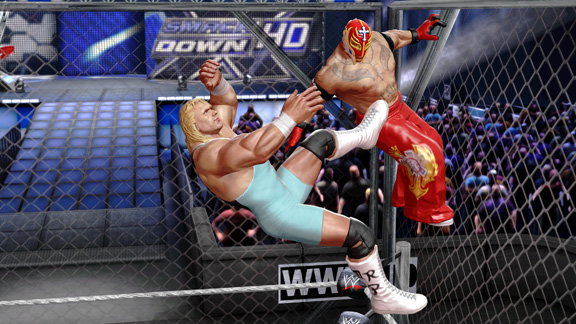 THQRey Mysterio battles Mr. Perfect inside a steel cage in THQ's new game, "WWE All Stars."
I walk into THQ's San Diego studio, and on the big screen is a scene-stealing video of Rey Mysterio fighting Andre The Giant in the upcoming game "WWE All Stars." Rey's character is bouncing all over the ring, flipping and spinning in the way only Rey can, until, that is, Andre (dressed in his '70s red trunks, complete with old-school Afro), snatches the high-flier out of the air and, with a single punch, drops the most famous man in a mask this side of the Lone Ranger (or maybe Rip Hamilton) to the mat.
About an hour later, the real Rey Mysterio joins me at the studio to get his hands on the game, and when I tell him about the virtual matchup I saw earlier, it brings him back to the first time he saw Andre The Giant in person.
"I remember seeing Andre one time live across the border in Tijuana [Mexico]," Mysterio says. "Andre moved like a giant. He was slow. But it's funny, because when I was backstage and they were telling me about the game, I told them: Dream match, Andre The Giant versus Rey Mysterio. And now here we are."
Making for a match of contrasts between the two grapplers, as The Giant slowly stalks his prey while the speedy Mysterio darts across the squared circle, picking his spots to launch himself off the ropes in hopes of knocking the big man off his feet.
"I never had a chance to meet him. I wish I would've had the privilege," Mysterio adds as we talk about the match. "I think it would've been interesting to see the two of us in the ring. It's hard to even call out [how the match would play out]."
But that's not the only potential main event gamers will be able to play out virtually, as "WWE All Stars" features 30 superstars, including 15 current wrestlers such as Mysterio, John Cena and The Miz, along with 15 legends such as Randy Savage, Mr. Perfect and The Ultimate Warrior.
Says Mysterio: "When I saw myself in the first video game, I was like, 'Damn, I've got my own video game. That's cool.' But now, this is something totally new, and we took video games and the sport of wrestling to a different dimension with all the stuff I've seen on the screen. Physique-wise, the moves ... it's just crazy."
Between matching up wrestlers such as Stone Cold and CM Punk and seeing who would win between The Rock and John Cena, I had the chance to sit down with Mysterio in, of all places, the very ring THQ used to motion-capture the moves for the game, to talk more in depth about "All Stars," Eddie Guerrero and his frequent change of masks.
Here's what he had to say (without ever feeling the need to drop-kick me in the teeth ... at least, I think).
Jon Robinson: "WWE All Stars" is all about matching current stars up against legends to see who is the best ever. One match that they have in the game is you against Eddie Guerrero in a battle to see who is the top high flier of all time. Does that bring back a lot of memories for you?
Rey Mysterio: No doubt. Every now and then, I go back and watch some of our matches in order to bring back old moves that I've done but I just haven't been able to do with no one else. I might try and do these with somebody new, so I go back and YouTube some of my matches with Eddie, because I felt that we had some of the best matches, as a wrestler, as a person. I'm aware that most of the fans think the same way, so I think that now when I play the new "All Stars" game, my son will probably pick Rey and I'll probably pick Eddie. Of course, it will bring good memories without a doubt.
Jon Robinson: When you showed up to the studio, you were wearing a mask with horns like the devil. Then you went to the back for a while, and now you're wearing a different mask. How does the mask play into the mythology of your character?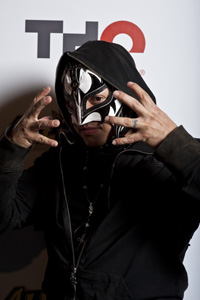 THQMan in the mask.
Rey Mysterio: It all has to do with what type of mood I'm in. I knew I was coming in to do the introduction for THQ's "All Star" game and I was going to have some media, and I thought it would be cool to pull out the Daredevil mask. I wore Daredevil at WrestleMania XIX. That's quite a while back, but I wanted to get into that video game mode. If I just brought something flat with some regular, ordinary color, it wouldn't have brought me into that mood. Then I changed into the Gene Simmons mask, a mask I just busted out in December. So it does play a big part in my life and what I want to do for certain people. WrestleMania has always been a comic hero moment for my fans and for myself, and to me that's a fun part of what I do.
Jon Robinson: As a kid, do you remember idolizing the masked wrestlers?
Rey Mysterio: Oh man, that's really what drew me into wrestling. To see my own uncle put on the mask every Friday to go into the ring, and me putting on his masks to play wrestle with him. It was a whole different world when it came down to sports. It was just so cool to put on my uncle's masks and wrestle with him. I knew that's what I wanted to do. I wanted to be a part of this world.
Jon Robinson: Then when you started wrestling, you were actually wrestling in bars in Southern California, but you were underage, so the masks helped you hide your identity.
Rey Mysterio: One of those occasions, Mando Guerrero was with us and Chavo Guerrero, and I actually had the chance to wrestle them when I was like 16, 17 years old. They would sneak me in the back, and they'd tell me to keep my mask on just in case, for whatever reason, security came by and wanted to card us. They wanted to make sure that we were all 21, but I didn't look one bit over 21. [laughs]
Jon Robinson: How crazy is it to think back to performing in bars, to now you perform at WrestleMania in front of like 70,000 fans?
Rey Mysterio: It just goes to show, if you remain focused and you have a dream and you have a desire to do something, then no matter what gets in your way, you can never lose hope. It's possible. Not to say that when I was wrestling in bars I said I wanted to be in WrestleMania some day, because that wasn't the case. The case was that I stuck to my craft and always tried to be the best at what I did every night, day in and day out. Eventually that goal, thank God, led me to WWE and WrestleMania.
Jon Robinson: I was at Elimination Chamber, and you got thrown headfirst into the chamber glass.
Rey Mysterio: [laughs] Yes, I did. I couldn't stop. In the heat of the moment, it's all good, but then, oh man, it was a stinger. The next day you're feeling it more, then the following day it's even worse. It builds up until you get to day four or day five, then the swelling starts to go down, the bruising starts to go away and you feel less pain. But it was pretty bad.
Jon Robinson: You and Edge have a great chemistry in the ring, and once again showed that in the end of your Chamber match. What is it about the two of you that just clicks?
Rey Mysterio: I always said when Edge and I were tag team partners that we had great chemistry together. Then we ended up parting our own ways and facing each other, and we found that chemistry again as opponents. It doesn't matter how you put Edge and myself in the ring, we're going to make sure that we give you what you pay for. That's when you feel satisfied and accomplished. When the crowd is feeling entertained and gets their money's worth and want to come back again.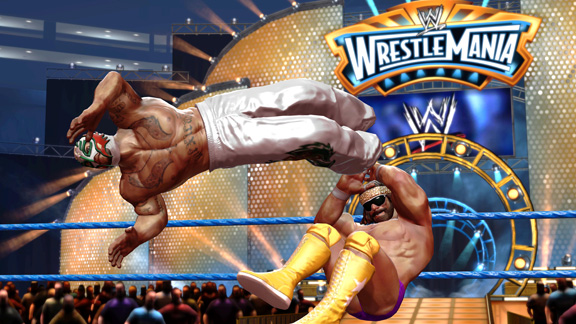 THQRey Mysterio versus Randy Savage is just one of the dream matches made possible in "All Stars."
Jon Robinson: You've been feuding with Cody Rhodes, and now his father, the legendary Dusty Rhodes, is also involved in the storyline. What do you see in Cody that made you want to work such a big program with him heading into WrestleMania?
Rey Mysterio: First off, he comes from a dynasty. I grew up watching Dusty and was a big fan. I've seen Cody's brother, Goldust, too, and there's a generation there that you just can't let slide by and close your eyes and pretend that it's not there. It's there, and it's been pushing strong ever since Randy Orton had Teddy [DiBiase] and Cody with him. So me, being a second-generation wrestler as well, I figure why not clash together. I really feel strong that there's a lot of material here that we'll be able to give fans to enjoy. That's what I'm all about. I'm all about entertaining my fans.
Jon Robinson: And now you've welcomed Cody to the world of masks.
Rey Mysterio: Yes, of course!
Jon Robinson: We talked about the Elimination Chamber earlier, and in the video game, they have everything from steel cages to hitting your opponent with the ring bell. Do you still like performing in gimmick matches, or do you prefer the old-fashioned one-on-one bouts?
Rey Mysterio: At one point, when I was introduced to that, it was fun. I was part of ECW, and I got to live that, I got to experience that at a very young age. I was 17 years old, and I walked into a locker room where nobody knew me, but I felt welcomed. When you talk to Paul [Heyman], he told me to just go out and do what I do and have fun. He gave us liberty to break a table, use a chair, a frying pan, whatever. I had the opportunity to soak that all in and enjoy it to the fullest, so I can say that I'm past that and moved on, but I don't mind if they bring it back just to relive it for one night. I never mind bringing back old memories.
Jon Robinson: Speaking of bringing back old memories, The Rock made his return to Raw recently and will be at WrestleMania. What does that mean to the WWE to have him back?
Rey Mysterio: I want to say that maybe for a while, our fan base, the WWE Universe have been asking themselves for a very long time if The Rock is coming back, when is The Rock coming back. Now here he is, and I think everyone who had been wondering about that were very entertained. And I'm not going to lie to you, I was at home and I was entertained. But there was a big comeback from what The Rock said last Monday, so now it's getting good because John Cena doesn't have tape over his mouth. He can spit, and when he spits, he can get nasty, so it's going to be good. That's all I can say; it's going to be good. Anytime you get something new or something old that was good that fans have been waiting to see but hasn't been given to them, then boom, it's back, it's like wow, and everyone is on the edge of their seats. Here we go. And this year, I think fans are going to be on the edge of their seats for WrestleMania, from the beginning to the end.
ESPN ARCADE
The sequel to our most popular game is here. How's your return?

Run timed routes, beat DB's to the end zone and score.

Hit your receivers, dodge defenders and rack up TDs.