March, 9, 2011
03/09/11
12:29
PM ET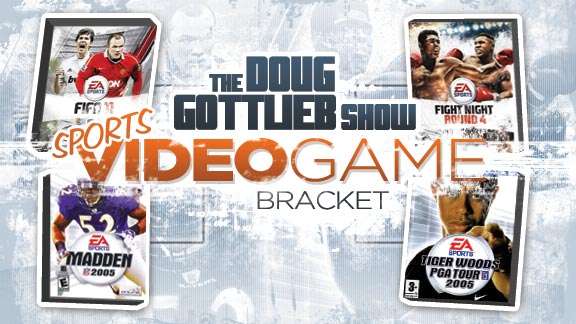 ESPN
What's the best sports video game of all time? Throw that question out next time you're with a group of friends and the debate might last all night.
But sports video game fan (and ESPN Radio host) Doug Gottlieb decided to put things to rest once and for all with a fan vote deciding which game truly is the best of the best.
I have beef with some of the games on his list (no "NFL 2K5," no "Track & Field," no "Pro Wrestling" or "Coach K" to name a few), and I have a huge issue with fans already voting for "Fight Night Round 4" (a game that sold next to nothing and that die-hards of the series seem to despise), beating a classic and groundbreaking game like "Baseball Stars" in the first round, but other than that, it's a fun bracket to sort through and argue about as Gottlieb brings March Madness to the cyber courts of your favorite video games.
Hit up Gottlieb's page and cast your vote now. If you don't, and "Big Buck Hunter Pro" ends up beating "NBA Jam," you'll only have yourself to blame.
ESPN ARCADE
The sequel to our most popular game is here. How's your return?

Run timed routes, beat DB's to the end zone and score.

Hit your receivers, dodge defenders and rack up TDs.