March, 14, 2011
03/14/11
8:42
PM ET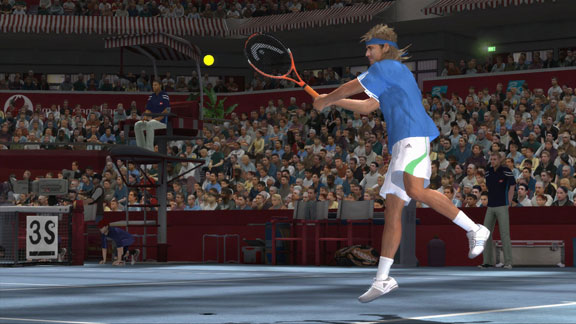 2K SportsAndre Agassi is playing like a champ again in "Top Spin 4."
This past Halloween, I saw two people in San Francisco walking around with mullet wigs and obnoxiously bright tennis gear complete with drawn-on stubble to complete their throwback Andre Agassi costumes.
When I tell the man who inspired the iconic look about what I saw, all he could do was laugh, later admitting that he didn't even realize the impact he was having on pop culture while he was playing.
"You're never aware of the influence you have at the time, but then you start seeing signs like the stadium being sold out and people wearing your equipment and dressing like you and playing with your racquet," Agassi tells me. "That's when it occurs to you that you've reached a certain level with people and are connecting.
"On the other side of it are all of those in the audience who are calling me a punk and 'all show and no substance.' All of it was a bit overstated and it's never quite who you are, so you do your best to keep it all in perspective."
When you're not just a sports icon but a pop culture icon the way Agassi was/is, keeping perspective has to be an everyday struggle. In fact, it's Agassi's unique flavor that makes him one of the most marketable and beloved players in the game today, even in retirement. That's why video game publisher 2K Sports, which features Michael Jordan on the cover of "NBA 2K11," signed Agassi to appear front of the box for the upcoming smash, "Top Spin 4."
And just as 2K saved Jordan to appear on what's arguably the best basketball simulation ever created, it looks like gaming history repeats itself here, as from what I've played of "Top Spin 4," it could be the tennis game that ends up defining the genre.
I talked to Agassi over the phone to get his thoughts on the new game, his favorite opponents and how he thinks he would do if he played Roger Federer, prime versus prime. Here's what the tennis legend had to say.
Jon Robinson: What's it like to see your career living on in the world of video games and "Top Spin 4"?
Andre Agassi: It certainly feels good to be connected to the game in way that transcends to the next generation. That's why I wanted to get involved, to continue that connection to a sport that has given me a platform to do so much in my life. It's certainly one component of how I choose to do it, and seeing all of the other players who are involved, it's easy to understand why we're with such a great company that's able to communicate how we do what we do on the court. Watching it come alive is a fun thing.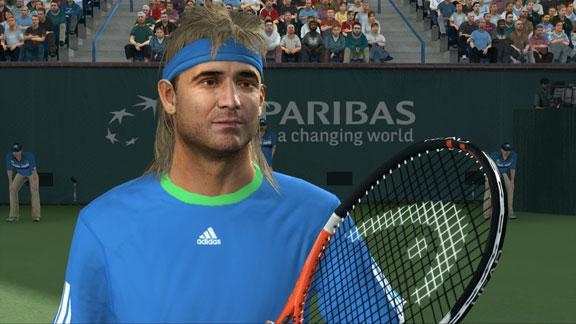 2K SportsAndre takes the mullet virtual.
Robinson: What do you think of flashing back and seeing yourself in the game, with the mullet and all your old clothes?
Agassi: Unfortunately, we all have to live with what we used to look like. My life is a little more documented than most, so that's at times a bit overwhelming to see it in such bold terms. But that is part of my history and part of what I brought to the game and to see it live on now, it's historical in nature and you never know what is going to resonate with kids or what is going to give them that point of interest to get involved in the game.
Robinson: You had a couple of your own video games back in the day. How does that experience compare to now?
Agassi: Gaming has changed dramatically, there's no question about it. When I was a kid, we were lucky to play any video game in our house without having to go to an arcade. It's pretty extraordinary how far they've come with technology. Today, it feels like an entirely different experience.
Robinson: You said you used to play as a kid. Do you still play video games?
Agassi: I play a little with my kids, but we try to limit their usage because we feel it's important to live a balanced life in this day and age of technology. But when they do play, I do watch them and I have a great appreciation of the technology and how far it has come.
Robinson: One of the unique features in "Top Spin 4" is something called Signature Style, where the game mimics everything from your signature look to the exact way you played on the court. If you had to describe your playing style to kids who are picking up the game but have never seen you play, how would you describe it?
Agassi: For me, my game was about taking the ball early and hitting it hard on both sides and having a strike zone that went from my ankles to just above the top of my head. So take it early, hit it hard, hit it low and hit it deep.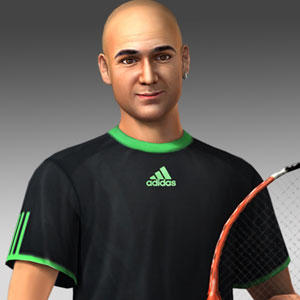 2K SportsUp close with Agassi's player model.
Robinson: The game also features a career mode where you create a player and try to become the next tennis legend. Is it hard for the game to mimic a career like yours and the rock star lifestyle you seemed to live?
Agassi: I don't know if I lived quite like it was perceived. The game is more about the intricacies of strategy that take place with the player learning to adjust to their strengths and weaknesses. That's the cool thing about this game. It allows you to think about the game of tennis in multidimensions. It enables you to play with those strengths and weaknesses and it gives you a level of shot selection that is a lot more realistic than I ever would've thought it could be. And that's part of thinking out there. To play tennis live, you need to be able to control the ball so well before you can even start to think about what you want to do with the ball and where your opponent does or doesn't want it. But in this day and age of technology, you have this ability to think strategically in the game, and it's pretty darn realistic.
Robinson: You're featured in the game alongside a bunch of the top stars from today. Would you like to simulate any matchups in the game to see how you would've performed against someone like Roger Federer, prime versus prime?
Agassi: No, quite the opposite. When I see these guys today, I'm actually very glad that I'm not out there competing against them. At least in the game I can do it virtually and allow people to believe I'd have a chance against them, and that's a good thing. But every sport improves dramatically every three-to-five years, and I think we've see that in the sport of tennis. These guys just keep getting better and better. And that's one thing "Top Spin" really helps you appreciate. ... Not necessarily comparing generations, but comparing who we were as a generation and putting us on equal terms. Every sport does get better and better and there's no comparison between what guys are doing now to 10 years ago. But at the same time, it was just as hard for what we had to do 10 years ago as it is for these guys today because we grew up in a different time, we grew up with a different set of advantages and disadvantages, and to go up and have to compete against them in this virtual world in video games, it's fun because it evens the playing field.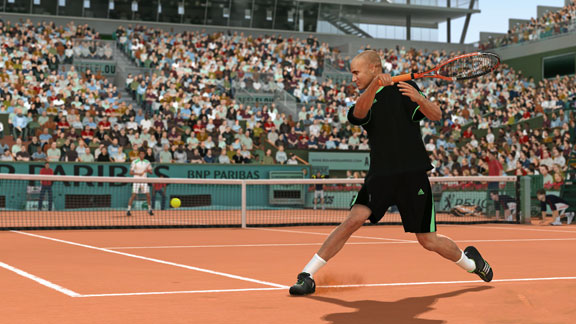 2K SportsAgassi shows off his range by running down the ball in the corner.
Robinson: You really don't think you would've stood a chance if you were playing in your prime today?
Agassi: Listen, I could sit here and tell you that I'm the best of the best, but unfortunately, the best get better. [laughs] That's just how it is. When you have a player who has two pieces in their arsenal that are arguably better than anyone else in the sport, that person is No. 1 and a champion. Now look at a guy like Federer. He has four things that you can argue as a stand alone that he does better than anyone else in the game. It's remarkable. You look at the speed alone, then the athleticism and the change in technology, and why people don't come to the net anymore because of the angles that are created, and it's a whole different set of circumstances out there. So if you just stuck me out there in today's game, being 5-11, I can leave my mark on a lot of guys, but the truth is, they're better.
Robinson: Did you have a favorite player to play against?
Agassi: I'll tell you my least favorite opponent, and that's myself. Most days, I was my own worst opponent. But Pete [Sampras] and I had a rivalry that added to my career in a way that I never could've expected or hoped for. Playing him was always a big part of my career. But the one I always competed against the most was probably [Patrick] Rafter. Rafter had an opposite style of game to mine, but he played with a consistency that allowed me to settle into my strengths. Pete was a guy who never allowed you to find your rhythm. That's what he did, he threw you off your game with the strengths that you had while Rafter allowed you to get into your rhythm, then he competed against you athletically. That combination really did blend to a better match in my mind.
Robinson: What do you think the sport of tennis needs to do in order to recapture the popularity it had back when you were playing?
Agassi: I think what it needs are champions. We're a pretty spoiled country when it comes to the generations that we've come off of in the sport of tennis. We've come off of some pretty magical generations with McEnroe and Connors followed by myself and Pete and Jim [Courier] and Michael [Chang]. There's a lot of grand slams between those two generations of Americans. That makes a huge difference. I think the biggest problem with American tennis is Federer and [Roger] Nadal. Without those two guys, I think we would've seen [Andy] Roddick win six, seven, even eight grand slams. Roger has kept him from winning three or four Wimbledon titles, he has kept him from winning the U.S. Open on a couple of occasions. It's a tough time to be competing, but I think we're starting to close the gaps. I think we're doing more things on a grassroots level to get the racquet in more kid's hands and put some more champions on the tennis stage. Once we do that, I think we'll get Americans to care a little more.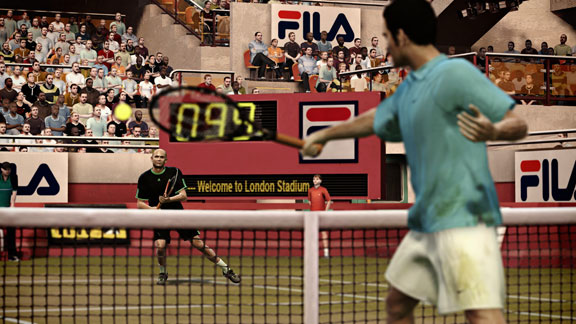 2K SportsTennis fans can renew rivalries like Agassi vs. Sampras in "Top Spin 4."
Robinson: "Top Spin 4" is hitting stores March 15. Convince the fans: Why should they play as you when they turn on the game?
Agassi: First of all, because when I played the sport of tennis, I had to think about what it is I was doing out there. I put a lot of thought into every decision I made. My matches were like a tapestry and every thread had its place. If one was out of place, if one was out of synch, it could affect the whole picture. So play the game, enjoy it, and start to see tennis through the eyes of the champions.
ESPN ARCADE
The sequel to our most popular game is here. How's your return?

Run timed routes, beat DB's to the end zone and score.

Hit your receivers, dodge defenders and rack up TDs.