March, 21, 2011
03/21/11
8:34
PM ET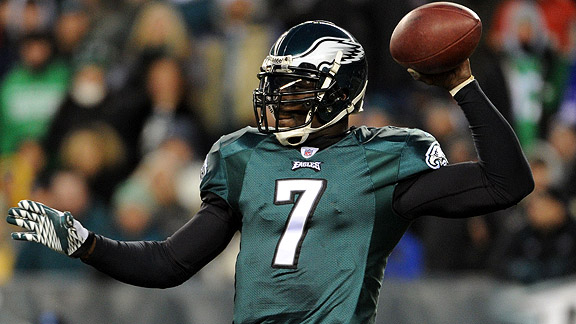 Barbara Johnston/US PresswireMichael Vick is just one of 32 options in the "Madden NFL 12" cover vote.
EA Sports is trying to break the Internet.
There's no other way to explain a 32-man cover vote in which fans get to decide who will front the box for the most popular sports game franchise in history.
And this isn't a cover vote in the "Madden NFL 11" fashion in which there's Drew Brees and two guys who will never win.
The "Madden NFL 12" cover vote features everyone from former cover athletes such as Brees and Larry Fitzgerald to Super Bowl winners such as Aaron Rodgers to players who openly complained about not being on the cover, such as Chris Johnson.
But to me, by far the most controversial, smoke-rising-from-the-servers vote could be a final showdown between Tim Tebow and Michael Vick. That's right; bracket it out and tell me that you don't see what Vince McMahon might dub "The Saint versus The Sinner" main event? Imagine the comments section of that story as the supporters rally and the haters, well, hate.
But we're a long way off from that vote, as Monday, EA Sports and ESPN announced the 32 finalists for the cover, with SportsNation opening up the voting period for the first round today with the eventual "Madden 12" cover athlete being announced live on air April 27.
Here are my thoughts on the first-round matchups:
Left Bracket
(1) Aaron Rodgers vs. (16) Ndamukong Suh
Before I found out about the fan vote, I had pretty much pegged Rodgers as the man to beat for this year's cover. Super Bowl MVP, quarterback for one of the most beloved teams ... the qualifications don't get much better than that. But here's the thing: Don't sleep on Suh. We're talking about a guy who literally will try to rip off your facemask if he doesn't get what he wants.
My Vote: Rodgers. Win a Super Bowl, and you advance.
(9) Larry Fitzgerald vs. (8) Sam Bradford
Fitzgerald shared the "Madden 10" cover with Troy Polamalu and showed no signs of the dreaded Madden Curse. So this year, he's trying to tempt fate a second time, claiming the cover for himself while maintaining that long hair is the secret to avoiding curses. Tell that to Polamalu, who injured his knee before halftime of the first game of the season when the two shared the spotlight.
My Vote: Bradford. Fitz already had his shot. Besides, Sam's the man.
(5) Hakeem Nicks vs. (12) Brian Orakpo
This has to be one of the strangest matchups of Round 1. I was really looking forward to the Eli Manning versus Rex Grossman bracket, but instead we get Nicks and Orakpo. Orakpo is a huge gamer who already was featured on the cover of "NCAA Football 10." Winning the "Madden" cover would put him in the rare company of players who accomplished two different EA Sports covers, but he's the ultimate long shot in this tournament.
My Vote: Orakpo. He's one of the biggest gamers in the NFL, crediting "Call of Duty," "Halo" and, yes, "Madden" as his all-time favorites.
(13) Steve Johnson vs. (4) Danny Woodhead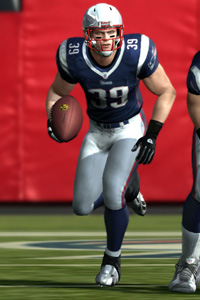 EA SportsWoodhead is ready to make his cover run.
Two of my favorite players go head to head as Johnson, the man who hilariously blamed God for dropping a pass, takes on one of the most unlikely stars in the league, 5-foot-8 running back Woodhead. I guess Tom Brady is too busy dancing in the street to be bothered with the bracket.
My Vote: Woodhead. I've been rooting for the little big man ever since "Hard Knocks." How crazy would it be to get cut from the Jets one year and be on the cover of "Madden" the next?
(3) Maurice Jones-Drew vs. (14) Dwight Freeney
This is the battle of former Madden Bowl champs and a battle between two of the most serious gamers in the league. Only thing is, while MJD still plays "Madden," Freeney recently told me he doesn't play anymore, so it would be a bit strange to see him on the cover. Says Freeney: "I love football so I know how things are supposed to go. You have a guy double-teamed or triple-teamed; he's not supposed to make the catch. And if he does make the catch, it must be one time in a million that he does. So what happened is, I got frustrated a lot with 'Madden' because those types of catches would happen so often, and then there are the glitch guys and all they do is play 'Madden' all day. I have a rule about 'Madden' -- don't ever play a guy who doesn't have a regular job." Good advice.
My Vote: MJD. The best "Madden" gamer in the NFL deserves a shot at the cover.
(6) Jamaal Charles vs. (11) Tim Tebow
Tebow not only was on the cover of "NCAA Football 11," but EA Sports and Nike designed some wicked Gator-blue shoes to commemorate the experience that instantly became collectibles among shoe-heads. You know EA would love a repeat, as Tebow proved he can sell some serious merchandise, even if, depending on how things work out in Denver, he could become the first backup QB to be on the cover of the game.
My Vote: Tebow. All you have to do is look at the jersey sales to know how this vote is turning out.
(7) Ray Rice vs. (10) Peyton Hillis
This might be one of the most even matchups of the first round, as you have Hillis, an absolute beast of a runner and an emerging star, going against Rice, a more established player who already appears in commercials and probably is a little more well known. Hillis is Truck Stick personified, though, and a perfect fit for "Madden." Imagine if Tebow and Hillis were running out of the same backfield. It almost happened in Denver.
My Vote: Hillis. People in Cleveland need something to cheer about. Let's just hope that one day Hillis doesn't end up signing with the Dolphins.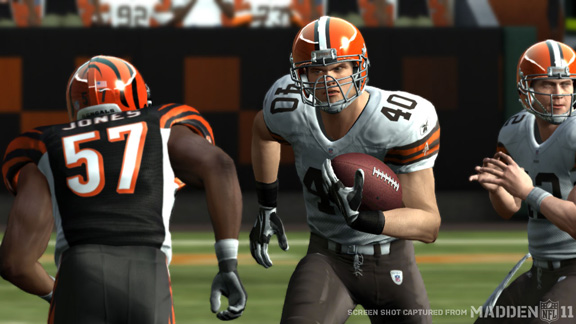 EA SportsWill enough Dawg Pound members turn out to vote for their guy Hillis?
(15) Jordan Gross vs. (2) Matt Ryan
This is about as close as you can get to giving Ryan a bye. Nothing against Gross, but you have a celebrated quarterback from a winning team matched up against a tackle from the worst team in the NFL. Squash.
My Vote: Ryan. First time I met Matty Ice, he reminded me of Peyton Manning. If he can win the vote, he can score the one endorsement Manning never cashed in on -- the "Madden" cover.
Right Bracket
(1) Philip Rivers vs. (16) Darren McFadden
This will be an interesting test to see how strong Raider Nation really is when it comes to pushing one of its own. Sure, Rivers has all the qualifications of a cover star, but something tells me this one will be an upset.
My Vote: McFadden. The Silver and Black faithful are going to stuff the ballots on this one. No way they are letting McFadden lose to a Charger.
(9) Adrian Peterson vs. (8) Julius Peppers
Peterson is one of the most dominant running backs in the history of "Madden" and would look great stiff-arming a defender on the cover. Besides, even if Peterson fell victim to the Madden Curse, it's not like things could get much worse for Minnesota after this past season.
My Vote: Peterson. The way things went for the Vikings last season, maybe the cover would provide some sort of reverse curse in Minnesota.
(5) Mark Sanchez vs. (12) Jake Long
Seems about as fishy as the Matt Ryan/Jordan Gross vote and a way to advance a player to the next round without much of a fight. Long is a great player, but there's no way he's beating Sanchez, a player EA Sports has been grooming for the "Madden" cover since he appeared on the cover of "NCAA Football 10." Believe me, EA loves this guy to death.
My Vote: Sanchez. I like his honesty when I ask him about his "Madden" skills. "I'm just good enough to be competitive," he tells me. "If there's one thing you can't do in the locker room, it's embarrass yourself in 'Madden.'"
(13) Josh Freeman vs. (4) Drew Brees
Brees could be the first player to be featured on the cover two years in a row. He also is one of the rare players who spit in the face of the curse from day one, telling me that the Saints were a team of destiny and destiny beats a curse any day. Hard to argue with that logic.
My Vote: Brees. If anyone deserves the right to get back-to-back covers, it's the Saints QB.
(3) Michael Vick vs. (14) DeMarcus Ware
Shocked to see Vick on the list? Don't be. Even when he was down at his lowest point, EA was talking about putting him in the "Madden" Hall of Fame. He's one of, if not the, greatest polygonal player in the history of the game, and this would mark his biggest endorsement deal yet since being released from prison.
My Vote: Vick. If only to see the Internet blow up at a Vick/Tebow final.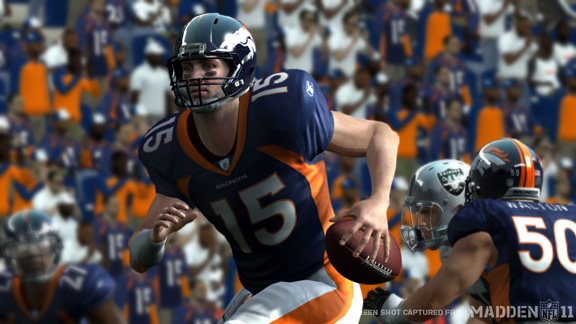 EA SportsWill Tebow be the first backup QB to make the "Madden" cover?
(6) Andre Johnson vs. (11) Chris Johnson
I predict this will be the closest vote of any first round matchup. The best wide receiver in the NFL versus the best running back in "Madden." Gamers will vote for Chris Johnson thanks to all of the wins he's given them over the past couple of seasons. His speed around the corner is breathtaking. But Andre Johnson has his own group of dedicated fans who I think will turn out by the thousands. Will it be enough? If only I could vote Andre into "Fight Night" for what he did to Cortland Finnegan.
My Vote: Chris Johnson. He won a lot of people a lot of money with his skills in "Madden." They'll vote him in as repayment.
(7) Patrick Willis vs. (10) The 12th Man
Quick, name five players on the Seahawks. How about three? If you failed to name anyone, well, then, I guess now you know why the Seahawks are the only team in the bracket not to field a player for the cover, but their fans. If the 12th Man wins, is the whole city of Seattle cursed?
My Vote: Willis. Not only is Willis one of the best linebackers in the NFL, he's a huge gamer who spends all of his spare time online. How cool would it be to play "Madden 12" online against the cover star?
(2) Hines Ward vs. (15) Carlos Dunlap
From "Dancing with the Stars" to "Madden," Ward is a media machine right now, and he should have no problem advancing against Dunlap. Surprised EA didn't go with Chad Ochocinco here just to get his Twitter audience buzzing about the cover. Then again, if Chad makes it in MLS, he'll be playable in "FIFA."
My Vote: Ward. He's been a favorite ever since I first saw him decleat a defender with a vicious block. I easily can see him flash that trademark grin on the cover (and in the winner's circle of DWTS).
So now that you've read my ballot, go cast a vote of your own by visiting the Madden Cover Vote site on ESPN's SportsNation.
ESPN ARCADE
The sequel to our most popular game is here. How's your return?

Run timed routes, beat DB's to the end zone and score.

Hit your receivers, dodge defenders and rack up TDs.