March, 25, 2011
03/25/11
5:26
PM ET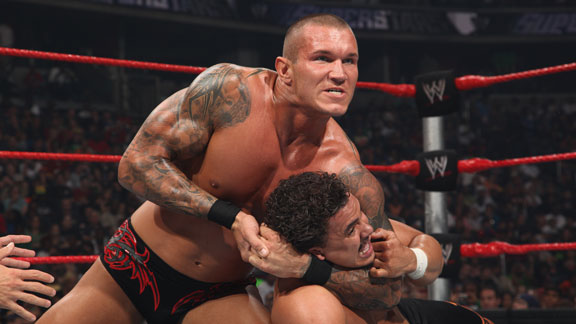 WWERandy Orton is one of the top stars competing at this year's Wrestlemania.
Imagine what's it like growing up in a WWE locker room.
Walk around the corner and you might find the 500-pound "Andre The Giant" playing cards with "The Brain," a midget or even a "Macho Man." Turn down the hall and you could stand face-to-face with everyone from a "King" to "the Conquistadors."
That was the life for third-generation superstar Randy Orton as he ran around backstage as a kid among some of the biggest and most memorable characters the wrestling business has ever known, including Randy's father, WWE Hall of Famer (and the man who made wearing an arm cast famous), "Cowboy" Bob Orton.
But aside from learning it takes years for a broken arm to heal when you're one of the top heels in the business, Randy also became obsessed with one wrestler in particular, Jake "The Snake" Roberts.
"I was even more of a fan of Jake The Snake than I was of my dad when I was a kid, and that's because of the snake," Randy Orton said with a laugh. "Jake used to have his snake, Damien, out in the locker room slithering around the showers. In the locker room, they would actually block off one of the showers just so Damien could roll around, and I'd sit there and watch him. Jake had Burmese pythons, boas, red-tail boas, Columbian red-tail boas. ... I know my snakes, I know my reptiles because I got into them as a kid being in that situation. I just loved Jake The Snake because of that character and how he cut a promo. That dark nature of his character was amazing."
Funny that Roberts was his favorite because the new "WWE All-Stars" video game actually pits Orton against Roberts in a battle to see who is the coldest snake and top predator in WWE history.
"I'm sitting here looking at my new action figure, and it's a two pack from 'WWE All-Stars' with me and Jake," Orton said. "The figures are pretty cool because you get me, and then Jake has his burlap sack with the snake. When I saw that and I found out about our match in the video game, I thought it was really, really cool.
"I never thought as a kid that I'd have an action figure, much less an action figure sold in a two-pack with Jake The Snake. Being in the business 10 years, it's all surreal. You never get used to seeing the action figures and the video games. Looking back and thinking what I'd be doing in life, I never would've imagined I'd end up where I am now."
Jon Robinson: Last time I interviewed you for ESPN, you had just punted Vince McMahon in the head and the crowd loved to hate you. Now you get some of the biggest cheers of anyone on the show but you really haven't changed anything about your character. How does that work?
Randy Orton: You're exactly right. When you go from being a good guy to a bad guy or vice versa like I did, everyone always tells you, "Don't change, don't change." And in my case, the less change the better because what really happened is the fans turned on me. This wasn't some master plan where all of a sudden I was going to be a good guy, I just started getting a lot of fan support. It's a fine line because I wasn't going out there like John Cena high-fiving kids and hugging grandmas and pumping my fist and smiling ... if I would've done that, I would've failed tremendously, kind of like it did back in 2004, when I became the youngest champion in WWE history. That didn't work at all because I changed so much. So it's really about looking at your character, seeing what people like about me, like about my character, and seeing how much I can change without changing too much and walking that fine line. I think I've done a pretty good job. I'm definitely still learning on the job, though. It took me about five years to get really comfortable as a bad guy, as a heel, and I expect to take another couple of years as a good guy to really come into my own, but I'm definitely on the right path.
ESPN ARCADE
The sequel to our most popular game is here. How's your return?

Run timed routes, beat DB's to the end zone and score.

Hit your receivers, dodge defenders and rack up TDs.