March, 28, 2011
03/28/11
1:29
PM ET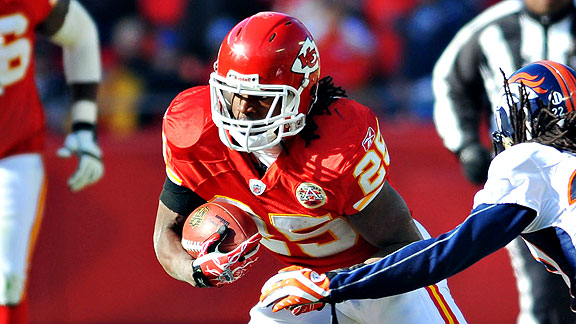 Denny Medley/US PresswireJamaal Charles pulled off one of the biggest surprises in the "Madden 12" cover vote so far.
Honestly, I never thought Jamaal Charles stood a chance.
He was matched up against NFL jersey sales champ Tim Tebow in the first round of the "Madden NFL 12" cover vote, a popularity contest against one of the most popular athletes in all of sports.
Shows what I know. Charles dominated the vote from day one and never looked back, leaving the man himself as stunned as I am.
"I'm surprised, and it's scary at the same time ... it's blowing me away," Charles tells me with a laugh when I ask him about the results. "I had tweeted: 'Who do you think is going to win the round between me and Tim Tebow?' But I never thought it was going to be me."
In my best Howard Cosell voice, all I can say is: Down goes Tebow! Down goes Tebow!
"Most of the fans voted for me because they were afraid of Tebow getting the Madden Curse," Charles says. "If everyone was on my side, no telling how bad I could've whipped him.
"But it's all about the fans. I have to thank the fans for getting me this far."
If Charles does continue to advance and ends up on the cover, he says it will be a dream come true for a guy who spends all of his free time talking noise to teammates while on his PlayStation 3.
"I'm a huge gamer, that's all that I do," Charles explains. "I'm on that 'NBA 2K11' right now, and you know I can't stop playing 'Madden.' I play a lot of fighting games, I play a lot of racing games. I don't really go out when I'm in Kansas City, so I just stay at the house and play video games.
"I started playing 'Madden' when I was a little kid, then I played a lot when I was in high school. I remember when the PS2 came out, 'Madden' is all I played, and now on the PS3, it's changed so much, it's crazy. Everything is like real life."
ESPN ARCADE
The sequel to our most popular game is here. How's your return?

Run timed routes, beat DB's to the end zone and score.

Hit your receivers, dodge defenders and rack up TDs.