March, 29, 2011
03/29/11
2:35
PM ET
For the first time since signing with EA Sports 13 years ago, Tiger Woods isn't on the cover of his own video game. But ask him about it and he doesn't see it as a slight. In fact, he bows out graciously to the new cover star, Augusta National and the Masters.
"It's truly amazing to have the opportunity to add the Masters into the game," Woods tells me as I meet with him at the W Hotel in Times Square in Manhattan, N.Y., to talk about his new game, "Tiger Woods PGA Tour 12: The Masters."
"This is the most sought after tournament gamers wanted in our sport, and the thing is it's so realistic the way they laser scanned the course, it's pretty close to being absolutely perfect. So for us to have the Masters tournament in there and to have Augusta National in the game, a course most people are never going to play for real, and to give them that opportunity to experience the course the way we do, this is something special.
"I've actually been trying to explain to everyone how steep the slopes are on that course. That's something that doesn't come across on TV, and you don't realize it until you actually go there. But now when you play the game, for the first time, I think people will realize how steep these slopes are. I remember the first time I walked the course I was blown away by how steep these slopes are. I was blown away. Now with the advent of 3-D TV, I think people were shocked when they saw it last year, and I think for gamers they're going to be shocked the first time they play the course. You go on the greens and you see the arrows to help you out in the game, and it shows you how big the slope is and it tracks how much the ball breaks, and you'll be amazed. Plus, we have some new features in the game, as well. We have a new career mode where you start out in amateur golf, just how I started, then you go to Nationwide Q school and make your way on the PGA Tour. Then some of the cool things about Augusta is you actually get to compete against the history of the Masters tournament. Whether it's my chip in at 16 or Phil Mickelson's approach shot on 13 hitting from between the trees, you'll need to hit those shots. It's a cool little feature."
Jon Robinson: So in career mode, I need to match or better your championship scores at Augusta per round or it's game over. For you, when you play through the mode, what jumps out about your first win at the Masters?
Tiger Woods: I was shocked at how hard the golf course was playing on the first day. I shot a 70 and I was in fourth place. That's normally not the case, as the scores are usually a lot lower than that. But the course was windy, it was cool, and guys were struggling a little bit. I think that people don't realize how difficult that place is. Playing the game actually brings back a lot of great memories.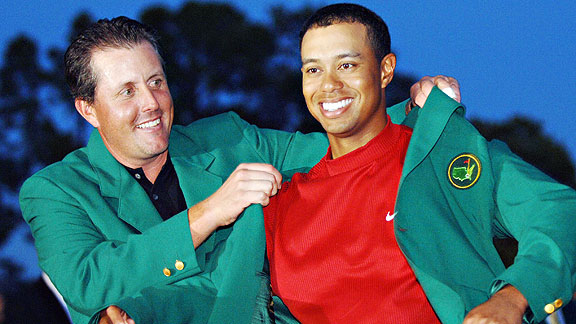 Roberto Schmidt/AFP/Getty ImagesGamers get the chance to win a virtual green jacket in "Tiger Woods PGA Tour 12: The Masters."
Robinson: Do you still remember the first time you ever walked the course at Augusta? What was the atmosphere like
Woods: It was wild. The first time I ever walked the course was as an amateur in 1995. I was blown away at the atmosphere and the respect that the patrons have for the players. I had yet to experience anything like that. They get loud, they get boisterous and excited, but they're so respectful of the game of golf and the players. That's something I had never experienced, and I still don't experience anything like that anywhere else in the world in the game of golf.
Robinson: In the video game, I need to show respect to Augusta by covering up any of my crazy created golfer's green hair with a hat and I need to adhere to the dress code of the course. It's funny that even in the game it's all about respect.
Woods: That's right. It's just like the caddies needing to wear white. Augusta has its rules and regulations of what they think is proper attire, and it's reflected in the game, as well.
Robinson: How about when you create a guy to try and play against the virtual Tiger Woods at the Masters, what type of character do you create?
Woods: I either go with a really big guy or a really buffed-out guy. Those are the two figures I go to. Then, of course, I stick to the dress code [laughs]. I'm clean shaven and my hair is neat and tidy, but I like to play around with physique.
Robinson: So after I beat your score at your first Masters win, I move on and try to trump your second win back in 2001. What do you remember most about that tournament?
Woods: The second win for me was the completion of the Grand Slam. I had won the three majors back in 2000 and the Masters came around nine months later, and here we are with the chance to do something no one has ever done and that's win all four professional majors.
Robinson: Was the second win sweeter than the first in any way?
Woods: It was certainly different just because of the circumstances. If you look at my four Masters wins, those first two stand out, for sure. The pressure was so much more intense with that second win just because there was a nine month buildup. I won the PGA in August, then we don't tee up at Augusta until April. So we had all that time to build up to the Masters. It was quite a relief to actually play just because then I didn't have to answer questions about it anymore, I could just play.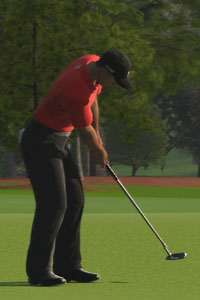 EA SportsTiger putting for birdie.
Robinson: As I compete against all of these scores in the game, is the first win going to be the toughest to beat?
Woods: The first one, for sure, just because the score is so much lower. 18-deep is going to be tough to beat. 2005 is probably going to be the easiest to beat. It's all about the conditions you play the game in. When the weather conditions start to act up, it's not going to be easy.
Robinson: So for gamers who have never seen Augusta before, what hole do you think is going to be the toughest to play?
Woods: That's the thing about Augusta, they all are. Usually on a course, you know you have holes where you can rest. You know you have shots where you can hit a layup off the tee. But there, because of the new second cut and the way the bunkering has changed and the length, you have to be so precise from tee to green. When I first played there and prior to me playing there, it was more wide open. You could blast your driver anywhere you wanted to, basically, and you were playing angles to get it to the flags. But now when you get there, you just have to be so precise with every shot, especially as you head into the greens.
Robinson: EA Sports laser scanned the entire course to try and replicate everything from the greens to the shrubbery. What's your favorite part of the Augusta course?
Woods: When you get down to 13 and you see everything in bloom behind the green. That is a pretty sight during the practice rounds, but during a tournament you never see them because you're so focused on where you want to hit the golf ball. But during a practice round, you look around a little bit more and you see these different little things that you never see during the tournament. You take everything in a little more during those practice rounds.
Robinson: One of the other cool things about Augusta is how the winner gets to wear the Green Jacket. Do you get to take it home? Ever wear it around the house?
Woods: The winner gets to take it home for a year and they have to bring it back for the champion's dinner on Tuesday night. We all go to the locker and get our green jackets, then the champion who hosts the dinner brings his green jacket and we all wear it for the dinner. Then once the dinner is over, we have to all put our jackets back in the locker. You can't leave the premises with the jacket. Even the defending champion, once that dinner is over, you have to put the jacket back in the locker.
Robinson: What did you do with your jacket when you brought it home? Did you wear it while playing video games or out to dinner just because you can?
Woods: I never did. [laughs] It was always one of the coolest things because it had a special place in my closet. So when I went into the closet and turned the light on, it was the first thing I saw. That's special.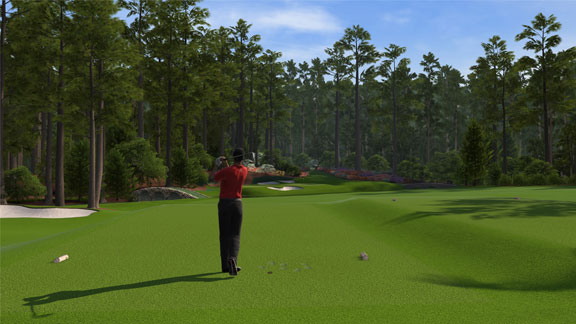 EA SportsIf you want to play Augusta in "Tiger 12," you'll need to adhere to the strict virtual dress code.
Robinson: The Masters really helped skyrocket your career. You've struggled a lot lately, but do you think that Augusta could be the site of your biggest comeback and maybe help set your career back on the right path?
Woods: I'm looking forward to it. I feel like my game is progressing and headed the right direction and showing some really good signs. I still need to work harder and get this a little more solidified for the majors. I'm looking forward to it because I love major championship golf ... it's a different animal. It's not a sprint, it's a marathon, and it's about eliminating mistakes. At the majors, the golf courses are setup so much more difficult where if you make a mistake, you can't recover. So it's about moving yourself around the golf course differently than you do at a regular event. At a regular event, it's a sprint where you're trying to make a bunch of birdies and trying to get up there. At the majors, it's more plodding along, and that's why you see, generally over time, the same guys winning major championships. It's a different mentality.
Robinson: What's the mentality of trying to sink a putt with millions of dollar on the line and the crowd staring you down. Some people barely have enough nerve to do it in the video game when the pressure is on.

Woods: That's the easiest part, it really is because you're enthralled in the moment. The periphery doesn't exist. What's going on around you, you don't hear it and you're not aware of it. I'm aware of what I need to do to make this putt and put this golf ball in this hole right now. That's where all my time and energy goes to. The outside really doesn't exist.

Robinson: Are you that cold in the video game too, or when your phone rings are you totally distracted?

Woods: I'm totally distracted. [laughs] I'm terrible at the game. My skills just haven't improved at all throughout the years and it's frustrating. I'm awful. Kids in the neighborhood come over and beat me. I'm like, "Let's go play real golf."
ESPN ARCADE
The sequel to our most popular game is here. How's your return?

Run timed routes, beat DB's to the end zone and score.

Hit your receivers, dodge defenders and rack up TDs.