April, 15, 2011
04/15/11
5:01
PM ET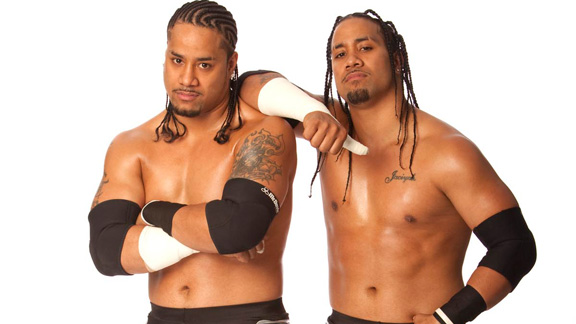 WWEJimmy and Jey Uso brought their video game rivalry to THQ's Superstar Challenge.
When WWE tag team Jimmy and Jey Uso faced-off in THQ's Superstar Challenge video game tournament, everyone who knew the brothers were sure of one thing: Jimmy's dominance.
"I'm a huge gamer," Jimmy told me before the tournament started. "If it comes down to me and my brother, I know I'm going to win."
But that's why they play the games.
In a first round upset, Jey Uso knocked out his brother in a game of "WWE All-Stars," then moved on to win the whole tournament, defeating Sgt. Slaughter in the finals. A result that left his brother Jimmy shaking his head long after the tournament had ended.
"I'm never going to hear the end of this one," Jimmy said, playing the virtual match over in his mind. "I was playing as Eddie Guerrero and my brother was playing as Randy Orton. I made one mistake and he beat me, but I love the game. When I look at 'WWE All-Stars,' to me, that's what a wrestling video game should be. Everyone is big and over-exaggerated and the moves are crazy. It's like the 'NBA Jam' of wrestling. Is it the shoes?!
"I just can't believe my brother beat me. We had a big gaming rivalry ever since we were kids. We'd play 'Street Fighter' and 'Mario Kart' all day. Even today, we play a lot of 'Call of Duty' and 'Madden.' But now every time we play, I know he'll bring this tournament up."
A tournament that netted Jey some serious video game loot, including a copy of "WWE All-Stars," an arcade stick, an Xbox 360 with Kinect, headphones, and a trophy that Jey says he is going to place right next to his new Xbox for all to see.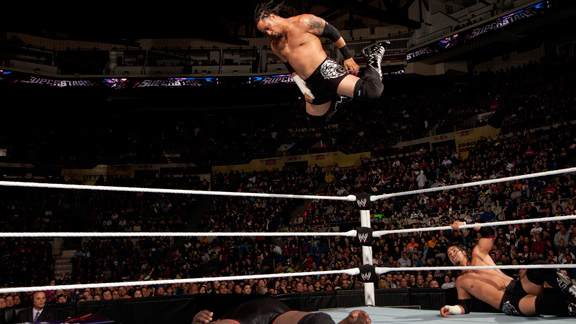 WWEThe Uso Brothers carry on the tradition of high-flying tag teams in WWE.
"At home, we workout, we train, then we game," explained Jey, "and 99 times out of 100, my brother beats me. He's the gamer out of the two of us. I knew after I beat him that my brother was so mad. It feels good. I play games, but Jimmy is always a step ahead of me with the special moves. He just always figures every game out so quick and he always plays as the best team. It doesn't matter what game we play, my brother always wants to be the best. But not tonight.
"Just like in 'Madden' how I Hit Stick him with Ray Lewis all night, tonight it was the RKO. I need to thank Randy for this. I stole my brother's strategy by playing as the best character in the game and it worked. I'm going to shine this trophy up nice so Jimmy sees it every time we play games. Even if he beats me for the rest of my life, I'll always have this win."
ESPN ARCADE
The sequel to our most popular game is here. How's your return?

Run timed routes, beat DB's to the end zone and score.

Hit your receivers, dodge defenders and rack up TDs.