April, 15, 2011
04/15/11
5:02
PM ET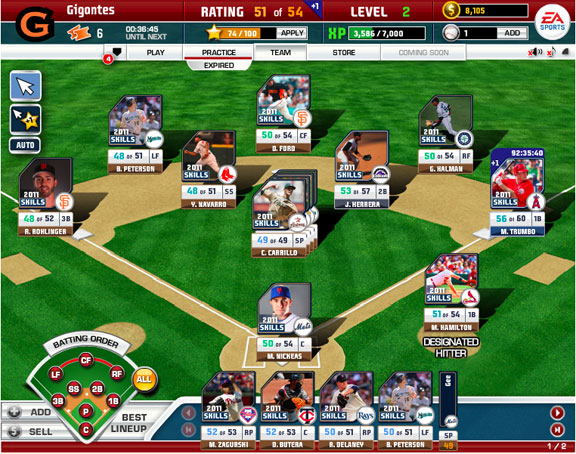 EA SportsEA Sports is back in baseball after a six-year hiatus.
Finding new ways to play baseball without actually playing baseball is something of freakish hobby of mine ever since I realized I had all the hardball talent of a stick of that cardboard-like gum at the bottom of a pack of cards. From playing "Strat-O-Matic" dice games as a kid to games like "RBI" and "The Show" to simulations like "Diamond Mind," I can spend hours trading players and adjusting lineups without ever losing my grin.
My latest obsession? EA Sports' "World Series Superstars," a free new Facebook game that combines the art of collecting cards with the strategy of pure baseball to deliver another epic time-sucking distraction online.
The beauty of the game is that you can be as involved with your team as you want. Meaning, if you want to micro-manage every plate appearance, the choice is yours. Or, if you simply want to simulate the outcome and jump to the next game or pack of cards, you have that ability as well. And it's that flexibility that keeps me coming back as I find myself spending ten minutes playing the game one day, an hour the next.
This is EA Sports' first baseball game in six years, and builds upon the buzz generated by the company's other Facebook games, "FIFA Superstars" and "Madden NFL Superstars."
I recently had the chance to catch-up with EA Sports president Peter Moore to ask him about the new game and the future of MLB-licensed products from his company. Here is what he had to say.
Jon Robinson: It's strange to think that a company like EA Sports hasn't made a baseball game in six years. You've just launched "World Series Superstars," is a deal for console games also already in the works?
Peter Moore: There is nothing other than the right to create social network games. We'll continue to talk to our friends at MLB as well as Baseball Advanced Media and the Player's Association about other opportunities, but our focus right now is with "World Series Superstars." We're delighted to get all our deals done and our licenses secured. We've been building this game for a long time now.
Jon Robinson: How would you describe the concept of the game?
Peter Moore: You start out in the equivalent of Single-A ball and you start out with a bronze pack of Major League players. You play and you win and every time you win you start building up coins. Then once you collect enough coins, you can go buy another pack of cards. It's a classic social networking game and GM/Manager-type game where you work your way up from the depths of the minors all the way up to the Major Leagues with the goal of winning the World Series. It's a lot of fun, but it's something I know I'm going to end up spending some of my own money in order to accelerate my path. I just don't have the patience to grind things out like a lot of people do in these free-to-play games. But what I love about this game is the amount of control you have over your team. It's not like "FIFA" where you just send your team out there and hit play. There are a lot more decisions I can make here from who is pitching to how you set your fielders. Everything you can do in a virtual GM game you can do here, and I just think baseball is better suited for this type of game rather than more fluid team sports like football or soccer. If you're a baseball fan, you'll enjoy this. It's one of those games where you need to build from the ground up, but it gets pretty addictive once you get a decent team out there and you're working your way through the leagues and generating an identity for your team.
ESPN ARCADE
The sequel to our most popular game is here. How's your return?

Run timed routes, beat DB's to the end zone and score.

Hit your receivers, dodge defenders and rack up TDs.