April, 28, 2011
04/28/11
8:41
PM ET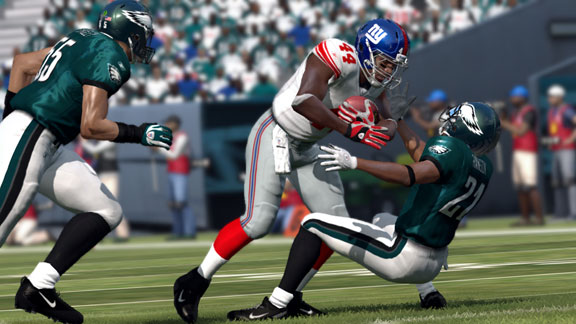 EA SportsLook for "Madden 12's" new collision system to dramatically improve gameplay.
Watch a beast like Ndamukong Suh burst through a blocker and attack the ball carrier with no regards for humanity, and you're witnessing one of the most heart-racing plays the NFL has to offer. Watch the same sequence play out in a game of "Madden," though, and you're more likely to see a bunch of polygonal bodies standing around and rubbing up against each other than anything close to the electrifying smackdown Suh makes in real life. But thanks to the new tackling system being introduced in "Madden NFL 12," everything from the way a defensive player battles through blockers to the devastating impact made on collision has seen a serious upgrade.
The biggest difference gamers will notice right away, however, is the increased violence of every hit. With the old Pro-Tak tackling system, the game turned into gang tackles where groups of players ended up huddled together pushing a pile one way or another. But now that the new tackling system has more to do with momentum and point of impact, instead of watching a pile moving in boring fashion, now one defender might grab the ball carrier while the second defender charges in and cleans the pile out.
To accomplish this, gamers will hit a new tackle button (works like "NCAA Football 12"). In the old days, this was simply the dive button, but now if you hold the button down, defenders will bow-up and attack the ball carrier. And now that the hits are momentum based, the outcomes aren't played out in animations that instantly warp your players into proper wrap position. Now you hit them as you see them, and what you'll find is a much more natural-looking and impactful hit.
ESPN ARCADE
The sequel to our most popular game is here. How's your return?

Run timed routes, beat DB's to the end zone and score.

Hit your receivers, dodge defenders and rack up TDs.