May, 5, 2011
05/05/11
2:43
PM ET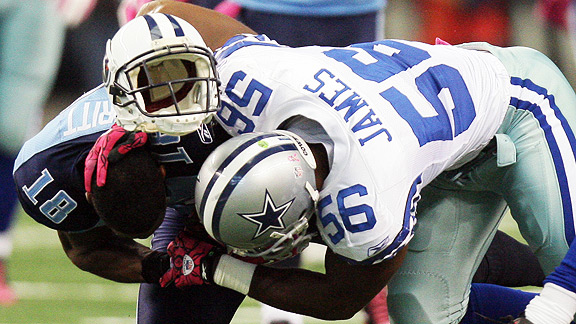 AP Photo/Mike FuentesIf your player suffers a concussion in "Madden NFL 12," he'll be forced to sit on the bench.
A few weeks ago, EA Sports created a stir when president Peter Moore mentioned at the World Congress of Sports conference that "Madden NFL 12" was changing the way concussions would be handled in the game, and that from now on, a player who suffers a concussion in "Madden" will automatically be forced to sit out the rest of the contest.
Almost immediately, however, Moore's comments raised more questions than answers as consumers debated whether or not defensive players who caused multiple concussions would be suspended in franchise mode and even if gamers would still be able to aim their Hit Stick tackles high in order to cause concussions (thereby forcing star players from the other team to the bench).
But when I raised these issues with "Madden NFL 12" producer Phil Frazier, he says that there is a lot of misinformation floating around about the game's concussion system, and he was quick to clarify the issue.
"We're treating the injury more in line to how they do in the NFL," Frazier explained as we played an early build of the game. "It's not based on the Hit Stick, though. It's based on the area of the collision. So you have to actually hit a guy in the head as part of a tackle for it to even be considered for a concussion, but causing a concussion in the game is rare.
"I'm not sure of the exact numbers, but there were over 25,000 plays called last season in the NFL, and out of all those plays there were only about 200 concussions. So in "Madden," on any play, there is a .59 percent chance of a concussion happening. It's a very rare injury and it will be rare in the game."
Frazier also said that defenders will not be suspended in franchise mode for causing too many of these hits as gamers can't aim their tackles specifically at their opponent's head. "We don't have a mechanic in the game that causes a concussion," added Frazier. "There's nothing you can do to increase the likelihood of a concussion. We're not going there."
ESPN ARCADE
The sequel to our most popular game is here. How's your return?

Run timed routes, beat DB's to the end zone and score.

Hit your receivers, dodge defenders and rack up TDs.