May, 12, 2011
05/12/11
4:23
AM ET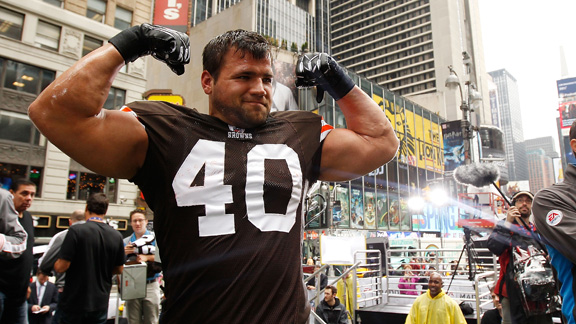 EA SportsPeyton Hillis takes a second to flex for fans at the "Madden 12" cover shoot in Times Square.
From busted bones to broken careers, the "Madden" cover curse has left a trail of sobbing superstars wishing they had never signed on EA's dotted line to become the face of video game football.
But ask "Madden NFL 12" cover boy Peyton Hillis about the mythology of the curse and the terrible injuries that have struck just about every player who has appeared on the cover, and all he does is laugh.
That's right; Hillis laughs right in the face of the "Madden" curse, telling me he sees the cover as a blessing, even if the cover shoot in Times Square was initially delayed by a sudden storm. But forget the rain, as Hillis jokes it's a curse only if you get struck by lightning.
"Actually, I don't even believe in curses," he says as we meet up after the photo shoot to talk "Madden." "It's really sad how many people believe in curses. This is football; everyone gets hurt. If you run the ball 40 times a game, you're going to get banged around and get nicks and bruises here and there, but I don't pay too much attention to that. I'll let it take care of itself. I believe that the Lord is going to take care of me. I know His will is the only way that can judge me or put me in my place."
For Cleveland fans who voted Hillis into the spotlight, hopefully he's right, as the last thing the Browns need is for their star back to blow out a knee before the season starts (or get struck by lightning).
Jon Robinson: When the "Madden 12" cover vote first started, what percent chance were you giving yourself to win?
Peyton Hillis: I gave myself .5 percent. [laughs] It's funny how things work out. Last year at this time, I was just hoping to get on a team and have a job somewhere. To be on the "Madden" cover the next year is a pretty magnificent story.
ESPN ARCADE
The sequel to our most popular game is here. How's your return?

Run timed routes, beat DB's to the end zone and score.

Hit your receivers, dodge defenders and rack up TDs.