May, 11, 2011
05/11/11
9:23
PM ET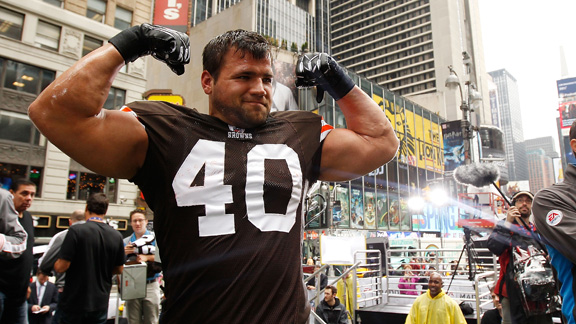 EA SportsPeyton Hillis takes a second to flex for fans at the "Madden 12" cover shoot in Times Square.
From busted bones to broken careers, the "Madden" cover curse has left a trail of sobbing superstars wishing they had never signed on EA's dotted line to become the face of video game football.
But ask "Madden NFL 12" cover boy Peyton Hillis about the mythology of the curse and the terrible injuries that have struck just about every player who has appeared on the cover, and all he does is laugh.
That's right; Hillis laughs right in the face of the "Madden" curse, telling me he sees the cover as a blessing, even if the cover shoot in Times Square was initially delayed by a sudden storm. But forget the rain, as Hillis jokes it's a curse only if you get struck by lightning.
"Actually, I don't even believe in curses," he says as we meet up after the photo shoot to talk "Madden." "It's really sad how many people believe in curses. This is football; everyone gets hurt. If you run the ball 40 times a game, you're going to get banged around and get nicks and bruises here and there, but I don't pay too much attention to that. I'll let it take care of itself. I believe that the Lord is going to take care of me. I know His will is the only way that can judge me or put me in my place."
For Cleveland fans who voted Hillis into the spotlight, hopefully he's right, as the last thing the Browns need is for their star back to blow out a knee before the season starts (or get struck by lightning).
Jon Robinson: When the "Madden 12" cover vote first started, what percent chance were you giving yourself to win?
Peyton Hillis: I gave myself .5 percent. [laughs] It's funny how things work out. Last year at this time, I was just hoping to get on a team and have a job somewhere. To be on the "Madden" cover the next year is a pretty magnificent story.
Jon Robinson: Are you a "Madden" gamer?
Peyton Hillis: I mostly play it just so I can beat my brother. Other than that, I'm not too big into playing video games.
Jon Robinson: What did you think of your character in the game last year?
Peyton Hillis: To be honest, I wasn't too impressed with him. They had the face mask and all, but I look skinny. I thought they would've done me a little more justice than that.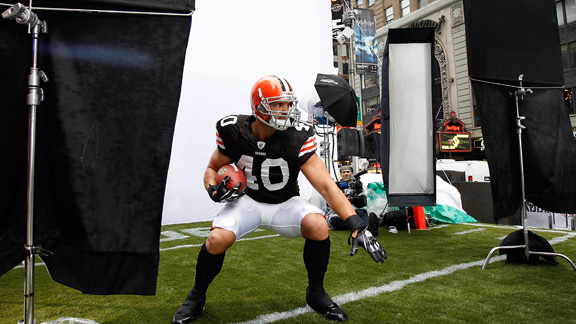 EA SportsHillis strikes a pose for the "Madden NFL 12" cover.
Jon Robinson: Is that your advice for "Madden 12," to get your guns in there?
Peyton Hillis: Oh yeah, before speed or anything else, you want to look good.
Jon Robinson: Before the cover vote started, did you realize how many fans you had? You beat some of the biggest stars in the entire league in what's essentially a popularity contest.
Peyton Hillis: I didn't. I know the Browns have great fans, but for them to rally the way they did for me is truly remarkable. I owe a lot to them for this. The thing about it is, from Arkansas to Denver to Cleveland, I had a lot of fans come out and show support. Then there's always the votes I got because fans believe in the curse and didn't want their favorite players to get hurt, so they voted for me. [laughs] I think my fan base is pretty big, but beating out some of the guys I beat out [Aaron Rodgers, Matt Ryan, Ray Rice, Jamaal Charles, Michael Vick], I didn't think I'd be able to do that.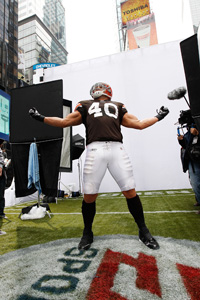 EA SportsThe big man shows off his trademark celebration.
Jon Robinson: Do you think this is something the city of Cleveland really needed after LeBron [James] left? Is the city looking for a new sports hero?
Peyton Hillis: Maybe. If they want that to be me, I'll try my best. I can't promise anything but my 100 percent very best, but if that would happen to me, that would truly be an honor to give back to the fans.
Jon Robinson: People doubted you as a runner in Denver, then you get traded to Cleveland and you basically just start running over defenders right and left. What do you attribute to your turnaround on the field? Did you just need a chance?
Peyton Hillis: I've based my whole career so far on doubt, and it continues today with the "Madden" cover. I've heard people say that they don't think I'm good enough to be on the cover. But people have been saying things like that my entire career. They say I'm too slow or I'm too big, but that's what drives me to be a better player. From here on out through the rest of my career, I use things like this to fuel me.
Jon Robinson: When you play "Madden" against your brother, do you see the Truck Stick and the ability to run over defenders as a digital representation of you in the game?
Peyton Hillis: Yeah, because that's pretty much the only thing I can do. [laughs] I can't wait to see what my character will be like in the new game. I just hope they give him a good hurdle because I like to hurdle over people sometimes.
Jon Robinson: I saw you hurdle the camera man during your "Madden" cover shoot. How surreal was it to be shooting the cover right in the middle of Times Square?
Peyton Hillis: It was unbelievable. It's something that you dream about and fantasize about but you think you'll never reach. The Lord has blessed me enough to reach a goal that I didn't think I could reach myself.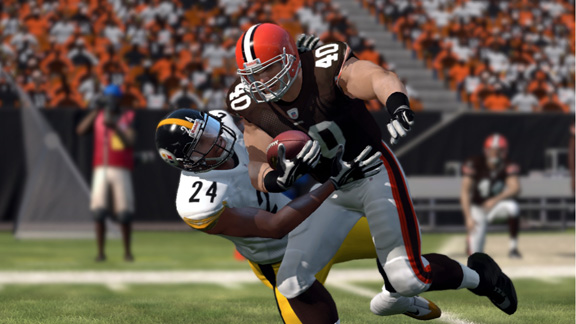 EA SportsIf Hillis thought his character was too skinny last year, he'll be pleased with his new model.
Jon Robinson: Do you realize the impact your cover appearance could have on your life? Between all the marketing and millions of people playing the game, this can really elevate your celebrity status.
Peyton Hillis: The sky is the limit. Anything can happen at this point; you just hope that it will all be positive. It's funny, because I don't have too many suits for all of these appearances. I only have two suits and I got them both in the past couple of weeks. We'll see how that works out.
Jon Robinson: You said you like to play "Madden" against your brother. Did you guys grow up playing the game?
Peyton Hillis: I actually grew up a big Nintendo fan. I used to love "Tecmo Super Bowl" and games like that. That's where it was at. I was a big Bo Jackson fan. Then you had the 49ers with Joe Montana, Ronnie Lott and Jerry Rice ... it wasn't fair. That was a tremendously fun game. I used to love how on defense you were trying to pick the offense's play. That was a mind game in itself.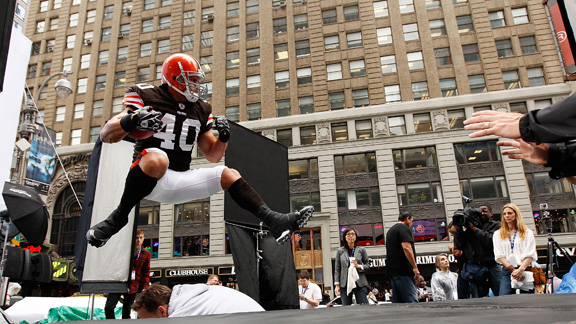 EA SportsPeyton Hillis wants a hurdle rating of 100 after jumping the photographer.
Jon Robinson: Are there a lot of gamers on the Browns? Does everyone talk trash about each other's "Madden" ratings in the locker room?
Peyton Hillis: We do that a lot, actually. It's one of those things where some guys you'll make fun of their ratings for a week or two, but then some guys are so slow in the game or their character will be so bad, you end up making fun of them all year. It makes for a great comeback to say something like: You're only a 64 in the game, so I don't want to even hear it.
Jon Robinson: EA Sports is building out your "Madden 12" character as we speak. Any advice for your ratings this season?
Peyton Hillis: I run with 4.55 speed, so I'm not fast, but it's not slow. I should be somewhere in the 87-89 area for speed. Then for toughness, I think they should give me 100. I don't care if other players in the game can catch me as long as I can just knock them over or jump over them. I think the hurdle should definitely be 100.
ESPN ARCADE
The sequel to our most popular game is here. How's your return?

Run timed routes, beat DB's to the end zone and score.

Hit your receivers, dodge defenders and rack up TDs.