May, 16, 2011
05/16/11
1:45
PM ET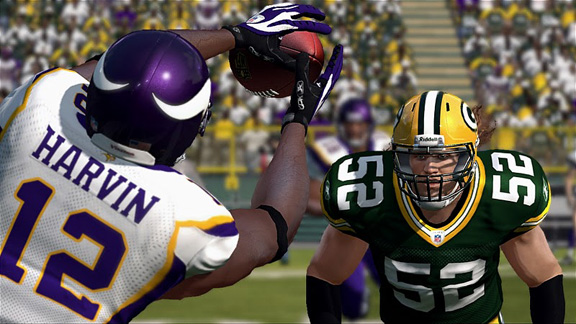 EA SportsIf you're looking to build a Super Bowl contender in "Madden 12," you'll need more than stick skills.
Cut day. Watch a show like "Hard Knocks," and it's the most nerve-racking period in a player's career. With one decision, some kid who has been dominating the gridiron at every level he has ever known finds out whether he's cashing in all his hard work with the NFL or left contemplating life outside the lines and working 9 to 5 like the rest of us. And while cut days are circled on the calendars of every player, coach and hard-core fan, it's one of those moments that gets lost in translation when it comes to NFL video games. I know when I start a franchise in "Madden," most times I simulate right through the preseason because the games really don't matter, and as long as all of my stars remain healthy I can care less about what happens before the season starts because the roster is already set.
But that all changes with "Madden NFL 12." For the first time in franchise history, the game designers have actually increased the roster size to 75 players per team. The ratings for all rookies are locked heading into preseason and every week. A few of the ratings for each rookie are revealed as you play them in preseason and decide whether it's worth it to keep a roster spot open for a hard-charging, late-round pick who might impress on special teams or cut him in favor of an aging veteran who might still have one good season left in the tank.
Keep the rookie and at the end of preseason you'll unlock all of the player's ratings, giving you a good indication of the final numbers if you've found your own potential Tom Brady-like diamond in a draft full of Spergon Wynn-type rough.
"In the past, we had issues with memory in the game and we could only allow 55 players per team," "Madden 12's" senior designer Josh Looman explained. "This limitation gave us problems with injured reserve and didn't enable us to give people roster downloads that were accurate. So we knew that it was imperative that we fixed that, and now our shipped rosters and our roster updates will be expanded.
"But the trick is, as you progress through preseason, now you're forced to make decisions on who to keep. Week 1 you only need to cut five players, but toward the last week you need to cut eight people off your roster, and when it comes down to making that final cut it's a decision that affects your team the rest of the season."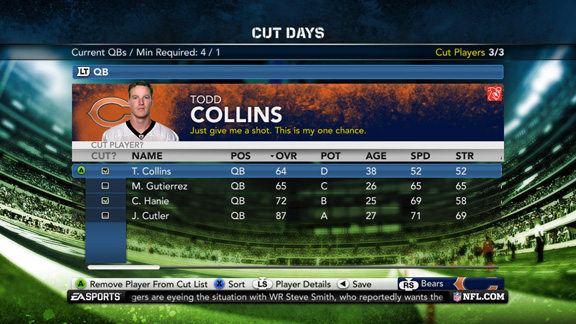 EA SportsWith expanded rosters, cut day is one of the most important dates on the "Madden" calendar.
And while expanded rosters definitely change the way you play franchise, it's just one of several huge enhancements made to boost what was fast becoming an otherwise stale feature. I had the chance to sit down with Looman last week to get his thoughts on the biggest franchise game-changers in "Madden 12." Here's what the man behind the mode had to say.
1. Bidding for free agents
Think "NFL Head Coach" with this new feature, as gamers will now enter into a bidding war for players eBay-style, highlighting the players they want and hitting "A" to increase the bid. When all the bidding is over, you sign the player to a contract. "We've added some contracts we've never had before," Looman said. "You can now pick back-loaded contracts or contracts that are pretty flat across the board. This system is so much better in my opinion because the bidding goes by quick and you tend to overpay for guys you really need, just like in real life. It's not like the old days where you had to simulate through 35 days of free agency. Now you're in and out quick in a much more interactive and fun environment."
ESPN ARCADE
The sequel to our most popular game is here. How's your return?

Run timed routes, beat DB's to the end zone and score.

Hit your receivers, dodge defenders and rack up TDs.