June, 4, 2011
06/04/11
11:41
AM ET Madden NFL 12 Sizzle Reel
Hey, Braylon Edwards, EA Sports is watching you. More specifically, they're watching your drops. In fact, they're changing a key aspect of "Madden" because of those on-again, off-again things you call hands, and football video games will never be the same.
For the first time in "Madden" history, EA Sports has added dynamic player traits and tendencies into the game to compliment player ratings, helping further differentiate every virtual athlete on the field while at the same time making every game of "Madden NFL 12" feel more unique.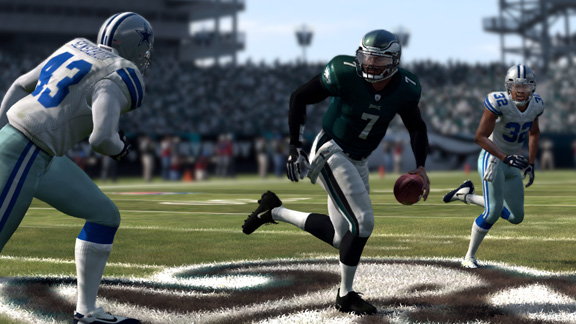 EA SportsMichael Vick is rated 91 overall in "Madden 12" and plays closer to the real deal than ever before.
One of these traits (in honor of Edwards) is called "drops open passes." Throw the ball to a guy such as Brandon Lloyd, no problem; the Broncos star is going to grab anything spiraling in direction. But to a receiver such as Edwards or Terrell Owens, you actually need to throw him some easy passes early in the game to get his confidence up, otherwise he won't make the big catch with the game on the line.
"Knowing you need to go to Edwards or T.O. later in the game, you can throw them passes early, and if they catch a few, you can actually turn that trait off," explained Michael Young, art director for "Madden NFL 12." "And then you have your receiver's head in the game, and he's more likely to come up big when you need him. Or it can work in reverse. Say you throw the ball over the middle to Antwaan Randle El and he gets popped by Ray Lewis and drops the ball. Next time you throw it to Randle El, he might hear footsteps and drop the next one. So there are ways throughout the game to change player behavior depending on how you play as them."
ESPN ARCADE
The sequel to our most popular game is here. How's your return?

Run timed routes, beat DB's to the end zone and score.

Hit your receivers, dodge defenders and rack up TDs.