June, 6, 2011
06/06/11
6:31
PM ET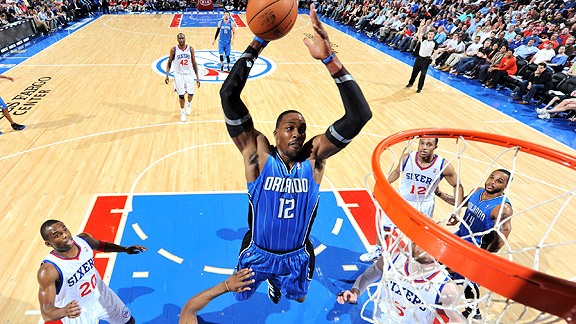 Jesse D. Garrabrant/NBAE/Getty ImagesWith "adidas miCoach" gamers will train alongside elite athletes like Dwight Howard.
You've seen Dwight Howard throw down some of the most vicious dunks of the past decade. Ever wonder the exercises the Magic superstar uses to help him jump so high? Better yet, how about if he teaches you those exercises in order to help you elevate your game.
That's the concept behind THQ's innovative new title, "adidas miCoach," in which gamers train alongside live-action, digitized versions of players like Howard, Josh Smith, C.J. Spiller and Eric Berry in order to learn exercises and strength training to help them compete better in real-life sports, including basketball, soccer and football.
"The 'miCoach' brand from an adidas standpoint is a service, it's about personal coaching," said David Sapienza, the game's producer. "Their goal is to help athletes perform better, whether that's being faster or stronger."
The "miCoach" program started on the Web for runners, giving athletes different goals in order to get faster times. "You would hear the coaches in your headphones as you were running telling you to speed up or slow down based on a pacer you were wearing," Sapienza said. "Then the program evolved to help athletes from other sports where you can check your progress online, not to mention a phone app that helps sync everything up."
Now adidas is teaming with video game publisher THQ to not only bring the training home, but to add some of the brand's top athletes into the mix, training alongside you as you learn specific moves in order to help you jump higher for that rebound, or gain that extra burst of speed to run away from a defender.
Added Sapienza: "What we're building is the strength and flexibility aspect of the program. Athletes have already developed these specific programs, and now we're bringing these exercises to the Kinect and to the Move. What really helps differentiate this product is that it's all done in live action. We're working with real-world live athletes, and we're filming them to be in the game. They are not avatars. Then what we do is we take your image from the Kinect or from the Move, and we cut out your shape and we place you in the game right next to this live action star."
Sports and athletes include: tennis (Fernando Verdasco, Ana Ivanovic), football (Eric Berry, C.J. Spiller), basketball (Dwight Howard, Josh Smith, Jrue Holiday), soccer (Kaka) and running (Tyson Gay). "The breadth of athletes we're offering is quite significant," Sapienza said. "There's such a difference when you see a real person working out as opposed to an avatar."
And while most other exercise products on the market focus on cardio, "miCoach" adds a variety of strength programs to the mix (as well as the standard cardio) in order to help athletes get a more well-rounded workout. Add to that specific programs designed and geared toward different sports in order to help make you a better player, and THQ might have a huge hit on its hands as younger athletes sitting at home with a Kinect or Move will get the unique opportunity to learn jumping techniques from guys like Howard and Smith, who they watch jump out the gym on a nightly basis.
"Say you play basketball, we have a program specifically designed to increase your vertical," Sapienza said, "and these are real programs that are not only given by the real athletes, but they show you how to do the exercise, then do it alongside you while motivating you along the way in order to reinforce that goal of increasing your vertical."
An example includes a lateral hop in which gamers start on their left leg, jump to their right side, landing on your right leg, then bounce right back to the left using the balls of your feet.
Looks like gamers are going to need to clear a little more space out from in front of their TVs, but the results look to be worth it.
And while "miCoach" features a variety of exercises that you can do with no equipment, it also has specific programs in which gamers can add weight to increase difficulty. "We want you to use your own dumbbells while playing the game," Sapienza said. "For some of the specific strength training we have, we want you to start out lifting, say, 20 pounds, then work your way up to 30. So we have workouts with dumbbells, stability balls and bench, all programmed for something you can do in a stationary room like your living room."
But what's unique about "miCoach" is that the training doesn't end once the game system turns off, as the video game actually wants you to go play your sport outside while wearing a special heart monitor/pacer that comes packed with the product. Then when you return home, the monitor actually feeds workout results back into the game or onto the Web.
Top it off with a "miCoach" awards program that tracks the time you worked out and gives out credits for real-life adidas gear like shoes and sweats, and gamers will have the incentive of not only working out for their health, but for free or discounted gear.
"Anybody can go outside and run or go to the gym and work out," Sapienza said. "But what's the point? Why are you running? Why are you lifting? But if you have a goal in mind, if you know that you're doing these specific exercises to help you get better at a certain sport, and you have these superstar athletes actually telling you the proper technique on how to do these exercises, then that's how you get to where you really want to be instead of just suffering through the same old routine. That's what we're trying to build with here with 'miCoach.'"
Look for "adidas miCoach" to hit stores January 2012.
ESPN ARCADE
The sequel to our most popular game is here. How's your return?

Run timed routes, beat DB's to the end zone and score.

Hit your receivers, dodge defenders and rack up TDs.