June, 10, 2011
06/10/11
4:40
PM ET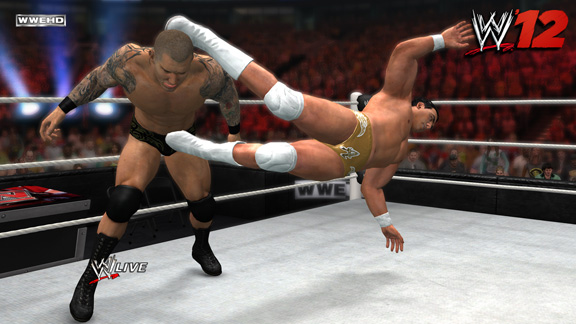 THQAlberto Del Rio gives Randy Orton a "WWE 12" kick to the back of the head.
Alberto Del Rio is checking out his "WWE 12" video game character (complete with virtual Bentley) when something funny happens. Instead of the usual crowd of wrestling fans jocking wrestling's most smug heel, a group of women start to gather around the superstar, with one even tapping me on the shoulder and asking me who he is.
"He's Alberto Del Rio, but you should already know that," I say, biting one of Del Rio's favorite lines.
"He's so hot," is all the woman has to say in response.
A few minutes later, I tell Del Rio about all the women he was ignoring because of his video game and he starts to laugh. "Thanks for letting me know. I better go back and get some numbers," he jokes with his trademark smirk.
Unbelievable that for so many years, Del Rio actually hid his face in favor of a wrestling mask, but as the superstar explains, it was all about tradition.
"When you wrestle in Mexico, the mask is everything," Del Rio tells me as talk behind the scenes of E3, backstage at THQ's swank booth. "The most important match in Mexican culture, in Mexican wrestling is Mask vs. Mask. That's the reason I wore the mask for years, and of course, because of my father and grandfather. But at this moment, I feel totally comfortable without my mask and with Alberto Del Rio.
"When I came to WWE, they told they wanted to use me without the mask, but I didn't care because I just wanted to work. They told me all of their ideas about Alberto Del Rio, and I loved the character right from the beginning. I was a baby face my entire life, but I'm a heel here in the States and I'm loving it. I don't want to be a baby face ever again. The bad guy is the one who controls the match. The bad guy is the one who makes the crowd cry, laugh, scream, whatever. It's fun."
Here's what else Del Rio has to say about WWE, driving a Rolls-Royce to the ring, and who he'd love to face in next year's Wrestlemania.
Jon Robinson: You're here at E3 checking out all the latest games. Are you a big gamer?
Alberto Del Rio: I'm a big fan of video games. I always play with my brother. We love to compete against each other. You know how it is when you always play video games with a little brother, he'll always kick your ass. [laughs] We love to play the soccer games, we're big fans of "Resident Evil," and of course, the WWE games.
Jon Robinson: What do you think of your character in "WWE 12"?
Alberto Del Rio: It looks like me, exactly like me. They have everything from my entrance to the way he moves and kicks. I'm actually most impressed with the way he kicks in the game, because the way I kick is as a professional-type boxer, and they have that style in the game. It's impressive.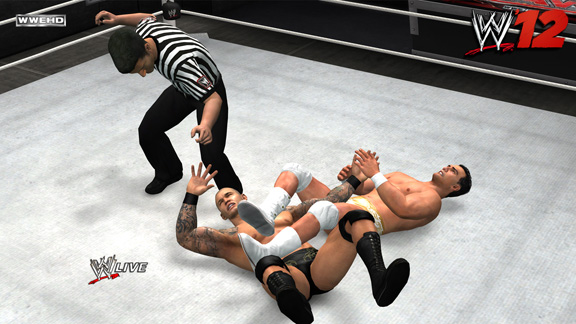 THQAlberto Del Rio makes "The Viper" tap.
Jon Robinson: Your character drives out onto the ramp in one of your expensive cars in the game. I was wondering what it's like driving all of these six-figure rides in out to the ring in real life. Are you ever afraid of getting a scratch or a dent on the car and owing Vince McMahon a ton of money for repairs?
Alberto Del Rio: Oh my God, I'm afraid that's something I have to live with every single day.
Jon Robinson: What's your favorite car so far you've brought to the ring?
Alberto Del Rio: My favorite one is the classic Cobra, 1965. That's my favorite car. There's just so much power in that machine. Of course, the Rolls-Royce are just classy and they say everything you need to know about Alberto Del Rio.
Jon Robinson: Do you ever get to take the cars for joy rides around the arena?
Alberto Del Rio: Yeah, most of the time I have the chance to drive the cars from the city we're in to the next one where we're performing. It's pretty cool.
Jon Robinson: That's awesome. I remember when Ted DiBiase was "The Million Dollar Man," Vince McMahon used to give him cash to throw around town so he could live the gimmick.
Alberto Del Rio: I heard about that, so I told Vince and Johnny (Ace) the other day, "Why don't you guys give me some money for when I'm at fancy restaurants and hotels?" They just laughed.
Jon Robinson: Since you've been in WWE, you've adapted really fast to the WWE style of match. What's the biggest difference between what you were used to in Mexico and wrestling in WWE?
Alberto Del Rio: I can say that I'm a better wrestler now that I'm in WWE because the way we work in WWE is totally different than what you see anywhere else. Here, we work with logic, and there's a reason for everything we do in the ring. Whether it's a dropkick or a punch, there's a reason for everything. Lucha Libre style is beautiful, but in Lucha Libre, we just do things because it looks pretty, or it looks spectacular, but there's no logic or anything. That's why I think I'm a better wrestler now.
Jon Robinson: You performed at your first Wrestlemania this year. What was that experience like for you?
Alberto Del Rio: It was incredible. Everything for me I've done in WWE is new. I did my first ladder match, my first TLC match, my first Wrestlemania, my first cage match. I'm enjoying every single day in WWE because now I'm a global superstar. In Mexico, I was just a superstar, now I'm a global star because of WWE.
Jon Robinson: Of all the gimmick matches you tried in WWE, what has been your favorite?
Alberto Del Rio: My favorite was the cage match because I enjoy working with Christian. Christian is an incredible performer and my cage match against him is one of my favorite matches.
Jon Robinson: When you look ahead to Wrestlemania next year, do you have a dream opponent?
Alberto Del Rio: I know all the new guys have the same dream, and that's to go against Undertaker. Undertaker to me is like the godfather of American wrestling and that's my dream match. I don't know if it will happen or not, but I want it.
Jon Robinson: Who else are you looking forward to working with?
Alberto Del Rio: I'm chasing John Cena. I want to be WWE champion. Another guy I'd like to fight is Randy Orton. He's such an aggressive wrestler, I think we could have some great matches.
Jon Robinson: THQ is also showing off their UFC game at E3. What was it like for you back in the day to get in the ring with a guy like Mirko Cro Cop? I couldn't believe it was you when I saw it on YouTube.
Alberto Del Rio: A lot of people don't know but I fought for over five years. I fought guys like Brad Kohler and all of the Japanese champions, but my one against Mirko, that's when Mirko was in his prime. And well, I think everyone knows the result. [laughs] But maybe I'll go over and fight him in the video game and kick his ass.
ESPN ARCADE
The sequel to our most popular game is here. How's your return?

Run timed routes, beat DB's to the end zone and score.

Hit your receivers, dodge defenders and rack up TDs.