June, 13, 2011
06/13/11
2:02
PM ET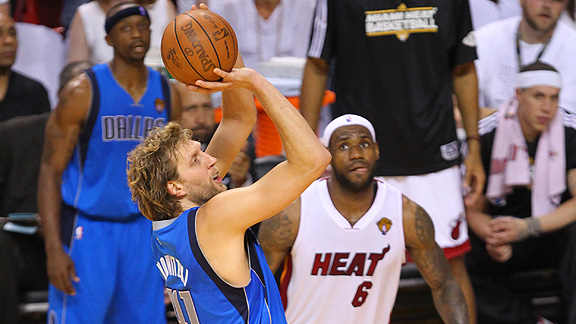 Joe Murphy/NBAE/Getty ImagesExpect a better looking (and better playing) Dirk Nowitzki in "NBA 2K12."
Digital Dirk.
All you need to know about the dedication of the "NBA 2K12" producers is their disgust for the way digital Dirk Nowitzki looked and played in "NBA 2K11" and how they've already fixed a lot of those problems in their new game.
From the first shot I saw during the demo, the difference is staggering as Dirk not only looked more like the Mavs superstar (and less like a polygonal Frankenstein), but the way he shot just looked so smooth, right down to the arc of his rainbow jumper, that I wanted to find any way I could to get my hands on the game and take some fadeaways for myself.
Unfortunately, the game is still a bit early for that, and the E3 demo I was given behind closed doors at the 2K Sports booth was all too brief given that the game already looks bad ass (right down to Jason Terry busting out "The Jet" down court after hitting a three).
"Last year, we had over 5 million units sold and won 21 Sports Game of the Year awards," said producer Erick Boenisch as he started the demo, "but the message we want to get across is that we're not content. A lot of critics, a lot of fans think that we're going to take our foot off the gas and that we're going to rest because we have no competition (EA Sports will not be releasing an NBA sim this year), but us resting couldn't be further from the truth. The way we got here is by working 110-percent. We don't know anything different and we're not going to stop now. We're constantly pushing the envelope, and with 'NBA 2K12,' we're not giving up, we're only trying harder."
ESPN ARCADE
The sequel to our most popular game is here. How's your return?

Run timed routes, beat DB's to the end zone and score.

Hit your receivers, dodge defenders and rack up TDs.