June, 20, 2011
06/20/11
6:19
PM ET
I was a huge baseball card collector as a kid. One day my friend offered me his Jose Canseco rookie card (right after the 40/40 season) for my Tony Gwynn rookie. I thought he was joking. The Canseco card prices were going through the roof, and after 40/40, the sky was the limit for the kid who looked more like a WWE star than an outfielder for the A's. What a difference a decade makes. Now Gwynn is in the Hall of Fame and Canseco's run at the Hall of Shame makes his card worth less than ten bucks.
Funny how I much I used to enjoy trading cards and can remember even the most miniscule sounding deal, like the time I swiped a Terry Puhl for Bill Laskey.
Looks like my trading days are coming back full swing as "Madden NFL 12's" Ultimate Team/virtual playing card feature finally includes the ability to deal cards to other players on a one card for one card basis.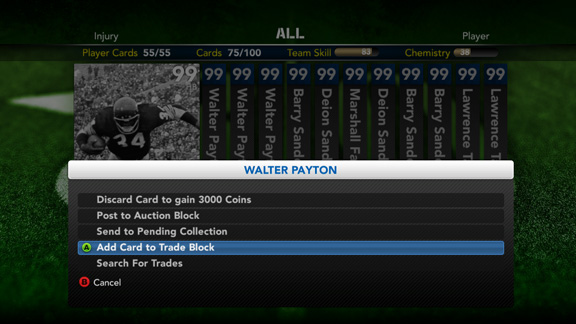 EA SportsFeel like trading Walter Payton? You're crazy, but the choice is yours in Ultimate Team.
If you're unfamiliar with "Madden" Ultimate Team, AKA MUT, it's a cool mode where gamers collect virtual cards then use those cards to play with as their team. The more you play, the more coins you earn, enabling you to buy new packs of cards and acquire new players. Gamers also have the ability to purchase coins and buy cards at auction in order to improve their lineups.
But trades? That was just not allowed until "Madden 12," and it's a feature the "Madden" community is going to celebrate big time.
"This was our most requested feature by far," says Donny Moore, one of the "Madden" producers who works on MUT and continues to update the "Madden 11" MUT content on a regular basis, including a special Father's Day pack (that did not feature Antonio Cromartie for some reason). "So now if I have a double of Peyton Manning and you have a double of Chris Johnson, we can just make a straight-up trade."
ESPN ARCADE
The sequel to our most popular game is here. How's your return?

Run timed routes, beat DB's to the end zone and score.

Hit your receivers, dodge defenders and rack up TDs.