June, 20, 2011
06/20/11
6:19
PM ET
I was a huge baseball card collector as a kid. One day my friend offered me his Jose Canseco rookie card (right after the 40/40 season) for my Tony Gwynn rookie. I thought he was joking. The Canseco card prices were going through the roof, and after 40/40, the sky was the limit for the kid who looked more like a WWE star than an outfielder for the A's. What a difference a decade makes. Now Gwynn is in the Hall of Fame and Canseco's run at the Hall of Shame makes his card worth less than ten bucks.
Funny how I much I used to enjoy trading cards and can remember even the most miniscule sounding deal, like the time I swiped a Terry Puhl for Bill Laskey.
Looks like my trading days are coming back full swing as "Madden NFL 12's" Ultimate Team/virtual playing card feature finally includes the ability to deal cards to other players on a one card for one card basis.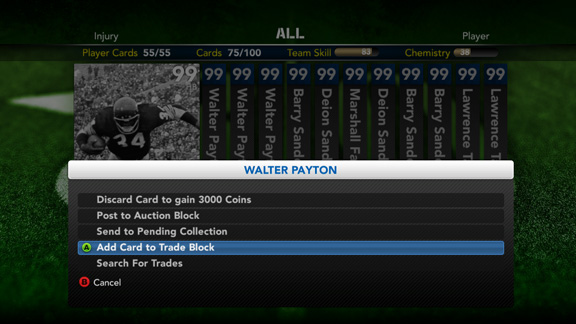 EA SportsFeel like trading Walter Payton? You're crazy, but the choice is yours in Ultimate Team.
If you're unfamiliar with "Madden" Ultimate Team, AKA MUT, it's a cool mode where gamers collect virtual cards then use those cards to play with as their team. The more you play, the more coins you earn, enabling you to buy new packs of cards and acquire new players. Gamers also have the ability to purchase coins and buy cards at auction in order to improve their lineups.
But trades? That was just not allowed until "Madden 12," and it's a feature the "Madden" community is going to celebrate big time.
"This was our most requested feature by far," says Donny Moore, one of the "Madden" producers who works on MUT and continues to update the "Madden 11" MUT content on a regular basis, including a special Father's Day pack (that did not feature Antonio Cromartie for some reason). "So now if I have a double of Peyton Manning and you have a double of Chris Johnson, we can just make a straight-up trade."
Any card in the game can be traded, including players, stadiums, coaches, and legendary cards, and you also have the ability to trade with both friends and strangers. Adds Moore: "And when you're putting a player up for trade you can sort through all of the options like what kind of player position you want in return, and whether you just want to look through your friend's offers or anybody's as we're trying to eliminate any of the spam offers you might get like when you're playing fantasy football and somebody offers you the worst player on their roster for Adrian Peterson.
"And it's super simple how the process works. You just put a player on the trading block and you can search through the block for players who other people put up just like the auction block. Everybody has wanted this for a while and I think this is going to be a great thing for fans."
Another huge addition to the game this year is the addition of new legends who can only be played in MUT mode. Last year, Walter Payton was the only legend in the game, but this year the list includes a returning Payton along with Barry Sanders, Deion Sanders, Dan Marino, Jerry Rice, Gale Sayers, Marcus Allen, Lawrence Taylor, Rod Woodson, Marshall Faulk, Eric Dickerson, Eddie George, and Shaun Alexander.
"We've added a legendary pack into the game this year that includes a mix of the highest value cards and a chance at getting a legend," explains Moore. "So when you buy a legendary pack, you're not guaranteed to get a legend because these cards are super rare, but people will have a lot of fun trying to get these guys and then playing with some of the best players in the history of the NFL."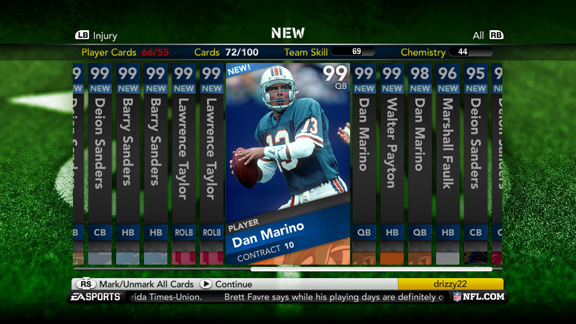 EA SportsLook for legends like Dan Marino to only be playable in "Madden 12's" Ultimate Team.
And the cool thing is, there are multiple iterations of each legend, so you might find a Marcus Allen card from his best year on the Raiders, or you might unlock the Marcus Allen Comeback Player of the Year card from when he was on the Chiefs. "We created versions of each of these legends based on their most memorable seasons," adds Moore. "So you're going to have a Walter Payton rookie card, a Walter Payton Super Bowl card and a card from his best season. We're trying to capture the biggest moments from each of their careers, and when you see them in the game, we actually equip them like they looked at that stage of their careers. So for Jerry Rice, when he was a rookie, he didn't wear gloves and he had almost like a linebacker's facemask on. He looked pretty rough and didn't look anything like the silky-smooth receiver he came to be and that's how he'll look in our game."
Add that to the fact that gamers who buy the special "Madden NFL 12 Hall of Fame Edition" will start MUT with cards from 13 former "Madden" cover athletes, and it looks like this year's mode is going to be stacked with star power.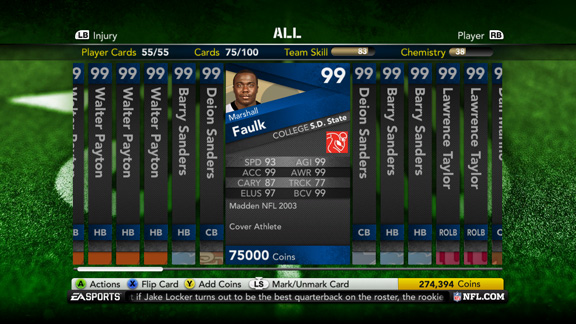 EA SportsA closer look at Marshall Faulk's ratings in MUT.
"We even have all new rewards cards this year," says Moore. "Last year when you completed a collection of cards, like if you got all of the Jaguars, you were rewarded with a legendary Fred Taylor card from his best season on the Jags complete with his Jaguar uniform. This year, we've refreshed all of those rewards for 'Madden 12.'
"We're also tweaking the scales of the player ratings in MUT, because now that we have all of these legendary players, they need to be at the top of the ratings categories. So that means we're going to lower the scale for the current players to reflect how amazing the legends are. This is Lawrence Taylor, pretty much considered the best linebacker ever, so we're going to drop DeMarcus Ware a few points behind him. It only seems right."
And it only seems right that my trading days are back on. What's the going rate for a vintage Deion these days, anyway? I'll trade just about anything for some speed like "Prime Time." If only I could throw in my Canseco rookie to sweeten the deal.
ESPN ARCADE
The sequel to our most popular game is here. How's your return?

Run timed routes, beat DB's to the end zone and score.

Hit your receivers, dodge defenders and rack up TDs.