July, 8, 2011
07/08/11
6:23
PM ET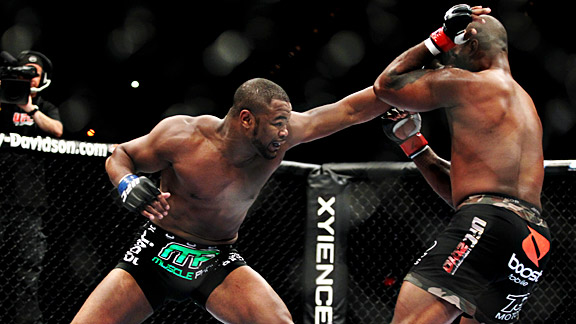 Ed Mulholland for ESPN.comRashad Evans will help motivate you to throw better punches in "UFC Personal Trainer."
UFC gladiator Rashad Evans has seen his character knock people out hundreds of times in video games, but in "UFC Personal Trainer," Evans and his virtual doppelganger appear on screen to help get gamers in better shape, teaching them proper MMA fighting techniques and routines in order to shed real pounds (not to mention learn how to throw real elbows).
"In this game, you actually get a chance to see how we train, so people will not only have fun playing, they'll get a good workout in," Evans told me over the phone recently to help hype the UFC's latest partnership with video game publisher THQ. "If you play this game about three times a week, it will help you get in shape and you'll work up a nice sweat. It's fun, too, and that's what's cool. You'll play, and maybe you won't do a combination right, so you'll challenge yourself to do better next time, then go back and try to throw the perfect combination. And the more you follow the instructions, you'll find yourself getting better and better and you'll probably want to do it more than even three times a week as you continue to improve and start to drop some weight."
Just make sure you move any objects out of your way before you start kicking at your Kinect. Last thing you want to do is front kick a lamp at your flat screen (or your little brother).
Jon Robinson: When you had the chance to play the game, what was the workout routine like?
Rashad Evans: It's funny because I was being trained by myself and we were working the mitts with jabs and crosses and knees and kicks. I messed up a few times because I wasn't focused when I was playing the game, so then I started to focus and kept playing and I actually started to sweat. You feel it when you play, and it's a great workout because you don't even realize that you're working out. It's one of those workouts that sneaks up on you and those are the best types of workouts because, let's be honest, most people don't want a hard workout. You want your workout to sneak up on you. That's when you get the best results.
Jon Robinson: So when you messed up on your punch, did the virtual you start yelling at the real you to do better?
Rashad Evans: It was kind of crazy because he was like, "C'mon man, let's go! Let's get it together!" I was being a little motivational sometimes, other times I was a little harder on me, but it's cool. When they asked me to try the game out, I really didn't want to even do it because I didn't think I'd have that much fun. But after a while, I was really into it and was like, "Let me do it again." This is one of those games that is going to bridge a gap between people who watch UFC but don't really see the other side of the training aspect of it all. I think people will have more respect for us after they see this game because of the fact that they will now have the opportunity to train and see some of the different things we have to go through.
Jon Robinson: Any advice for people on how to use this game in order to get in better shape?
Rashad Evans: I would just tell them to play the game and have fun. If you commit yourself to the training, you'll find yourself having a blast as you get into shape. The results of anything are equal to how persistent you are with it, so if you're persistent and dedicate yourself to working out, you'll get bigger results.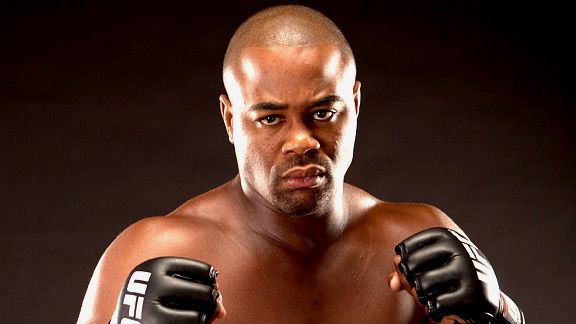 Jim Kemper/Getty ImagesThis guy knows a thing or two about getting in shape. Listen to him.
Jon Robinson: What's the toughest aspect of how you train in real life for THQ to try and capture in the game?
Rashad Evans: I think the grappling techniques are tough to teach without putting your hands on somebody, but with mixed martial arts, there are so many different aspects to the sport that to be able to capture everything would be damn near impossible. But to bridge the gap between wrestling to doing Muay Thai to doing jiu-jitsu, you need to supplement your training with other things, and that includes running and lifting weights and everything else that brings everything together to make a fighter flow. So you're never going to be able to capture everything, but for what they did get into the game, I think it's the best out there.
Jon Robinson: You're also featured in the "UFC Undisputed" fighting games. Do fans talk to you about how many times they knock out their friends as you?
Rashad Evans: Yeah, pretty much every time I talk to somebody they're like, "Yo, I use you in that game. You're dope in the game." I actually met people who didn't know who I was in real life but just knew me from the video game. I was at some show for BET and one of the rappers came up to me and was like, "You're that Rashad dude who is in the video game." He had no idea who I was other than from playing as me in the video game.
Jon Robinson: So to him, you're no different than Sub-Zero.
Rashad Evans: I'm just another character. [laughs] It's cool how many people play as me in the game. When the video game first came out, I didn't get a chance to play much, but my nephews were perfecting their skills so by the time I came home, everybody wanted to play me. All the kids wanted to say that they beat me in the game. After a while I didn't want to play anymore. I needed to go into hiding and secretly get better.
Jon Robinson: You go by the nickname "Sugar." In boxing, the "Sugar" nickname is associated with some of the all-time greats: Robinson, Leonard, Mosley. Out of those fighters, who would've been the best at MMA?
Rashad Evans: I'd say Sugar Ray Robinson, the original "Sugar." Back then, the way they fought was closer to how we are right now. Boxing today just isn't what it used to be. Back then they had to be rougher, tougher, their gloves were smaller and the punching style was a little different, which suits MMA right now.
Jon Robinson: You have a big fight coming up against Phil Davis. What are you doing special to prepare for a fighter like Davis?
Rashad Evans: Phil is very athletic, a great wrestler, and besides that, he's an up-and-coming, hungry fighter. There are a lot of things I have to worry about with Phil Davis. He is playing the role of spoiler. He knows that everyone is talking about Jon Jones and pretty much overlooking him, but that's not me at all. I'm training for this fight like it's a title fight. I need to go out there and get ready to fight a fighter who is hungry. If you fight a hungry fighter and you look into their eyes and you're not as hungry as they are, that's when you get eaten up.
Jon Robinson: Is it tougher to fight in UFC once you've made a name for yourself? Now a guy like Davis can seriously boost his career by taking you out.
Rashad Evans: Yeah, it's tough, but I remember what it was like being in his shoes. I remember the first time I fought somebody with a name and that was Tito Ortiz. I didn't start fighting until like the second round because I was like, "Oh my God, that's Tito Ortiz. That's Tito Ortiz from TV. Look how big his head is, damn." I was caught up in the atmosphere of the whole thing and I wasn't paying attention to the fact that he was just another fighter.
Jon Robinson: Everyone is talking about Jon Jones and how he backed out of your fight. Do you think he's ducking you?
Rashad Evans: The whole situation don't sound right to me. It's upsetting to even talk about. I don't understand how you can call off a fight without knowing for sure what the definite situation is going to be. But I can't worry about that anymore. I just need to worry about the fight I have coming up. I can't waste any more mental energy on it. I just need to focus on Phil Davis. That's all that's on my mind right now.
Jon Robinson: You can always take out your frustrations on Jon Jones in "UFC Undisputed 2."
Rashad Evans: [laughs] There you go.
Jon Robinson: THQ recently debuted the first trailer for "UFC Undisputed 3." Is there anything you'd like to see in the new game that was missing from the first two UFC games?
Rashad Evans: I wish they'd do one thing different with my character: They need to make me a little better looking. [laughs]
ESPN ARCADE
The sequel to our most popular game is here. How's your return?

Run timed routes, beat DB's to the end zone and score.

Hit your receivers, dodge defenders and rack up TDs.