July, 18, 2011
07/18/11
5:54
PM ET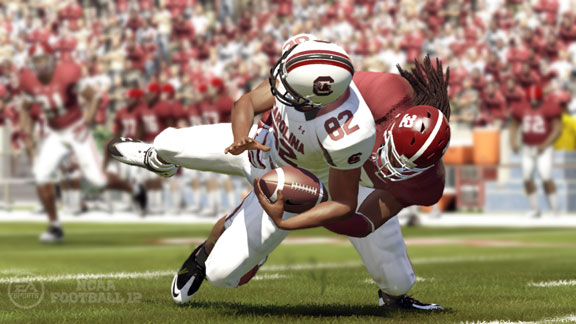 EA SportsDefenders no longer warp in for the tackle in "NCAA 12." Now you need to be in proper position.
Learning the proper technique to tackle is practiced day in and day out at every level of football over the summer. That's because the best coaches know that good tackling can turn an average defense into a great one. In "NCAA Football 12," gamers have many options when bringing down the ball carrier, here are the best ways to lock up your opponent.
Tackle Button: With the new collision system in NCAA Football 12, the tackle does not start until the two players collide. You know have a tackle button that lets your defender lunge at the ball carrier and drag him down. This is the most consistently used tackle but it does take some time to get used to. Gamers used to simply run into the ball carrier to bring him down, but using the new tackle button allows you further range to tackle and wraps up more consistently.
Hit Stick: By using the right stick, gamers have the ability to lay the hit that might land them on Sportscenter. However, a mistimed hit stick may land you on the wrong side of the highlight.
The hit stick is something that should only be used with safeties and linebackers. Cornerbacks simply don't have the hit power worth going for the knockout blow while defensive ends are usually are not running downhill enough to get momentum to drive through the ball.
And whatever you do, avoid the common mistake of going for the hit stick on every play, while at the same time making sure you have backup in case you do whiff on the hit. If you need a turnover late in the game, get ready to unleash it as a well-timed move can jar the ball loose.
Strip Button: The strip button is the least common way to tackle in "NCAA Football 12," but can be a valuable tool to use in the right situation.
If a ball carrier is heading into traffic, press the strip button to try and rip the ball loose. But watch out. Since the running back will break tackles easier when you go for the strip, only use this move if you have backup on the play.
ESPN ARCADE
The sequel to our most popular game is here. How's your return?

Run timed routes, beat DB's to the end zone and score.

Hit your receivers, dodge defenders and rack up TDs.