July, 30, 2011
07/30/11
7:57
PM ET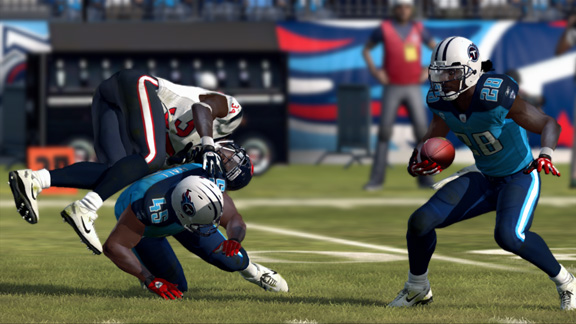 EA SportsLook for Chris Johnson to be one of the most popular players in "Madden NFL 12."
We wrap-up our look at the "Madden NFL 12" AFC team ratings today with the AFC South. Talk about rosters built for a video game, you have a running back with 99 speed and acceleration, receivers like Andre Johnson going deep, and MJD trucking defenders on his way to the end zone.

Houston Texans: 80
This team might not be able to get over the hump in real life, but in "Madden 12," they're definitely one of the more dangerous offenses to deal with. Houston's Big Three: Matt Schaub (88 overall), Arian Foster (92 overall, 91 speed), and Andre Johnson (97 overall, 94 speed) should make them a popular team online this year.

Indianapolis Colts: 85
Peyton Manning drops to a 98 overall in "Madden 12," but the offense is still deadly thanks to weapons that include Dallas Clark (96 overall), Reggie Wayne (95 overall), and Pierre Garcon (95 speed).

Jacksonville Jaguars: 75
Maurice Jones-Drew leads the way with a 95 overall and 94 speed (not to mention, 89 trucking), but when your leading wide receiver is only an 80 overall, you might have some problems throwing for too many yards, even if with a stud tight end catching the ball over the middle.

Tennessee Titans: 73
People who play as the Titans typically do so for one reason: Chris Johnson. The back looks like a blur running down the field with 99 speed and 99 acceleration, and is pretty much impossible to stop in the open field.
ESPN ARCADE
The sequel to our most popular game is here. How's your return?

Run timed routes, beat DB's to the end zone and score.

Hit your receivers, dodge defenders and rack up TDs.