July, 30, 2011
07/30/11
8:00
PM ET
Salary Crunch »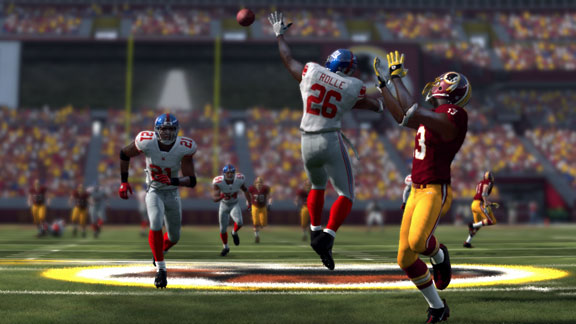 EA SportsWith the speed of the Redskins, expect to see some interesting packages online.
ESPN.com and EA Sports continue to bring you the exclusive "Madden NFL 12" team ratings with our look at the NFC East. I expect all of these teams to be played heavily online, and these numbers are the reason why.

Dallas Cowboys: 82
Year after year, the Cowboys are a beast in the "Madden" community. This year, look for more of the same as not only do they feature three running backs with 90+ speed (Felix Jones: 96, DeMarco Murray: 93, Lonyae Miller: 90), but three wide receivers with 90+ speed (Miles Austin: 94, Dez Bryant: 94, Roy Williams: 90). Throw in two huge tight ends who seem to catch everything in the game, and you can see why the team is made for "Madden."

Philadelphia Eagles: 86
EA's love affair with the virtual Michael Vick continues as the quarterback looks to reclaim his spot on top of most dominant virtual athletes in history thanks to his "Madden 12" ratings. 91 speed from the quarterback position is just sick, and when you factor in his scrambles could turn into long bombs to DeSean Jackson (99 speed) or Jeremy Maclin (95 speed), I wouldn't be surprised if the Eagles are the most played team in the game.

New York Giants: 83
Justin Tuck is a "Madden" sack master, and the ratings across the defensive line should make things tough for opposing offenses. Look for gamers using the G-Men to hand the ball to Da'Rel Scott as the halfback's 96 speed, 94 acceleration will make him a "Madden" star no matter what the seventh round pick does in the real NFL.

Washington Redskins: 74
Expect custom playbooks to come into play big time with the Redskins as the team features six wide receivers and two running backs with 90+ speed. I'm intrigued to play with this roster myself just to see what I can come up with to utilize all of these weapons.
ESPN ARCADE
The sequel to our most popular game is here. How's your return?

Run timed routes, beat DB's to the end zone and score.

Hit your receivers, dodge defenders and rack up TDs.