August, 8, 2011
08/08/11
6:22
PM ET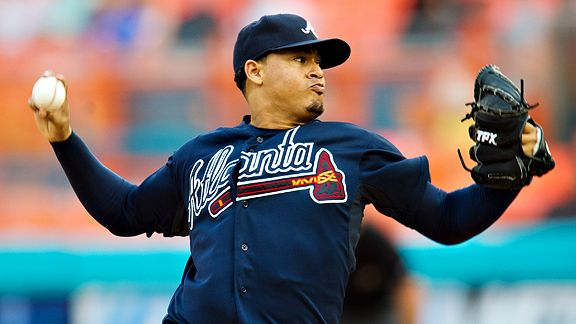 Steve Mitchell/US PresswireThink Jair Jurrjens is a beast on the mound? You should see him pitch on his PlayStation 3.
Ask Atlanta Braves All-Star Jair Jurrjens about his biggest passions, and two things instantly come to mind: baseball and video games.
That's right, when the crafty right hander from Curacao isn't making batters looks silly in real life, he's making gamers look just as foolish on his PlayStation 3.
But that's not just any system Jurrjens sports. It's a customized Braves blue PS3 Sony presented the pitcher after they found out about his video game obsession.
And Jurrjens is such a gamer, when I caught up with him during All-Star week in Arizona, he actually asked me if I wanted to trade jobs. Turns out, he always wanted to be the one covering games like "Madden" and "FIFA" for ESPN.
Does that mean we get to trade paychecks?
"Maybe I'll just come work for you in the offseason" Jurrjens replied with a laugh.
And why not? There can't be a more fun way for a pitcher to strengthen his fingers than spending weeks blasting enemies in "Call of Duty" or scouting hitters thanks to "MLB 11: The Show."
"Life can be so stressful at times that playing video games is a way for me to escape everything, go into my own world and have fun." Jurrjens said, breaking down his love for gaming. "Growing up, I was on PlayStation so much, I needed to get Lasik because I ruined my eyes."
And while Jurrjens says he loves to play "MLB 11: The Show," what he doesn't love is his character in the game.
"I'm not happy about my character's skills," he said. "I'm not happy at all. I know I had a bad season and had a lot of injuries, but I guess all I can do is pitch good and hope that next year people will want to pitch as me, and not just hit against me.
"It's so funny to see yourself in the game, though, and to see how your character changes throughout the years. The first year, it's always computerized, then the second year they do all the fancy stuff for you to get your face right and your throwing motion perfect. When I saw myself in the game that second year, I was like, 'Wow, that is really me!' It was so cool. To me, being in a video game is one of the coolest things about being a baseball player. Like I said, they have my motion down so perfect, they even have my little tap in there."
Besides baseball, Jurrjens says he loves any type of adventure game that keeps him on edge, citing Sony's "Uncharted" series as his favorite. "How do I get an early copy (of 'Uncharted 3')?" He asked. "I can't wait until November."
Until then, Jurrjens plans on building out a cool video game room when he finally settles down and buys his own house.
"I'm going to make a boy's cave," Jurrjens said with a charismatic smile. "I want a TV the size of the whole wall. Anyone can play on a flatscreen, I want to play on a wall so I can see everything just perfect."
ESPN ARCADE
The sequel to our most popular game is here. How's your return?

Run timed routes, beat DB's to the end zone and score.

Hit your receivers, dodge defenders and rack up TDs.