August, 5, 2011
08/05/11
2:59
PM ET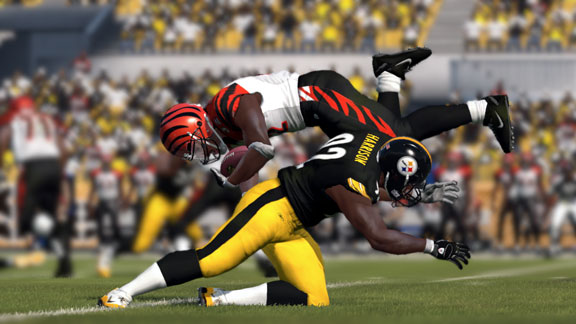 EA SportsJames Harrison is looking to bring the pain in "Madden NFL 12."
All this week, ESPN's Gamer Blog and SportsNation are teaming up to bring you the Top 5 rated players at key positions in "Madden NFL 12." And while yesterday's list of Top 5 quarterbacks sparked some serious debate from Michael Vick and Big Ben fans who felt their favorite players had been wrongly left off the list, I'm sure Bears fans will be just as passionate when asking why Brian Urlacher and Lance Briggs fell just short of making the "Madden" cut today (especially when there are six players on the list due to a tie for fifth place). Do they have a case? Let the debate begin.
James Harrison: 98
James Harrison is here to hurt you. That's all you need to know about his "Madden" character as the Steelers bad boy boasts 97 toughness, 95 hit power, 98 power moves, 99 awareness, 97 block shedding, and 95 player pursuit. Add to the fact that the game features concussions that will knock players out of the lineup, and playing as Harrison is like a virtual fine waiting to happen.
ESPN ARCADE
The sequel to our most popular game is here. How's your return?

Run timed routes, beat DB's to the end zone and score.

Hit your receivers, dodge defenders and rack up TDs.