August, 2, 2011
08/02/11
4:14
PM ET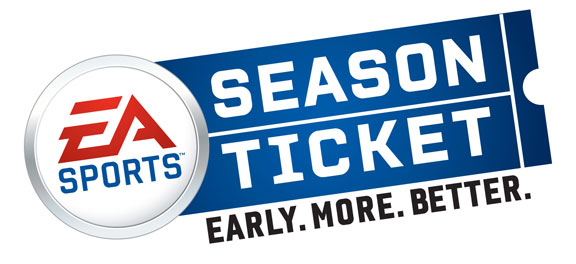 EA Sports
Are you the kind of gamer who waits in line at midnight in order to be the first person on your block to play "Madden"? Do you spend hundreds, maybe even thousands of dollars on premium downloadable content like Ultimate Team? Then you are just the kind of hardcore gamer EA is going after with a new membership program called Season Ticket.
The service costs $24.99 for one year and offers gamers the opportunity to not only download and play full versions of games like "Madden NFL 12" and "FIFA 12" three days before the titles hit stores, but the membership will also give you 20-percent off the price of DLC for select sports titles for the entire year (and it doesn't take a math major to figure out the savings if you're someone who spends $150 a year on DLC already).
"A lot of gamers came to us unsolicited and told us some things that they wanted, that they found interesting," said EA Sports senior vice president of worldwide development, Andrew Wilson. "These are people who love EA Sports, who are passionate about EA Sports and EA Sports video games, and they wanted to be able to get the games early. And then our fans who play Ultimate Team, they were looking for a way to get discounts on that content. Other gamers were looking for us to build out more Web-type features that will allow them to manipulate their console world from their PC. These are people who spend a lot of time playing on their console, but they also spend a lot of time at the office or at school in front of their PC and they're looking for a way to progress that console experience.
"So this is really about the core. This is about those people who want to play as early as possible or play a lot of Ultimate Team and buy a lot of downloadable content and are looking for a way to save money. But if you're not one of those people, we'll continue to build great games, content-rich, feature-rich games and nothing for you will change. This is really about that core group."
ESPN ARCADE
The sequel to our most popular game is here. How's your return?

Run timed routes, beat DB's to the end zone and score.

Hit your receivers, dodge defenders and rack up TDs.