August, 2, 2011
08/02/11
4:14
PM ET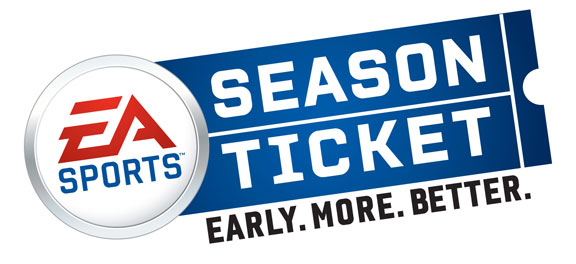 EA Sports
Are you the kind of gamer who waits in line at midnight in order to be the first person on your block to play "Madden"? Do you spend hundreds, maybe even thousands of dollars on premium downloadable content like Ultimate Team? Then you are just the kind of hardcore gamer EA is going after with a new membership program called Season Ticket.
The service costs $24.99 for one year and offers gamers the opportunity to not only download and play full versions of games like "Madden NFL 12" and "FIFA 12" three days before the titles hit stores, but the membership will also give you 20-percent off the price of DLC for select sports titles for the entire year (and it doesn't take a math major to figure out the savings if you're someone who spends $150 a year on DLC already).
"A lot of gamers came to us unsolicited and told us some things that they wanted, that they found interesting," said EA Sports senior vice president of worldwide development, Andrew Wilson. "These are people who love EA Sports, who are passionate about EA Sports and EA Sports video games, and they wanted to be able to get the games early. And then our fans who play Ultimate Team, they were looking for a way to get discounts on that content. Other gamers were looking for us to build out more Web-type features that will allow them to manipulate their console world from their PC. These are people who spend a lot of time playing on their console, but they also spend a lot of time at the office or at school in front of their PC and they're looking for a way to progress that console experience.
"So this is really about the core. This is about those people who want to play as early as possible or play a lot of Ultimate Team and buy a lot of downloadable content and are looking for a way to save money. But if you're not one of those people, we'll continue to build great games, content-rich, feature-rich games and nothing for you will change. This is really about that core group."
Season Ticket will work across five EA Sports games to begin, meaning you can download and play "Madden NFL 12," FIFA 12," NHL 12," Tiger Woods 13," and "NCAA Football 13" three days before the game is at retail, giving you the competitive advantage over gamers who decide to pass on the membership. Other benefits of Season Ticket include premium Web content for games like "FIFA 12," including more options in the game's creation center.
The negatives? After downloading the game and playing for three days, your download expires and you still have to go out and buy the disc. When asked why you can't just pay full price over XBLA or PSN to purchase and download the game three days early without having to still go to the store, Wilson replied that it is part of the console maker's rules. "Right now, we work within the policies and guidelines of our first party partners, our console partners," he told me, "and based on that, that's how the program works right now. What this program is really meant to do is give the gamer the ability to play three days early." Thankfully, according to Wilson, any progress or achievements earned in the downloaded game will carry over once you purchase the disc.
Another oddity is the fact that the service doesn't work across platforms, meaning if you own both an Xbox 360 and a PlayStation 3 and want the membership on both of your consoles, you'll have to buy it twice. So basically, if you like to play "Tiger" on the Move because of the motion technology, but you play "Madden" and "FIFA" on the 360 because you prefer Xbox Live, even though you are one of these core customers Wilson is talking about, you're basically left deciding which console you want your membership on or paying twice the price.
Again, I asked Wilson for the reason, but all he would say is: "We work within the guidelines and policies of our console partners and there are several restrictions that exist because of how those policies are setup."
Then again, since Season Ticket is an optional service, Wilson has a point when he says, "if you don't like it, you don't need to buy it."
Added Wilson: "What I hope people understand about this is two things: First there is no obligation whatsoever for you to buy this. We're going to continue building games that people can play like they already are. The second thing is that I think people will do the math in their heads. They can think about the value of early access and the value and discount that they're getting with the DLC, and the value of being able to manipulate their console more and more from their PC. I think everyone will decide if this has value for them or not, but getting games three days early is good for me, getting to save money on DLC, that's a good thing, and for those who find the value, I think they're going to be super excited."
ESPN ARCADE
The sequel to our most popular game is here. How's your return?

Run timed routes, beat DB's to the end zone and score.

Hit your receivers, dodge defenders and rack up TDs.