August, 12, 2011
08/12/11
1:02
PM ET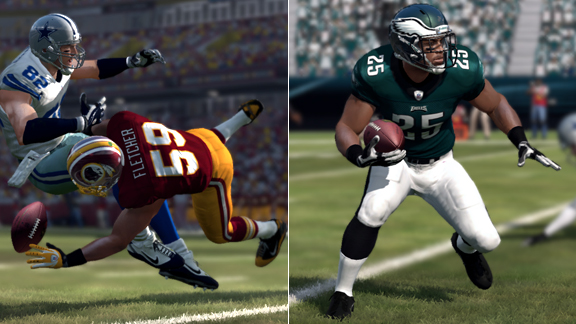 EA Sports
[Ed. Note: ESPN.com and EA Sports are releasing the exclusive "Madden NFL 12" player ratings two teams at a time through August 22. Please keep in mind that the rosters for some teams are wrong due to the NFL lockout. But don't worry -- when the game hits stores on August 30, EA will already have an online roster update ready to transform every squad to their most current lineups.]
Today, we finish off the NFC East with the ratings for the Eagles and Redskins.

Ratings: Philadelphia »

Ratings: Washington »


Ever since I started playing "Madden" on the Sega Genesis, I've been obsessed with one thing: speed. That's why I look at the Eagles roster and salivate to the point I need to wipe off my keyboard. No question, this will be the team of choice in all online and couch tournaments this year (get ready for Eagles versus Eagles). At the same time, this is such a ridiculous "Madden" team (especially after the roster update that adds all of their recent signings) that I bet just as many people will ban their friends from playing as them under "house rules."
As for the Redskins, their roster isn't going to scare anybody, but gamers can use the new custom playbook feature to take advantage of all the speed they have running wild. With six receivers and two running backs all featuring 90+ speed, creative virtual coaches should be able to come up with some fun packages from the game's playbook to get some of these guys in open space.
ESPN ARCADE
The sequel to our most popular game is here. How's your return?

Run timed routes, beat DB's to the end zone and score.

Hit your receivers, dodge defenders and rack up TDs.