August, 18, 2011
08/18/11
4:53
PM ET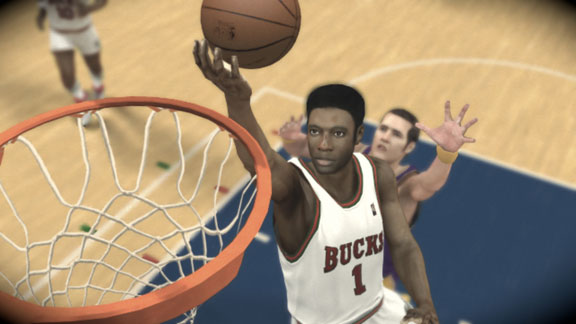 2K SportsOscar Robertson is just one of 15 legends playable in "NBA 2K12."
John Stockton's short shorts just got even shorter. That's right, when 2K Sports artists were rendering the exact look of the legends in "NBA 2K12," a few adjustments were made to make the game feel even more authentic. But 2K Sports didn't stop with John's virtual thread count as they not only went out and made uniform adjustments, they actually recreated matchups from the 1960s complete in black and white and factored in all of the actual rules changes depending on the year, not to mention all of the sweet signature animations and shot packages that they added to capture every move in Pistol Pete's arsenal.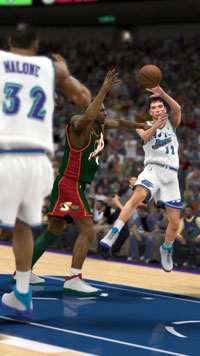 2K SportsSweet pass.
So it's no wonder that, even with the NBA locked out, "NBA 2K12" is my most anticipated sports video game this year. And why not? After selling over five million copies of "NBA 2K11" becasue of the nostalgia (and hang time) of Air Jordan, 2K Sports is going all out to top themselves by adding 15 legends into the game this year, each against their most memorable opponents as gamers try to relive the magic that was the "Showtime" Lakers against and the Boston Celtics, and the "Bad Boy" Pistons against the Chicago Bulls (complete with hard fouls).
"Our goal was to pick the 15 greatest and most influential players in NBA history and represent them in our game," said "2K12" producer Erick Boenisch. And although the list of 15 players 2K Sports came up with is sure to spark some serious disagreement and possible outrage (especially among Charles Barkley fans), Boenisch says the back-and-forth discussion was just as fierce inside the 2K offices. "There was a tremendous amount of debate," he said with a laugh. "We have some strong-headed people on our team and there was a lot of arguing over why this guy is there while this guy isn't. And this is something we expect the fans to do as well. It's not a cut and dry list. It's subjective, it's opinionated, but as the developer of the game, we felt like we put together the strongest list we could. We're all huge basketball heads here, and we want our fans to experience these classic teams and learn more about the great history of the NBA."
Read More »
ESPN ARCADE
The sequel to our most popular game is here. How's your return?

Run timed routes, beat DB's to the end zone and score.

Hit your receivers, dodge defenders and rack up TDs.