August, 22, 2011
08/22/11
4:59
PM ET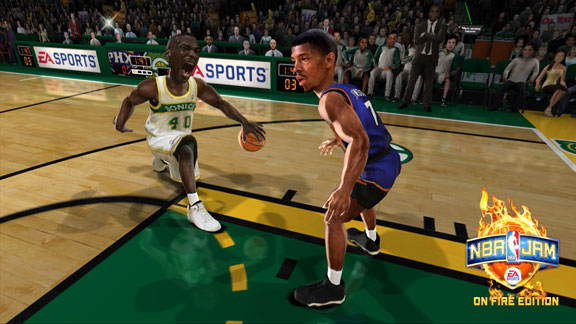 EA SportsNo need for anger, the Sonics are back in 'NBA Jam: On Fire Edition.'
One of my favorite obsessions back in the day was finding random "NBA Jam: Tournament Edition" machines and waiting for the screen to cycle to the "Most Popular" team stats. It was basically just a list to show which squads were the most played on a particular machine, and for whatever reason, I'd study the results and debate them with friends for hours.
The more machines I played, the more the lists would vary from number two on down. One thing that didn't change, however, was the team that was number one. When it came to "NBA Jam: TE," the team that everyone wanted to play as (at least on the west coast) was the duo of Shawn Kemp and Gary Payton.
The Sonics had it all.
Gary Payton was the perfect mix of a speedy point guard who could shoot and steal, while Shawn Kemp probably threw down more virtual dunks than any player in arcade history (not to mention, a sick ability to block shots).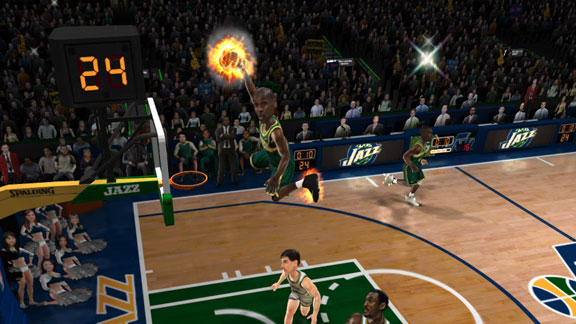 EA SportsPayton and Kemp take on Stockton and Malone in a classic "Jam" battle.
So when EA Sports announced the return of "NBA Jam" to consoles last year, old school gamers like myself couldn't wait to get our hands back on "Glove" and "Reign Man" for one last leap through the rafters.
Only problem was, due to licensing issues, Kemp and Payton weren't included as legends in the game, causing much frustration and outrage among all the die-hard Sonic fans out there.
Thankfully for gamers (and everyone else out there looking for more alleys and less oops), EA Sports and the NBA worked out their differences, and the team of Gary Payton and Shawn Kemp will be included in the upcoming downloadable title, "NBA Jam: On Fire Edition" for the PlayStation 3 and Xbox 360.
"This is an important day for 'Jam' fans," says "NBA Jam's" creative director, Trey Smith. "We tried to get this Sonics team last year but it didn't quite pan out. And this is something the fans were screaming for. This was at the top of their list, and that's a big deal to us. When we were creating 'NBA Jam: On Fire Edition' we wanted to listen to the fans, and everyone who played the game last year had one question: Where are the Sonics.
"They are the quintessential one-two punch in 'Jam,' and if I'm playing hyper-competitively, this is how I roll."
ESPN ARCADE
The sequel to our most popular game is here. How's your return?

Run timed routes, beat DB's to the end zone and score.

Hit your receivers, dodge defenders and rack up TDs.