August, 23, 2011
08/23/11
5:24
PM ET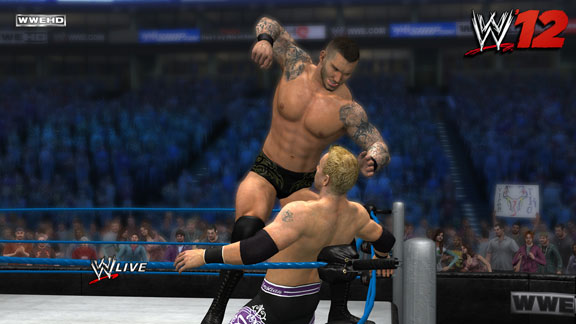 THQRandy Orton beats down Christian in "WWE 12."
Call professional wrestling scripted all you want, but the pain is all too real for the performers risking their necks every night with suicide dives and DDTs.
I guess that's why Randy Orton is a big fan of his video game doppelganger as the World Heavyweight Champion and "WWE 12" cover athlete says he can bump all night and still walk away without a scratch thanks to the power of Xbox.
And to Orton, that's almost as cool as his virtual beard.
"Man, it looks pretty sweet," Orton says with a laugh after checking out his character's new facial hair. "The game is so realistic, and I like the way it looks on me in real life, so of course I like how it looks in the game.
"I actually have all of the "Smackdown vs. Raw" games at home and it's funny, because one thing I want to do is go back and check out my character throughout the years. You can actually track the evolution of everything from my tattoos to my beard through the games. It's like a virtual scrap book."
And Orton knows what he's talking about as the man known as "The Viper" inside the ring is actually a pretty big gamer these days when he's on the road, rolling around from city to city in his Madden Cruiser-like rock-star bus, complete with Xbox 360.
And after seeing the type of damage his character can do in "WWE 12," Orton can't wait to add the game to his collection.
"I love what I've played of 'WWE 12' so far," Orton says, explaining how easy he found it to drop his opponent with his patented finisher, the RKO. "One button and he was out."
The champ also found it funny how they portrayed his psycho fits in the ring.
"For a while there, when I got mad I would flip out and look all crazy, and they even have that in the game," he laughs. "My wife used to hate that. She always told me I needed to tone it down. We'd be watching the show back and she's always tell me, 'I don't like when you do that.' So I can't wait to show her how I do it in the game. THQ went all out with my character this year. I guess it pays to be on the cover."
Then again, even though Orton's mug is on the box, he's only the third highest-rated wrestler in the game with a 94 overall (tied with CM Punk). "S---, I'll take it," he says as we go over the ratings of every character. "C.M. Punk is the man, so he deserves his 94. That leaves me behind only The Undertaker and John Cena. Not bad."
But when we're looking at the list, one number jumps out at Orton. "Wade Barrett is already an 87," he says. "He's 6-5 and the kid can cut one hell of a promo. He's got a lot of potential.
"It's funny because I've heard some guys talk about their ratings in the game before. Miz used to always say how they made him lower than some of the divas a few years ago, but it shows how far he's come now that he's a 90 in the game. I even heard Punk joke the other day how he wanted to be in the 90s this year, so yeah, we do pay attention to the numbers. How can you not? It's someone rating you. Of course, you want to see what they think."
Read More »
ESPN ARCADE
The sequel to our most popular game is here. How's your return?

Run timed routes, beat DB's to the end zone and score.

Hit your receivers, dodge defenders and rack up TDs.