August, 23, 2011
08/23/11
5:24
PM ET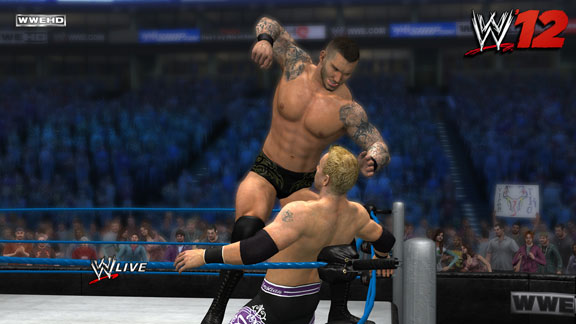 THQRandy Orton beats down Christian in "WWE 12."
Call professional wrestling scripted all you want, but the pain is all too real for the performers risking their necks every night with suicide dives and DDTs.
I guess that's why Randy Orton is a big fan of his video game doppelganger as the World Heavyweight Champion and "WWE 12" cover athlete says he can bump all night and still walk away without a scratch thanks to the power of Xbox.
And to Orton, that's almost as cool as his virtual beard.
"Man, it looks pretty sweet," Orton says with a laugh after checking out his character's new facial hair. "The game is so realistic, and I like the way it looks on me in real life, so of course I like how it looks in the game.
"I actually have all of the "Smackdown vs. Raw" games at home and it's funny, because one thing I want to do is go back and check out my character throughout the years. You can actually track the evolution of everything from my tattoos to my beard through the games. It's like a virtual scrap book."
And Orton knows what he's talking about as the man known as "The Viper" inside the ring is actually a pretty big gamer these days when he's on the road, rolling around from city to city in his Madden Cruiser-like rock-star bus, complete with Xbox 360.
And after seeing the type of damage his character can do in "WWE 12," Orton can't wait to add the game to his collection.
"I love what I've played of 'WWE 12' so far," Orton says, explaining how easy he found it to drop his opponent with his patented finisher, the RKO. "One button and he was out."
The champ also found it funny how they portrayed his psycho fits in the ring.
"For a while there, when I got mad I would flip out and look all crazy, and they even have that in the game," he laughs. "My wife used to hate that. She always told me I needed to tone it down. We'd be watching the show back and she's always tell me, 'I don't like when you do that.' So I can't wait to show her how I do it in the game. THQ went all out with my character this year. I guess it pays to be on the cover."
Then again, even though Orton's mug is on the box, he's only the third highest-rated wrestler in the game with a 94 overall (tied with CM Punk). "S---, I'll take it," he says as we go over the ratings of every character. "C.M. Punk is the man, so he deserves his 94. That leaves me behind only The Undertaker and John Cena. Not bad."
But when we're looking at the list, one number jumps out at Orton. "Wade Barrett is already an 87," he says. "He's 6-5 and the kid can cut one hell of a promo. He's got a lot of potential.
"It's funny because I've heard some guys talk about their ratings in the game before. Miz used to always say how they made him lower than some of the divas a few years ago, but it shows how far he's come now that he's a 90 in the game. I even heard Punk joke the other day how he wanted to be in the 90s this year, so yeah, we do pay attention to the numbers. How can you not? It's someone rating you. Of course, you want to see what they think."
As for what the other WWE superstars think of their rating in the game, I was able to catch up with a few to get their thoughts on their new characters.
R-Truth: 85 overall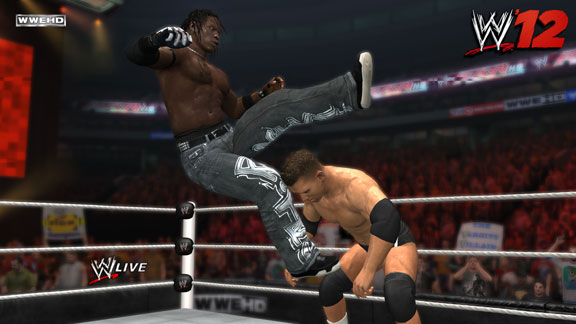 THQThis one is for Little Jimmy.

"There were a lot of years where everyone was kicking my ass in the video game, but this year, things are different. Now everyone is getting got by me in the game. I love it. All the Little Jimmy's are going to be sad, crying, and mad because my character is going to beat John Cena. And this year, you can create your own arena for the first time. I'm going to make R-Truth logos everywhere with bricks surrounding the ring. That way, when I get mad, my opponent is going to eat brick. That's what's up at the R-Truth arena."

Zack Ryder: 75 overall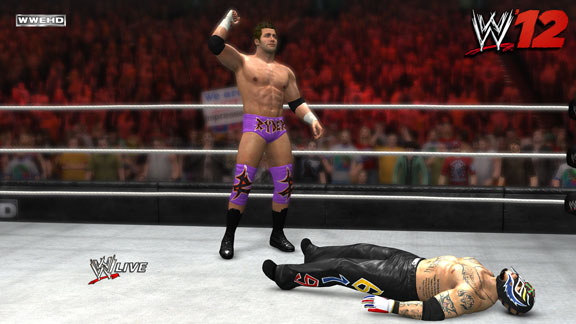 THQWoo-woo-woo ... you know it.
"I just played as myself in 'WWE 12' and got my butt kicked. Whatever my rating is, I don't care because I'm in the game. I'm not downloadable ... you buy the game and I'm in there. I don't care if my ratings is zero as long as I'm in there. I was in two games before, but I was an unlockable character, and since I'm not very good at these games, it took forever for me to unlock myself. Before that, I remember in the old WWE video games, I used to create myself, but now I'm in there and it's something to be proud of. And for someone like me who doesn't get on WWE TV very often, this is huge because unless you're watching my YouTube show, you might not know who I am. But then you get this game and you realize this Zack Ryder guy is awesome. He has spiked hair, good tanned skin, and a cool headband. Maybe from there you go buy the headband for when you play the game and you start cheering me at the show. That's the power this video game can have."
Alex Riley: 78 overall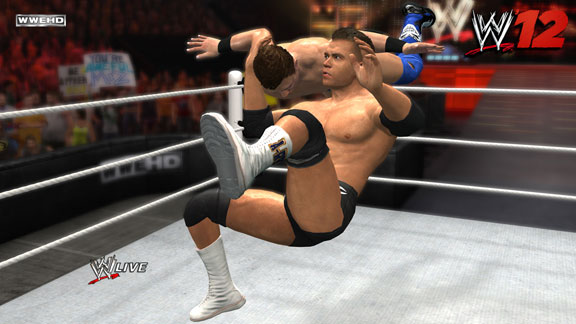 THQAlex Riley is one of the fastest-rising stars in WWE.
"I'm a 78 in the game and The Miz is a 90. I'm never going to hear the end of that one. I'm sure he's going to bring this up enough times to where I'm really going to want to punch him in the face. I'm assuming my numbers will improve over the next few years, though. I know I have to earn my ratings, and that's okay because I'm a fighter. I'm an underdog kind of guy. It's surreal to me to even be in the game. I was a video game guy growing up. I loved games like 'John Madden Football' and 'Contra,' So to me, being in a video game is a payoff for all of my hard work."
Wade Barrett: 87 overall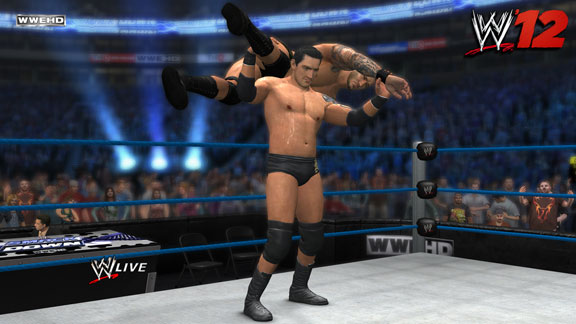 THQWade Barrett is ready to unleash his "Wasteland" finisher.
"I think I should be 187 out of 100, but I know when I play, my 87 will be better than anyone else's 100. I'm looking forward to slapping some people around. With the last game, my character was rushed through a little bit because I had burst on the scene so late, so my character wasn't as developed as much as they would've liked. But I think this time the graphics are way better and they got my moves right. They had some guys come in and do the motion-capture specifically for my moves, so the way I see it, this is the first time I'm properly in the game and I can't wait. When I was younger, I remember playing video games as Bret Hart and The British Bulldog and Papa Shango and it gave me an outlet to pretend to be some of my favorites, so it's pretty amazing to think that now all the kids, all the gamers out there have the chance to be me. When I became a WWE superstar, the two things I always wanted were an action figure and to be in the video game. Now I have both of those goals completed."
Alberto Del Rio: 89 overall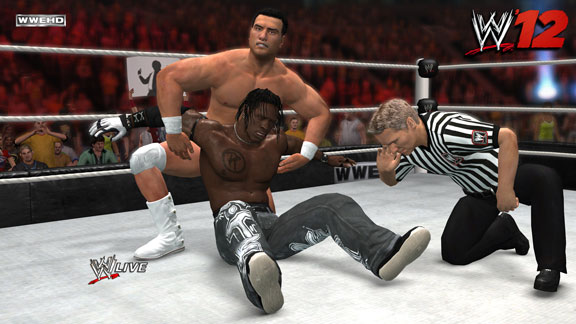 THQAlberto Del Rio will do whatever it takes to get a higher rating in "WWE 12."
"I should be a 99, or maybe even 120. If there's anybody who should be more than 100, it's me. Maybe I need to take the guys who make the game for a ride in a Rolls-Royce or something. I think that might change their minds."
ESPN ARCADE
The sequel to our most popular game is here. How's your return?

Run timed routes, beat DB's to the end zone and score.

Hit your receivers, dodge defenders and rack up TDs.