August, 31, 2011
08/31/11
5:09
PM ET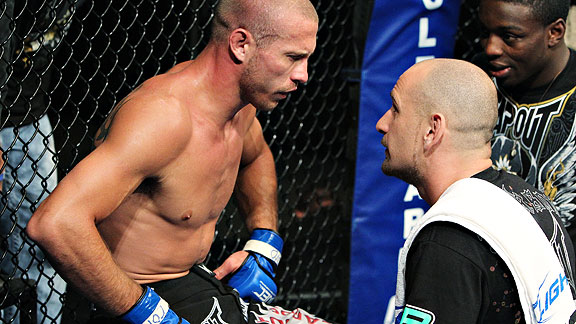 Josh Hedges/Getty ImagesGreg Jackson is ready to teach you the same MMA techniques he teaches his UFC fighters.
Mixed martial arts trainer Greg Jackson knows what it takes to be a champion. The man has helped coach everyone from Jon Jones and Clay Guida to Nate Marquardt and Georges St-Pierre, and is known in UFC circles as the man you need to train with if you want your hand raised in the octagon.
But these days, Jackson is also known for helping out-of-shape gamers sweat off the soda thanks to THQ's "UFC Personal Trainer."
Here, a virtual version of "The Maestro" helps strengthen your core with a wrestling based exercise program that includes everything from ankle picks to the sprawl, really pushing gamers to a level unmatched on consoles.
Seriously, I started playing, and by the time my first session was over, I was shocked at what a great workout I had gotten in my living room.
"That's exactly why I wanted to be involved in this project," Jackson told me as we sat backstage before a recent UFC pay-per-view. "It was a great experience trying to bring an element of realism to a fitness product. We wanted to make sure it wasn't just kickboxing aerobics. We wanted this to be a reality-based game. You wouldn't want to turn on a UFC game and then only throw a couple of weak jabs.
"So for my part, we wanted to add real moves that you would use. We even have things like cage pickups, which is defending a takedown off a cage, and we turned those moves into fitness moves. So even though we designed this to get you in shape, they're actual MMA techniques."
What I also found cool about the game is how it ramps up the difficulty as you burn through the routines.
"It goes to your own level, " said Jackson, "so when you first start out, you enter in how many pushups you can do, how many squats, and if you can't do any, that's okay, because the game is designed to work with you and slowly build you up. We wouldn't sell many units if you were dead after the first game. It's progressive, and as you workout, you can see where you're going to go and what you've already done."
And while Jackson loves the feedback he's been getting from people working out with his virtual doppelganger, he's still thrown off a bit by being a video game character.
"They got my ugly mug in there," he said with a laugh, "but the strangest thing is when I'm showing someone the game and I'm training myself. I hear my voice and I'm listening to myself. It's such a weird experience, to say the least, but it's a lot of fun.
"My character was very encouraging to me when I was playing, which I liked about myself. I was thinking, 'That guy's alright. I wouldn't mind listening to him.' Other fighters in the game are more motivational, so whatever you need to get a good workout, you'll find it in 'Personal Trainer.' Remember, the MMA fighters are the best athletes in the world, so if you can emulate even a little of that in this game, you can't go wrong. You're actually learning real MMA techniques while having fun playing. Besides, you never know when someone might pin you up against a cage."
ESPN ARCADE
The sequel to our most popular game is here. How's your return?

Run timed routes, beat DB's to the end zone and score.

Hit your receivers, dodge defenders and rack up TDs.