September, 7, 2011
09/07/11
3:41
PM ET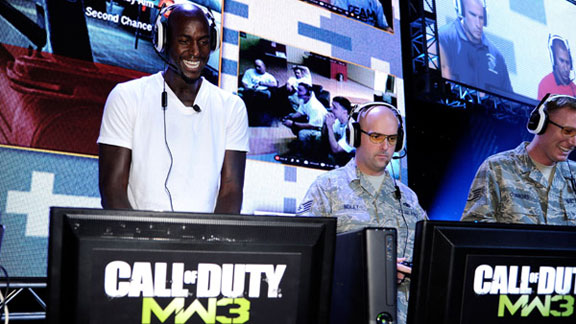 ActivisionKevin Garnett takes on members of the military in "Call of Duty."
When Kevin Garnett signed up to shoot it out with the real military in a game of "Call of Duty," he knew he didn't stand much of a chance.
"That's like trying to rhyme with a real MC or trying to throw a fastball to a major leaguer," the Celtics star told me with a laugh before his game onstage at the first-ever Call of Duty XP convention in Los Angeles. Garnett was leading his team of gamers into Pros versus G.I. Joes combat, a challenge series where athletes play members of the military in a variety of video games. Sometimes the ballers get lucky and play virtual hoops against a service member in Iraq. But on this day, it was KG who was stepping into enemy territory, trying to outgun and outrun men and women who courageously do this for real once the controllers are down.
Garnett's teammates and opponents on stage included fellow NBA player Russell Westbrook as well as members of the Air Force, Army and Marines. Other military members jumped into the fray online from Kandahar and Shindand (Afghanistan), Landstuhl Regional Medical Center (Germany) and As Sayliyah (Qatar).
But to Garnett, he felt no pressure playing the competition, even if it was in front of a crowd of "Call of Duty" enthusiasts quick to point out every flaw in his technique.
"This is video games, not basketball," said KG, shrugging off the pressure. "Playing video games is something I enjoy in my spare time. I'm a gamer, always have been."
And to Garnett, no game franchise captures more of his attention than Activision's "Call of Duty."
"If you look at 'SOCOM' and all of the games out there, 'SOCOM' was the game everybody was on when PlayStation first came out," Garnett said. "But 'Call of Duty' took what 'SOCOM' was and has taken gaming to the next level. 'Modern Warfare,' 'Black Ops,' these are all the next level of video games. The people are more detailed, the fighting is more exact, and I can't speak for every gamer out there, but I know when I play, I feel like I'm actually in the game. It's that intense."
KG even says that after Celtics games, it's pretty routine to find the team online playing "Call of Duty" against each other.
"Guys go home from a hard game and might jump on for four or five hours," said the former video game cover athlete ("NBA 2K9," "NBA Live 2001"). "The days of going out and clubbing are over. I think gaming is the new reality. Gaming is life."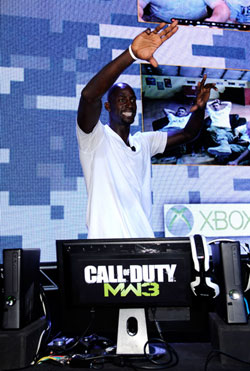 ActivisionKG is a real gamer.
And while he says that Glen "Big Baby" Davis is the best gamer on the Celtics, Garnett boasts that his skills should not be taken lightly.
"I'm online every day," he said. "I'm a real gamer. I love to play. When I play 'Call of Duty,' I'm a soldier on the ground. I'm out here trying to smack everybody and get as many kills as I can. To me, this is all about fun. I'm not the type of guy who uses cheat codes or tries to knock the controller out of your hand when we play. I hate cheaters. I like to put whatever I put into it and then get what I'm supposed to get out of it."
And even when KG is on the road, his video games are never too far behind. That's because a couple of years ago, 2K Sports supplied KG with a portable video game suitcase, complete with headphones, Xbox 360 and controllers, and Garnett says he never leaves home without it.
"2K gave me the portable joint, and it's one of my favorite things. You can play games, you can watch movies on there. It's like a walking, traveling entertainment center. It's crazy. I love that thing," he said before offering some advice for what he'd like to see fixed in "NBA 2K12."
"Real talk, I hope the online game play is better," Garnett said. "2K has always been a quality product and I've been a supporter of theirs forever, but just in terms of the game play online, I just wish it would perform better. So many times I get together with my friends and we want to play in a league, but I feel the online play doesn't live up to the rest of the game."
Although this year, with all the legends on the virtual court, Garnett is looking forward to playing against his boss in "2K12," former Celtics great and current president of basketball operations Danny Ainge.
"I'm not going to dunk on him," Garnett said with a laugh, "but if I could swat a few of Danny's shots up into the second row, I think that would be a fun thing. That's what makes gaming so great. You can do so many different things and it's all in good fun."
ESPN ARCADE
The sequel to our most popular game is here. How's your return?

Run timed routes, beat DB's to the end zone and score.

Hit your receivers, dodge defenders and rack up TDs.