September, 23, 2011
09/23/11
1:32
PM ET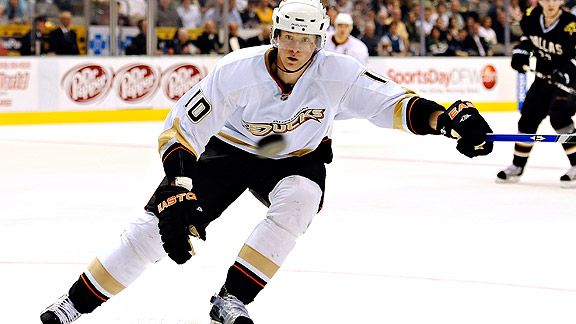 Jerome Miron/US PresswireCorey Perry's size and aggression make him a perfect "NHL 12" character.
"NHL 12" is all about the agitators. It's about taking advantage of the game's new physics engine to push and punish opponents, knocking them out of position by using the big bruisers to shove and smack puck handlers out from in front of the net.
That's why when Hart Trophy winner and agitator of all agitators Corey Perry stopped by the EA Sports studios in Vancouver, British Columbia, last week, producers were excited to show him just how intimidating the virtual Duck could be in the game.
"Before, everyone in the game was the same size and strength, but now if you're a bigger guy, you can push the little guys around," Perry told me after scoring a goal as himself in "NHL 12" for the first time. "And for my character, it's more realistic because now I have a longer reach, so I can protect the puck a little more. It just looks so real. It's me out there. What you see from me on the ice is what you see in the video game.
"This game is amazing. They have everything. They even have goalie fights. I think that's going to be really entertaining. Kids are going to love it."
Jon Robinson: Are you a big video game player?
Corey Perry: I remember "Blades of Steel" right on up to all the "NHL" games through the years. Playing "NHL" was the first thing I did when I got up in the morning and the first thing I did whenever I got home from school. These days, I don't have as much time to play, but when I get a little free time, I still like to play "NHL."
Jon Robinson: "NHL 12" has a variety of legends in the game. Who are you most looking forward to playing as or against?
Corey Perry: Obviously you want to play against Wayne Gretzky and Gordie Howe. They also have Mario Lemieux and Ray Bourque in the game. These are big-time legends, and you remember how good they were watching them on TV, so it's definitely going to be fun playing against them and maybe even playing with them in the game.
Jon Robinson: Did you try to model your game in real life after any of these legends?
Corey Perry: My favorites were Gretzky and Lemieux growing up. They were two of the biggest names when I was a kid, and you just try and take things from their games and add them to yours. You want to be your own player, but you're always stealing different things from different guys.
Jon Robinson: So for gamers who might not be hockey fans, can you describe your style in real life? What should gamers expect when they play as your character in "NHL 12"?
Corey Perry: I'm a feisty, bigger-sized guy who plays in front of the net all the time and tries to create havoc. The intensity is always on high, so you might get into a little tussle with me here or there. [laughs]
Jon Robinson: How would your opponents describe your playing style?
Corey Perry: Probably an agitator. I'm somebody you don't want to play against, but you'd want me on your team. That's just how I am as a player, and if I'm not playing that way, I'm not going to be effective.
Read More »
ESPN ARCADE
The sequel to our most popular game is here. How's your return?

Run timed routes, beat DB's to the end zone and score.

Hit your receivers, dodge defenders and rack up TDs.