September, 15, 2011
09/15/11
3:38
PM ET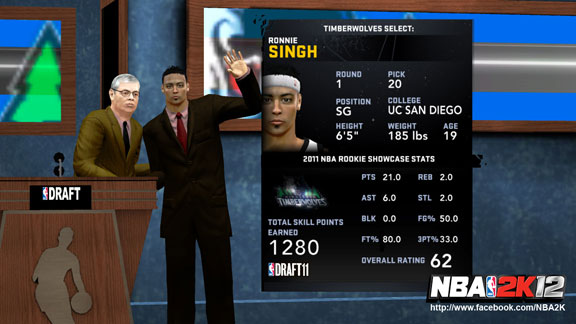 2K SportsIn "NBA 2K12," you're a top prospect trying to make the Hall of Fame.
Due to the NBA lockout, no rookies will be included in the video game "NBA 2K12." If/when the lockout ends, an online roster update will put everybody into the lineup, but for now, the only number one picks that are going to end up on virtual courts are going to be the ones created by gamers in 2K's popular My Player mode.
For those who haven't experienced My Player, the single-player experience enables you to create your own baller, customize his look from the afro to the bald dome, workout at pre-draft competitions against other top prospects, then embark on a journey from no-name bench warmer to full-fledged NBA superstar. Only think missing is a Kardashian sister.
And while the mode was actually the franchise's most popular last year (more people played My Player games than any other feature in "NBA 2K11" according to 2K Sports), there were still a variety of enhancements the production team wanted to implement to make My Player a more enjoyable experience.
"Previous years we had the draft combine and training camp, but the mode was more about the journey than the destination," explains producer Erick Boenisch. "This year, we wanted to make the destination more impressive. It always took you four to eight hours just to get to the NBA, and at last year's draft combine, there was no crowd, no cheering, no presentation, no commentary ... it was a dry experience. It was realistic, but I don't think it was a fun enough experience to continue doing.
"In 'NBA 2K12,' I want you to get to the NBA very quickly, and I want to ramp up that presentation greatly."
So this year, after creating your character, gamers will play what is called the Rookie Showcase. This is a game where all of the players from your draft class play in the same game and how you perform on the court will influence your draft stock. It's an eight minute quarter game, and you'll get your shot to show what you can do, playing about 75-percent of the time unless you get in foul trouble. You'll be evaluated on your stats, your teammate grade, and generally how well you play against the other top picks.
Once you finish the Rookie Showcase, you jump into a cool new feature called Pre-Draft Interviews. You're in the Madison Square Garden locker room, surrounded by directors of player personnel from the various teams, and they all come up and ask you questions to gauge your personality, your motives, and how you'd fit in with their franchise. The interviews are all done with real audio, so it's not like you're just clicking through some boring text boxes and reading question after question.
"If you're getting interviewed by the Bulls and you're a point guard, the Bulls GM might tell you that they already have their point guard of the future in Derrick Rose and ask you how you think you'll contribute to the team," says Boenisch. "You can answer: Hey, I'd love to be his backup, that's great. Or, if that's not what you're looking for, you can tell them that you have bigger ambitions and don't want to be in Chicago. You're giving teams a feeler about where you want to go and what you're interested in for your career."
It also depends on what position you're playing. If the Bulls come to you and you're a power forward, they might tell you that they already have Carlos Boozer, but then you can respond that you're better than Boozer and that they should draft you and trade him if they really want a shot at winning the title.
ESPN ARCADE
The sequel to our most popular game is here. How's your return?

Run timed routes, beat DB's to the end zone and score.

Hit your receivers, dodge defenders and rack up TDs.