September, 21, 2011
09/21/11
3:44
PM ET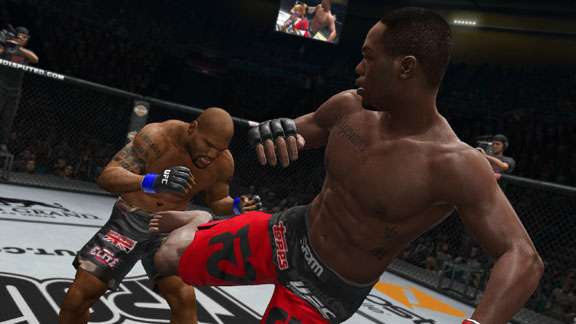 THQJon Jones wants to see a ratings increase in "UFC Undisputed 3" ... or else!
Imagine a UFC video game where before trading blows in the octagon you could fight crime, chasing down muggers in the park, using your MMA skills to subdue the bad guy.
Funny as it sounds, that was real life for UFC light heavyweight champion Jon Jones earlier this year as hours before fighting "Shogun" Rua for the belt, Jones and his trainers headed to a New Jersey park to meditate, heard someone smashing in an older woman's car window and ran to her aid before Jones took down the robber with a foot sweep.
That's probably the closest we'll ever get to Saints Row: UFC Edition, but it sure sounds like a winner to me.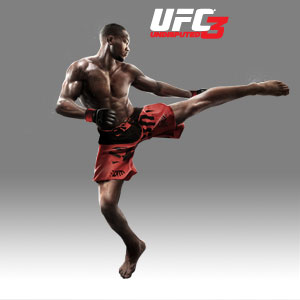 THQHere's a first look at the Jon Jones render from "UFC Undisputed 3."
And while it's been a few months since Jones went all Superman in Jersey, the 24-year old fighter has been busy, not only preparing for his showdown against Rampage Jackson this Saturday on pay-per-view, but trying to earn his way to the "UFC Undisputed 3" video game cover. THQ and the UFC are letting fans vote online for this year's cover athlete, and while Jones trails Anderson Silva early, he's hoping that after Saturday night's performance, he'll be able to sway some fans clicking his way before the voting period ends September 30.
"I'd love to be on the cover," Jones tells me as I catch him between press conferences to promote his fight. "I actually play video games so it would be a big honor. I love to play the UFC game, and I think I'd represent it well."
And while the man known as "Bones" is ecstatic with the way his character looks in the game, he's hoping for a significant skills upgrade by the time "UFC Undisputed 3" ships to stores in January.
"I love the way they make me look way more muscular than I actually am," Jones says, "but my takedown defense in the game stinks. Whenever I run into the creators of the game, I'm going to punch them. I'm going to give them a spinning back elbow right in the throat for that takedown defense rating.
"I get taken down all the time in the game. I've never been taken down in the UFC, I've never been taken down in my fight career, not once, and they gave me like a 70 for takedown defense. That's why I want the creators to know, when I meet them, it's going to be a spinning back elbow to the throat."
ESPN ARCADE
The sequel to our most popular game is here. How's your return?

Run timed routes, beat DB's to the end zone and score.

Hit your receivers, dodge defenders and rack up TDs.