September, 29, 2011
09/29/11
12:57
PM ET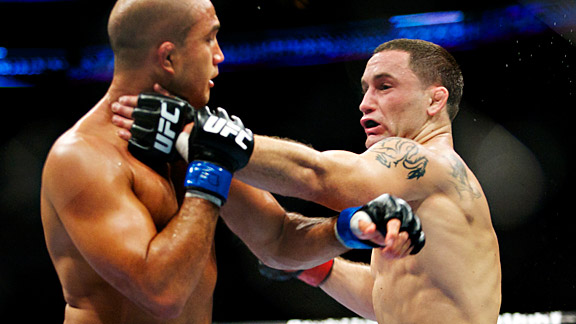 Icon SMIFrankie Edgar hopes to pound his way to the "UFC Undisputed 3" cover.
Who should be on the cover of "UFC Undisputed 3"?
THQ and the UFC have put the decision up to fight fans with an online vote, and while Anderson Silva jumped out to an early lead, lightweight champ Frankie "The Answer" Edgar hopes that his upcoming fight against rival Gray Maynard will boost his visibility enough to where he can compete for the coveted cover.
" It would be an honor," Edgar says about posing for the "Undisputed" box. "Let's let the kid from Jersey shine a little bit."
And while Edgar wasn't too happy with his character in the first "UFC Undisputed" game, he loved how much more realistic his virtual doppelganger looked and played in the sequel.
"I think the first game didn't look like me as much, but the second game was great," he says. "They gave me more props and made me a better fighter in the second game. But I think that's because I was a little further along in my career. I hope that will continue in 'UFC 3.'"
When asked about the most difficult aspect of MMA to capture in a video game, Edgar talks intensity.
"In the video game, it's more of a controlled environment," he says. "In the Octagon, the intensity is incredible. The video game does a good job of capturing that, but it's a bit more intense when you're really in there."
As for what it's like to see his character get knocked out in "Undisputed", Edgar, who grew up a fan of games like "Mike Tyson's Punch-Out," says he doesn't like it one bit.
" It's definitely easier to take on a video game than it is in real life," he says with a laugh. "I still don't like it, but it's much easier to take."
ESPN ARCADE
The sequel to our most popular game is here. How's your return?

Run timed routes, beat DB's to the end zone and score.

Hit your receivers, dodge defenders and rack up TDs.