October, 6, 2011
10/06/11
1:46
PM ET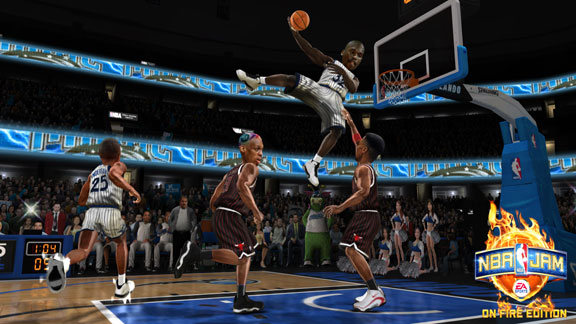 EA SportsShaq returns to "NBA Jam" as one of the game's legends.
If you worked as an intern for the Orlando Magic back in 1993, chances are, your job consisted of packing up and shipping Shaquille O'Neal's "NBA Jam" arcade machine from city to city as the team hit the road.
That's right, before players packed an Xbox in their luggage, a guy like Shaq, who found himself addicted to "NBA Jam" for all of its "boomshakalaka!" greatness, actually brought a full arcade cabinet with him when the team traveled
"Yeah, I'd bring the machine on the road every now and then just because I loved playing so much," Shaq told me over the phone while playing a game of the new "Jam," "NBA Jam: On Fire Edition." "I remember back in the day I used to play as Chris Mullin against my boys, and I'd hit like 12 threes in a row and start yelling: 'He's on fire!'"
Shaq was a character in the original "NBA Jam" coin-op, and now returns to the franchise as a legend.

"This game brings back a lot of memories," said Shaq. "But the way they did the new game, the graphics are unbelievable, the technology is unbelievable. It's only $15 (downloadable on Xbox Live and PlayStation Network). There's 70 unlockable legends and I'm one of those legends, so you can bring all of us old people back into the game. It's hot"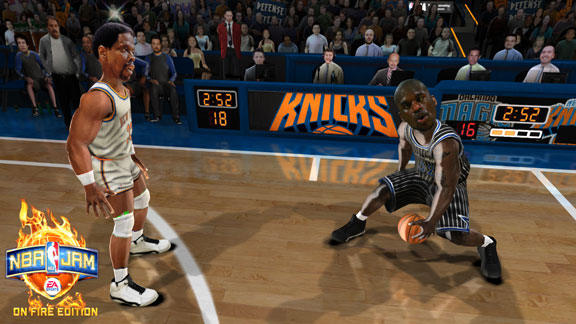 EA SportsShaq looks to break some "NBA Jam" ankles.
And while Shaq admitted to not playing many video games over the past few years, he says that with the new "Jam" and his recent retirement, he can see himself getting hooked all over again. "I was busy raising babies and concentrating on all of that," he said, "but I'm going to get back into it with this game."
Especially since his "Jam" character has some special skills Shaq always dreamed of doing in real life.
"I can do a 360-twist dunk," Shaq said with a laugh. "And I really wasn't a three-point shooter in real life, but in the video game, I can play as a guy like Dirk and hit the three ball all day. I like that."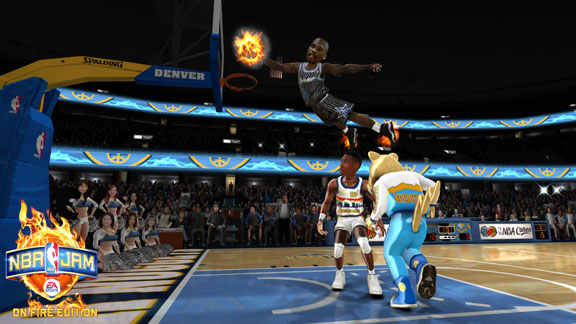 EA SportsShaq's on fire against the Nuggets.
While I was talking to him, Shaq was actually playing as Dirk and the Mavericks against an Orlando Magic Twin Tower team of Dwight Howard and the virtual Shaq, a team that many of the designers of the game have taken a liking to thanks to the duos knack of blocking shots, not to mention, dunks so sick the characters will break out and dance the Dougie.
Added Shaq: "If you're going to play against the Magic you're going to have to attack with the jump shot. You come inside against us, it's all over.
"I used to love playing this game so much, and the new "Jam" brings it all back. I can't stop playing."
ESPN ARCADE
The sequel to our most popular game is here. How's your return?

Run timed routes, beat DB's to the end zone and score.

Hit your receivers, dodge defenders and rack up TDs.