October, 17, 2011
10/17/11
4:45
PM ET
Tito Ortiz wants fight fans to know that he's no longer "The Huntington Beach Bad Boy."
That's right, the MMA legend, and one time baddest of the bad boys is now going by a new nickname: "The People's Champ."
"I signed over 15,000 autographs last weekend at the UFC fan expo," Ortiz tells me as we talk about his career resurgence, including a roster spot in the upcoming "UFC Undisputed 3" video game. "The first day I stood there for seven and a half hours. The second day I was there for over six hours. They had to kick me out. It was a lot of fun."
Besides putting pen to paper, another way the former champ is hanging with his peeps online in games of "Call of Duty: Black Ops."
I'm a big 'Call of Duty' guy," Ortiz tells me, "and I'll go on Twitter (@tittoortiz) and let fans know that I'm about to play 'Black Ops' so we can actually go in and play together.
"I love 'Black Ops' and 'Modern Warfare.' I like to play the UFC games as well, but I train and fight so much myself, the 'Call of Duty' games allow me to do something different. I started 'Modern Warfare 2' and I really never stopped. I go online with my friends and we tear it up. It's fun. It's my social outlet. I get to be myself. A lot of people talk trash to me while we play and we just have a great time."
Jon Robinson: I was at your fight against Ryan Bader and the look on your face after you won was one of such pure joy, I can't remember seeing you that happy before. What did that moment mean to you?
Tito Ortiz: It meant that everything had paid off. My whole legacy, my whole career depended on that fight. I trained really hard and had some great guys around me training with me. It was almost like winning my world title. A lot of people didn't believe in me. A lot of people couldn't believe that I was still here. I had neck surgery, lower back surgery and a lot of athletes don't compete after that. I showed that I'm able to compete against the best guys in the world, and I think that will help show people that if they believe in themselves, if they believe in their dream, they can accomplish anything. That's why I changed my name to The People's Champ. I want everyone to know that I'm here for the fans. I want them to know that they can bounce back from anything.
Jon Robinson: A lot of fans are going to play as you in "UFC Undisputed 3." For people playing as you, what should their strategy be?
Tito Ortiz: I've played the game a few times myself, and I have a lethal head kick in there. Of course, the ground and pound is probably the most devastating of them all. Get the takedown, jump on top and start throwing elbows and then if you have the chance to use the Pride rules, use knees. That's about as devastating as it gets right there. Be as aggressive as possible. When you play as me, you don't need to worry about technique, and I think in real life, I fight the same way. Just be aggressive.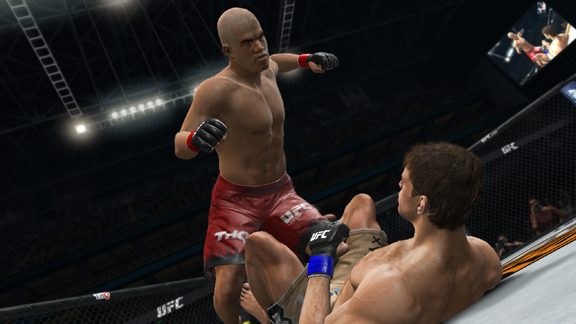 THQIf Tito takes you down, you're going to get pounded into polygonal pulp.
Jon Robinson: So when you get the game, who do you want to put in there as your first opponent?
Tito Ortiz: Of course, the first opponent I'm going to put in there is Chuck Liddell. I need to make sure I get the better of him every time I fight him. [laughs]
Jon Robinson: What does it mean to you to know that millions of people play as your character in a video game?
Tito Ortiz: When the first UFC game came out for the Dreamcast back in the day, I was on the cover, but it's no comparison to what you see in 'Undisputed 3.' And it's great for me to be in all of these games throughout the years and to be a legend of the sport, and that includes being a big part of this video game. It's really cool, especially for the gamers who might not get a chance to watch UFC, but they play the video game. Now they know this guy with the blonde hair who goes out and pounds people in the game is me. It's great.
Jon Robinson: As a gamer yourself, what do you think of the advancements made in fighting games since those first UFC games?
Tito Ortiz: Gaming and technology has just changed so much from that first UFC game. I remember, they just had basic punches and submissions, but now they can just build the fighters so much better. Now it's really like a virtual fight in there. I was playing "Undisputed 2" one day and my wife walked in and asked me if I was watching a fight. I was like, 'No, I'm playing a video game.' It's getting that good.
Jon Robinson: One of the new features in the game is the addition of Pride rules. Is this something you've been waiting for?
Tito Ortiz: That's something people always talk about with UFC. They're always talking to me about how much cooler it would be if we could deliver knees to the head on the ground. A long time ago, we used to be able to do soccer kicks to the head, so it will be cool for fans to at least be able to play like this in the video game. It gives fans the ability to do things that they always talk about, without anybody actually having to take that kick or that knee to the head.
ESPN ARCADE
The sequel to our most popular game is here. How's your return?

Run timed routes, beat DB's to the end zone and score.

Hit your receivers, dodge defenders and rack up TDs.